Springtime Hits Kawaii Monster Café
The Kawaii Monster Café in Harajuku, which has been an icon of Japanese kawaii culture since opening in August of 2015, has just launched its "Spring Lunch Fair" campaign.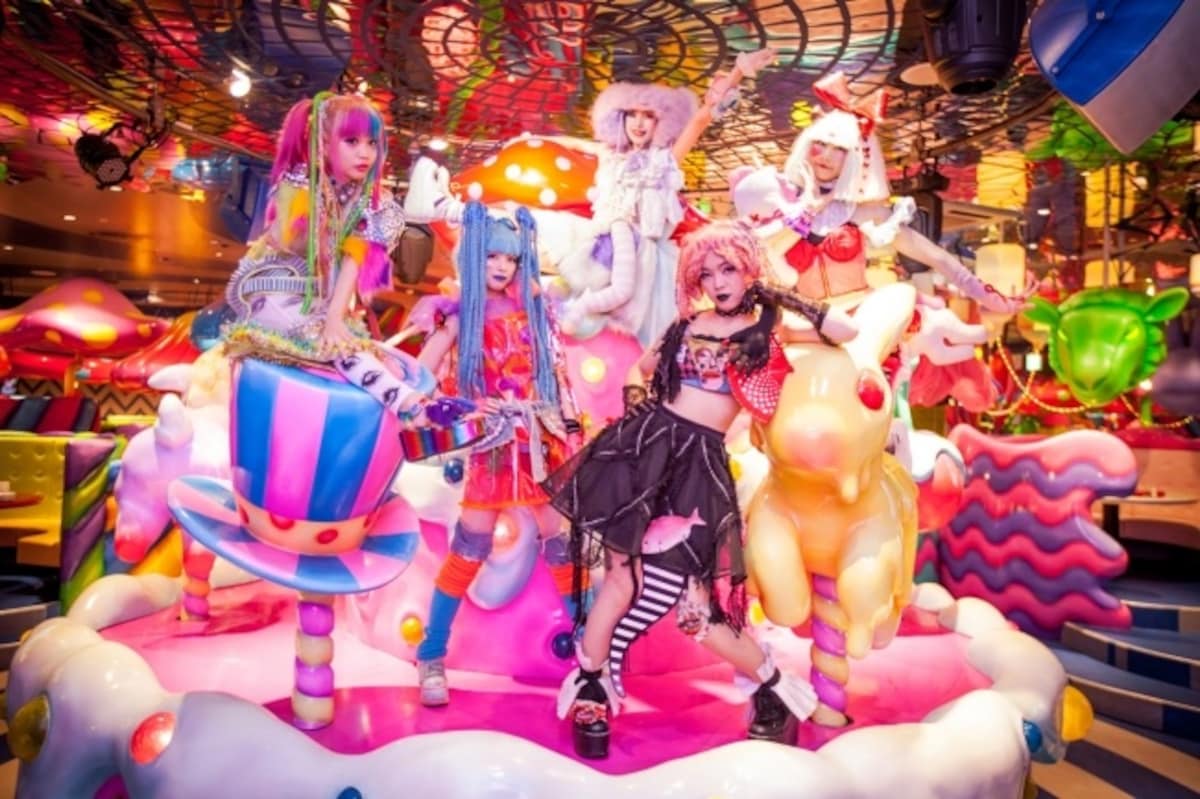 The café is designed after Harajuku, which it describes as a "monster" that gobbles things up and expands, creating a unique culture in the process. The new items on the menu certainly look worthy of the café's reputation as a "visual representation of the colorful and crazy Harajuku district."

The new spring menu features "poisonous-looking yet cute" items in typical monster kawaii style, and includes the latest in the café's popular line of original hamburgers, as well as Easter-themed desserts made in collaboration with major snack manufacturer Lotte. Let's take a closer look at the seasonal items!
The 'It's Time for Flower-Viewing' (Hanami) Burger (¥2,400)
Hanami, or cherry blossom-viewing, is a big deal during spring in Japan, so it stands to reason the activity has been made into a hamburger! This sakura-themed creation features pink buns with a menchi katsu (fried minced meat cutlet) patty, garnished with salsa and topped with a sakura leaf. It even comes with a bit of dessert in the form of sweet dango dumplings in three colors.
The Fujiyama Taco Rice (¥2,100)
This dish offers a Mount Fuji made of pink rice with flavored meat "lava" flowing out of the mountain, topped with cheddar cheese and garnished with prawn chips, while the green vegetables are meant to represent the vast "sea of trees" (jukai) that surrounds the actual Mount Fuji.
The Colorful Vegetable Parfait Fondue (¥2,200)
The ingredients in this dish, which include brightly colored quail's eggs, purple cauliflower and pieces of blue bread (in addition to the more ordinary looking sausages, shrimp and cherry tomatoes), not to mention the pink and purple cheese sauce, are certainly eye-catching. The idea here apparently is supposed to be that the eggs are monster eggs and the cheese sauce is a kind of "honey" from a fantastical carnivorous plant.

The café has also created delightfully quirky looking Easter-themed desserts in collaboration with Lotte, which you can order as part of a set meal in place of a regular dessert. The "Lotte Enjoy Easter Kawaii" desserts include the following two options:
The Pink Rabbit Easter (¥400)
This playful dessert represents a rabbit that has had too many Lotte Chocolate Pies and Custard Cakes and has turned into a giant monster Pink Rabbit! The dish involves a Lotte Custard Cake base topped with a Lotte Mini Choco Pie and strawberry, wrapped in a generous serving of strawberry cream.
The Koala's Easter Island (¥400)
This dish is supposed to represent the "Lotte Easter Island," made in the image of floating dessert islands inhabited by the koalas from Lotte's popular Koala no March snack. The dish includes a "Custard Cake" island, a "Chocolate Pie" island, and a "Pie no Mi chocolate biscuit" island decorated with colorful cream and Koala no March biscuits.

There are also desserts you can take away as well, which again can be ordered in place of a regular dessert. Below are the two takeout options:
The Chihuahua Wa Wa Cake (¥500)
This colorful cake was designed in commemoration of the Year of the Dog and is made from strawberry mousse contained inside a layer of yogurt mousse for a combination that should delight children and adults alike. Unfortunately, the green cream decoration doesn't come with the cake when it's to take home.
The Mushroom Cake Bite!Bite!Bite! (¥500)
This is what a lifeform from the café's Mushroom Disco area looks like when turned into a cake! The image here is of a carnivorous plant about to devour some brightly colored Easter eggs. The inside of the cake contains chocolate ganache covered with white chocolate mousse, so it should be satisfying as a sweet as well as eye-popping to look at. (Again, the decorative green cream is not included with the takeout cake.)

So do the new items look colorful and kawaii enough to you? The spring menu is available now until April 8, 2018, so do check it out if you're not afraid of the bold designs and colors!

For more information about this limited-time menu and for the location of Kawaii Monster Café, be sure to click on the full story from Sora News 24 below!