Top 10 Dating Spots in Kansai
5. Ura-Namba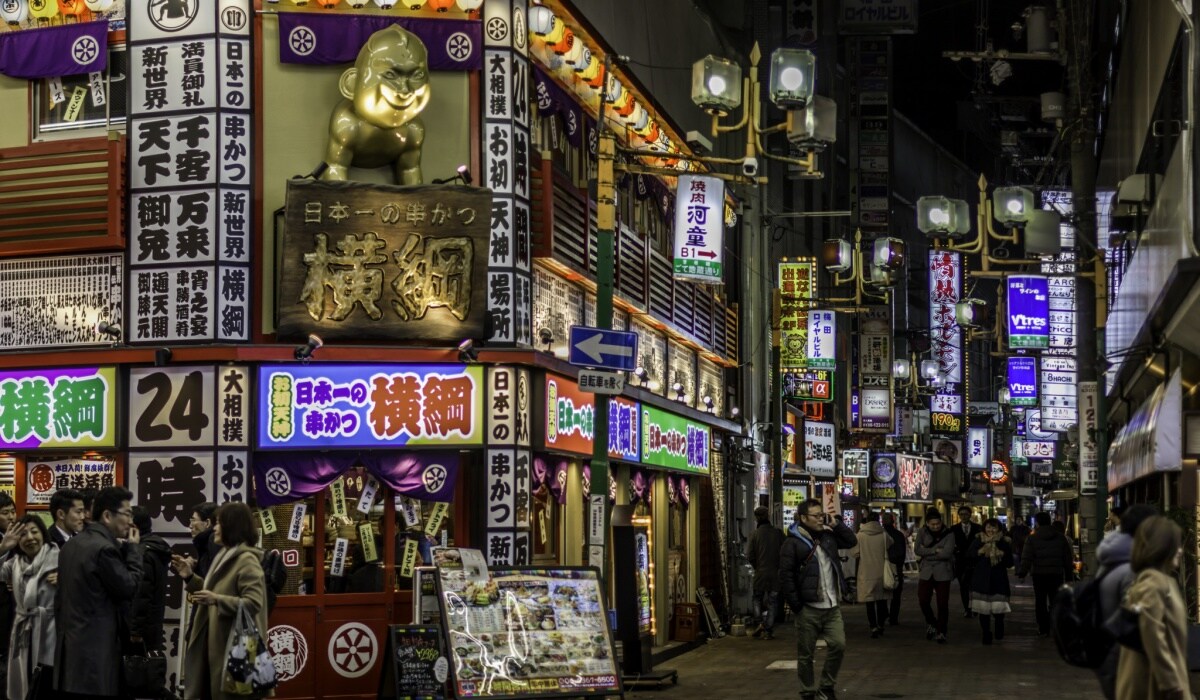 Ura-Namba, which literally translates to "Behind Namba," is the place to go for couples looking for good food and fine drinks. Head to the area behind Namba to find the hoards of bars and restaurants each offering unique menus. You will certainly be able to find something to satisfy your palate and quench your thirst amongst the wealth of Osaka-themed restaurants and sake bars that line the streets. Be sure to find and book a place in advance to avoid disappointment!

Access: Nankai Namba Station, Osaka Subway Namba Station.
4. Toei Kyoto Studio Park
If you are both movie buffs then make sure to visit the Toei Kyoto Studio Park. Walk around the Edo-style movie sets that are still used to this very day and participate in some of the action itself! To really get into the mood (and get some fantastically cute selfies!), make sure to rent out some of the costumes on offer. Be sure to catch the ninja show for some live, thrilling action!

Access: JR Uzumasa Station, Randen Satsueisho-mae Station
Opening Hours: 9:30 a.m. - 5 p.m. (times vary depending on the season)
Admission Fee: Adults ¥2,200; Junior High/High School Students ¥1,300; Elementary School Students ¥1,100
3. Takarazuka Revue
If going to the theater is more your thing for a perfect night out with the other half, then why not grab tickets to the famous Takarazuka Revue? With performances on their home ground in Takarazuka and theaters across the Kansai region, you are never too far from a production. With a mandatory all-female cast, it certainly is interesting to see glamorous adaptations of Shakespeare and modern musicals performed by the students of the drama school.

Tickets: From ¥2,500
2. Dorogawa Onsen
Step back in time to a historic onsen town deep in the mountains within the Nara Prefecture. Dorogawa Onsen is the perfect overnight getaway for you and your partner to experience plenty of outdoor and indoor baths housed in picturesque buildings and surrounded by stunning, mountainous nature. Due to its location and the lack of public transport, a day trip will be difficult to achieve, but that's the perfect excuse to spend the night for a romantic evening.

Access: Kintetsu Shimoichiguchi Station then a local bus. Alternatively, driving would be an easier option.
1. Hirakata Park
Forget the incredibly busy Universal Studios Japan and head to Hirakata Park for the classic, retro funfair experience a short train ride from Osaka and Kyoto. Purchase an "All Access Pass" and enjoy the unlimited access to classic rides such as Crazy Mouse and the wooden roller coaster. For thrill seekers, make sure to take a ride on the METEO Drop and the Disco "O." There are also plenty of American fast food restaurants on site to provide the complete experience. Thanks to the high number of rides and relatively small queues even for the popular rides, you will be sure to have a jam-packed day together!

Access: Keihan Hirakata-koen Station
Opening Hours: 10 a.m. - 5 p.m. Weekdays; 10 a.m. - 8 p.m. Saturdays, Sundays, and National Holidays. Opening Hours may differ during high season.
Park Entry and All Access Pass Admission Fee: Adults (Junior High and above) ¥4,400; Elementary School Students ¥3,800; Preschoolers ¥2,600