Hakone Yosegi Zaiku: World of Woodcraft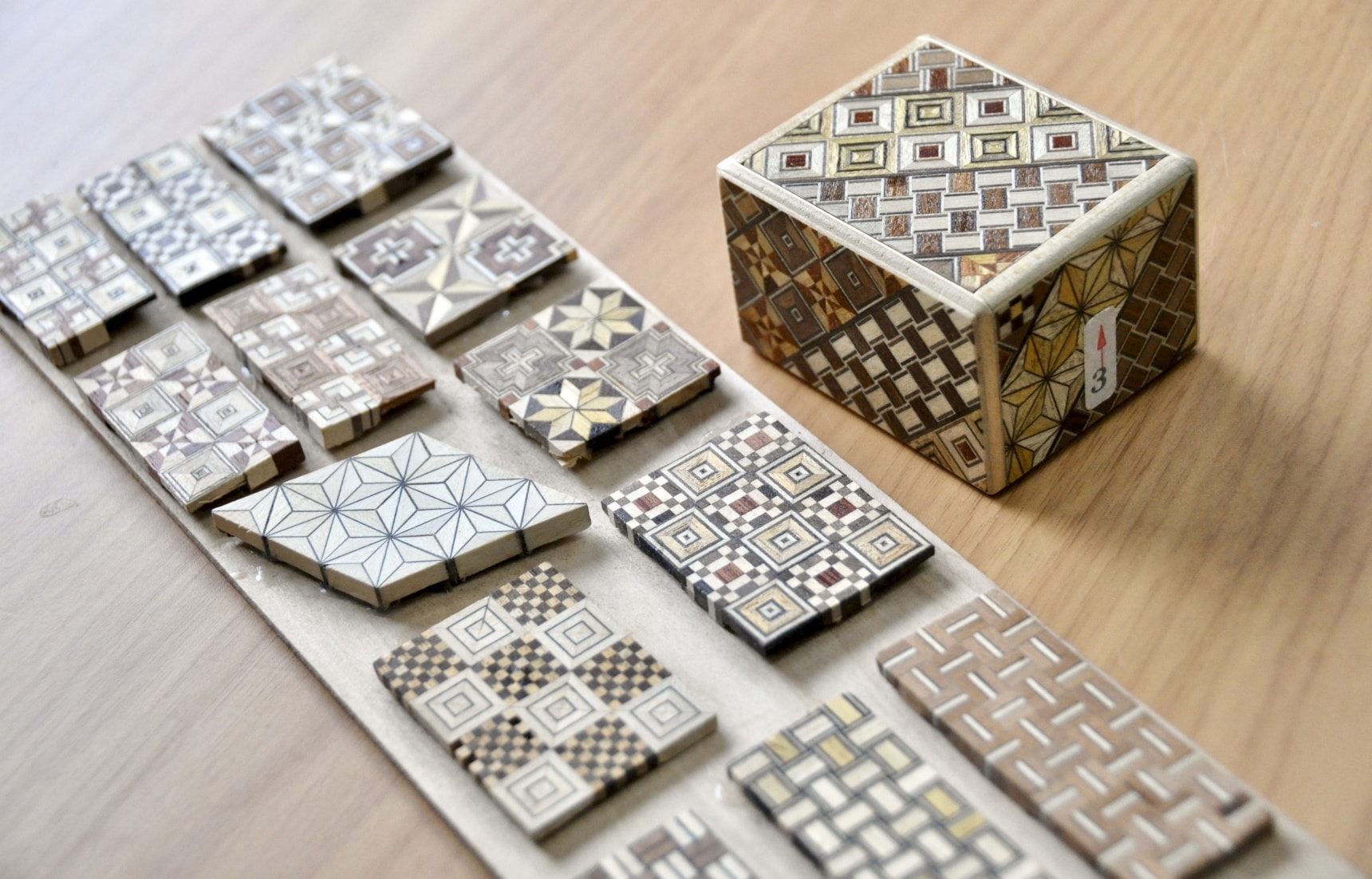 Hakone Maruyama Inc.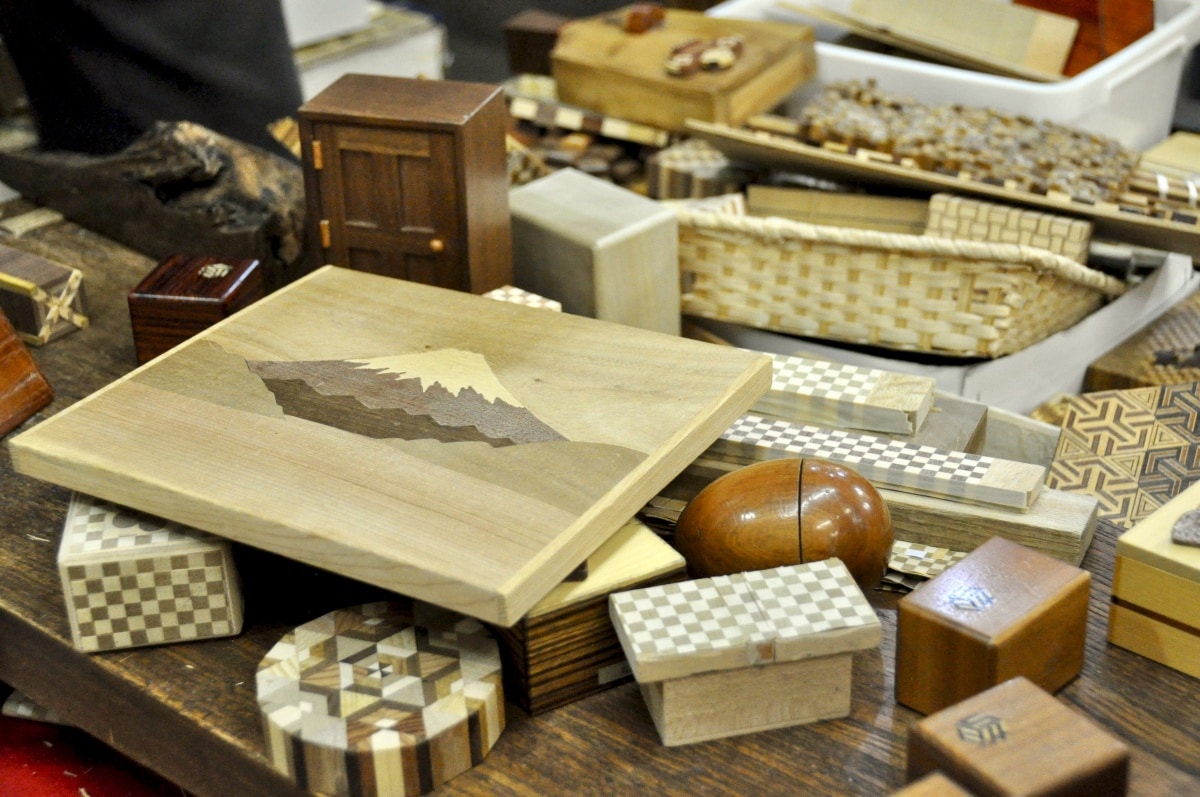 Works of yosegi zaiku are typically basic boxes or puzzle boxes (秘密箱・himitsu-bako) with various secret chambers that require very specific and elaborate patterns of movement to open. The craft is distinguished by a wooden mosaic pattern on its exterior surfaces, and although it may seem that the pattern runs all the way through, it's actually just a thin layer glued to the exterior of a finished box.
The patterns are created by gluing together rods and slats of differently colored wood and then lathing off the top to produce a thin strip, which is then applied to the surface of a box. The surface is then sanded and lacquered to create a durable final product.

The rich variety of wood in the mountainous Hakone region, coupled with the huge number of people coming from Tokyo to visit its hot springs, make it a natural place for such a gift-worthy handicraft to evolve. While similar techniques exist in a few other areas of Japan, the invention of Hakone yosegi zaiku is credited to Ishikawa Nihei (石川仁兵衛), a craftsman who lived near Lake Ashi in the heart of Hakone. It has been designated a traditional handicraft of Japan.
Hakone Maruyama's main store, located just down the street from the reconstructed Hakone Sekisho, sells dozens of varieties of yosegi zaiku boxes and delightful himitsu-bako (puzzle boxes). A traditional himitsu-bako is faced with small slats of wood that must be shifted in a precise order before the box can be opened. The simplest may require just four such movements, but more elaborate boxes may need seven, 10, 12 or even 72! The most complex himitsu-bako the company has produced requires a staggering 1,536 movements to open!

More modern trick boxes (からくり箱・karakuri-bako) offer less intricate but equally challenging mechanisms: a door-shaped box that will confound you until you realize it opens backward; an egg-shaped box that can only be opened by smacking it in your hand so the interior magnets disengage; a box that can only be opened after a magnetic polar bear walks across a horizon created by using different-colored wood.
Even at 80, shop owner and master craftsman Teru Maruyama exhibits childlike joy as he shows off the mechanisms behind his creations.
If you'd like to try your hand at making a simplified yosegi zaiku himitsu-bako, you can head across the street to the Hakone Trick Museum (関所からくり美術館・Sekisho Karakuri Hakubutsukan). For ¥1,720 (¥1,550 with a reservation) you can place yosegi zaiku-style stickers on a four-step himitsu-bako, then sand and wax the surface to make a functional finished product to take home.

Hakone Maruyama Head Office
Address: 17 Hakone, Hakone Town, Ashigarashimo District, Kanagawa
Hours: 9 a.m.-5 p.m.