Huge Mural & Ancient Ceramics in Hakone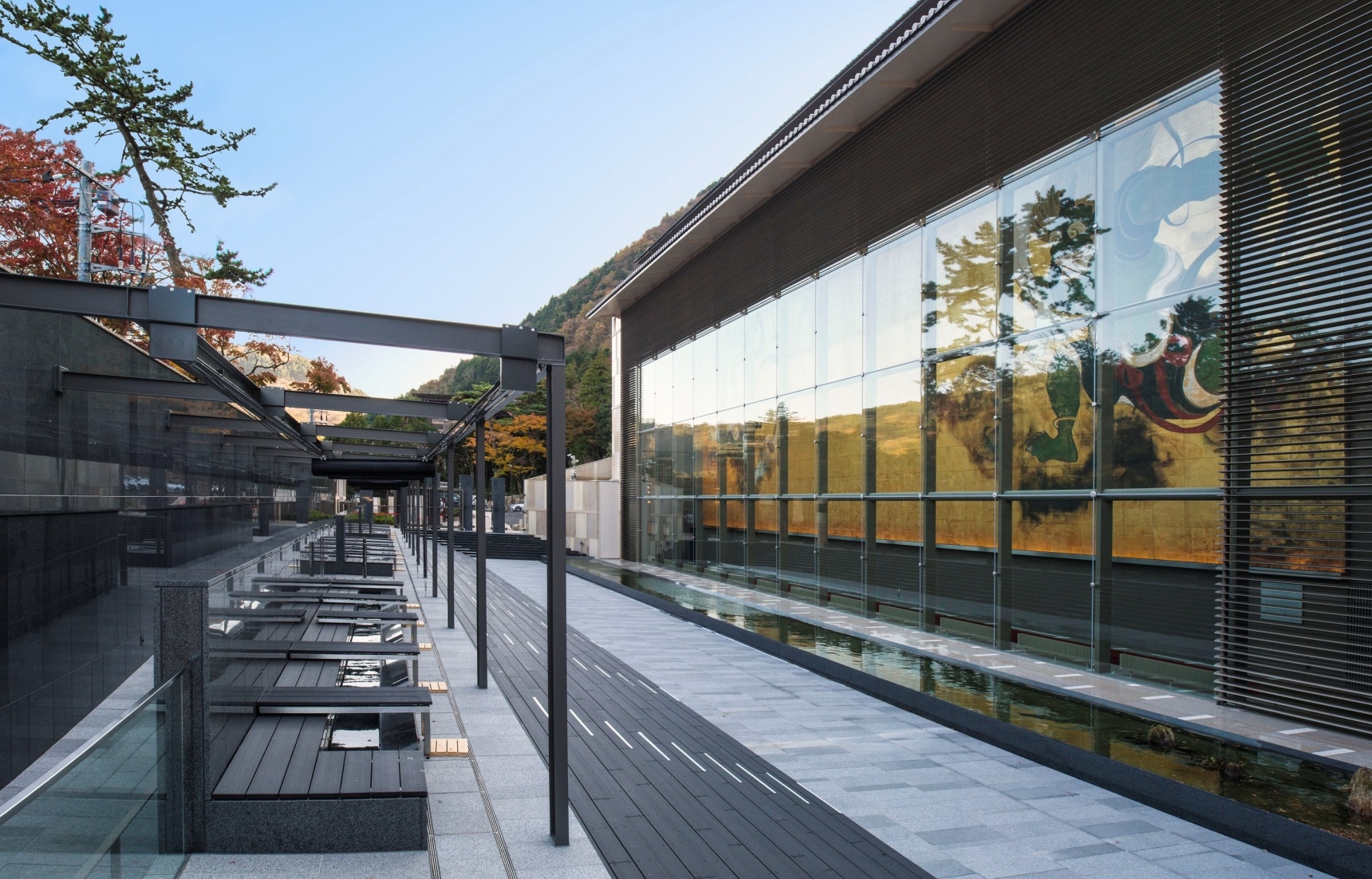 Opened in October 2013, the Okada Museum of Art (岡田美術館・Okada Bijutsukan) features East Asian ceramics and varied Japanese art. Accessible from Kowakidani Station on the Hokone Tozan Railway, it's located across the street from the Hakone Kowakien Yunessun spa resort.
Okada Museum of Art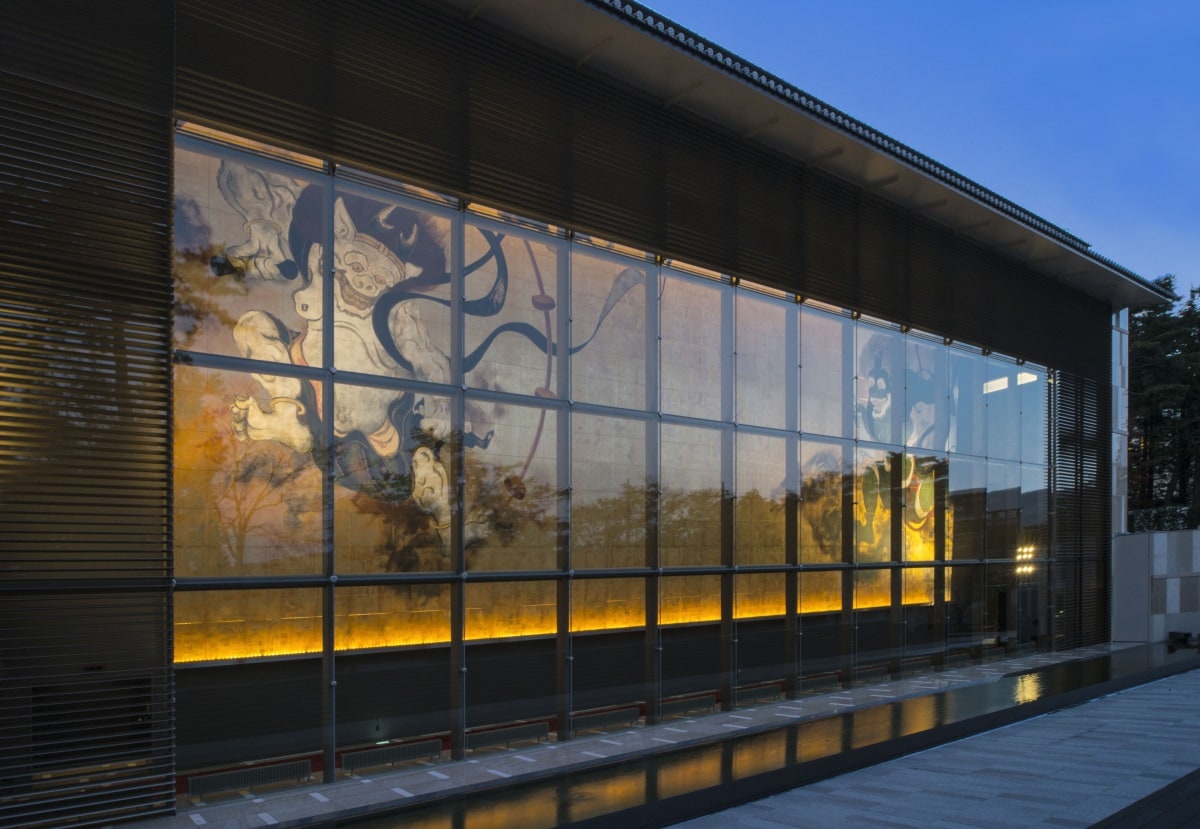 The museum's stylish entrance is dominated by "Wind/Time," a vast mural by Kotaro Fukui featuring the thunder and wind gods Raijin and Fujin. Painted on 640 gold-ground panels, it's a recreation of a 400-year-old screen painting in Kyoto's Ken'nin-ji Temple, expanded to 12 meters (39 ft) high by 30 meters (98 ft) wide. The museum is accessed by walking along the high-ceilinged hall directly before the mural, giving a great sense of its scale.

Outside, foot baths have been set before the mural, filled with naturally occurring alkaline hot spring water to encourage leisurely contemplation. While the foot baths are free for guests, there's a ¥500 charge for those not paying full museum admission.

Image: Kotaro Fukui, Wind/Time, 2013
The museum is generally arranged by time period, opening with a hefty bell from Japan's Yayoi Period (300 B.C.–third century A.D.) and some remarkably large haniwa clay figurines from the Kofun Period (third century–seventh century).

With stately black walls and austere modern lighting, the first floor exhibition progresses through a collection of exquisite ceramics ranging from Han (206 B.C.–220 A.D.) and Tang (618-907) dynasty China to more recent works from the Qing Dynasty (1644 -1911), as well as ceramics from Korea's Goryeo (918-1392) and Joseon (1392-1897) dynasties. Interspersed throughout, the museum also has an impressive collection of bronze and lacquer statues from China, Korea and Japan.

Image: Ogata Kenzan , Bowl with Tatsutagawa Autumn Foliage and Stream Design in Openwork, Edo Period
The third floor features paintings predominantly from Japan's Momoyama (1573-1600) and Edo (1603-1868) periods. These largely consist of screen paintings, including "Chasing Horses in Soma," a striking 18th century recreation of the Soma-Nomaoi equestrian competition in Fukushima Prefecture. Tucked away in a side room, you'll also find a surprisingly graphic collection of erotic shunga illustrations by renowned ukiyo-e artist Katsushika Hokusai.

The exhibition space covers some 5,000 square meters (54,000 sq ft) spread over five levels in all, with the fourth and fifth floors used for special exhibitions. Outside, a pleasant garden spills over the hillside (entry ¥300), with a teahouse set by the pond at its entrance.

Image: 3F Exhibition Room
Aside from the huge mural, the most striking aspect of the museum may be its tight security: no drinks, food, cameras or cell phones are allowed inside, and there's even a metal detector at the entrance. Visitors are asked to leave their belongings in lockers before entering. So be prepared!

Okada Museum of Art
Address: 493-1 Kowakudani, Hakone Town, Ashigarashimo District, Kanagawa
Hours: 9 a.m.-5 p.m.
Admission: ¥2,800
*All artwork images reproduced by permission. Unauthorized reproduction prohibited.