Love Sake & Ramen? Taste Them Together in NYC!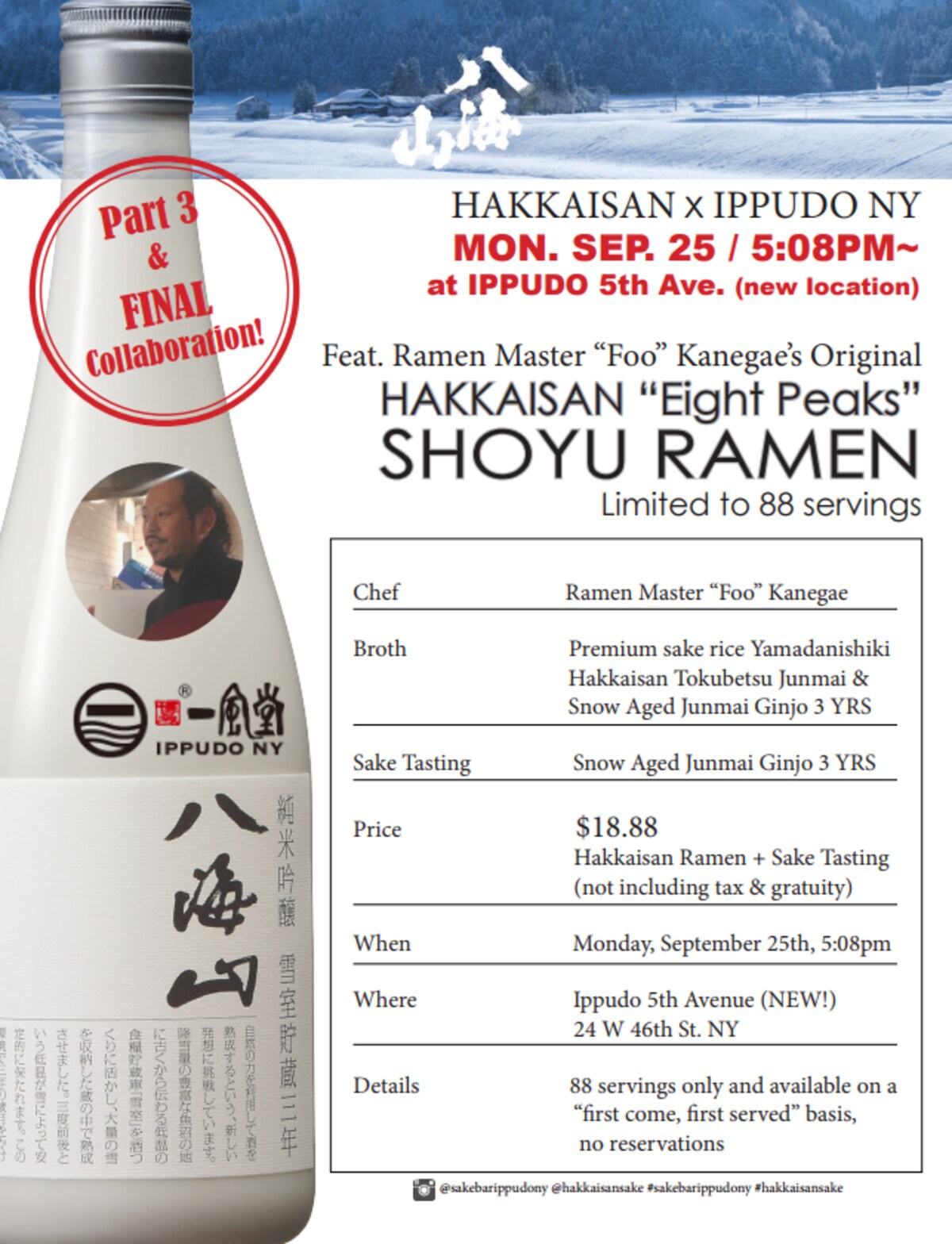 On September 25, 2017, sake and ramen lovers will gather to celebrate the third and final collaboration between Ippudo New York's Ramen Master "Foo" Kanegae and Niigata's famous premium sake maker, Hakkaisan. Hakkaisan is a brewery widely known for its top-quality sake and is recognized by its Japanese name, meaning "Eight Peaks" in English. Over the past two years, Ippudo has held events with Hakkaisan featuring an original miso ramen and shio (salt) ramen, but a new style of ramen will be featured, marking the last collaboration between these two.

Master Kanegae has chosen to serve a delicious new shoyu ramen, made from soy sauce, for this special occasion and is incorporating a generous portion of Hakkaisan Tokubetsu Junmai and Snow Aged Junmai Ginjo 3 Years in his broth. This particular sake, only exported to countries outside of Japan, is brewed with local Niigata Gohyakumangoku sake rice. The combination of this sake and ramen will be one-of-a-kind and should not be missed by foodies and sake aficionados.

Price: $18.88 for Hakkaisan ramen and sake tasting (not including tax and gratuity)
Date and time: September 25, 2017 (Monday) at 5:08 p.m.
Location: Ippudo 5th Avenue, 24 W 46th St, New York, NY 10036
Details: only 88 servings will be available on a "first come, first served" basis, no reservations accepted.