Fab Five Cafés with Free Wi-Fi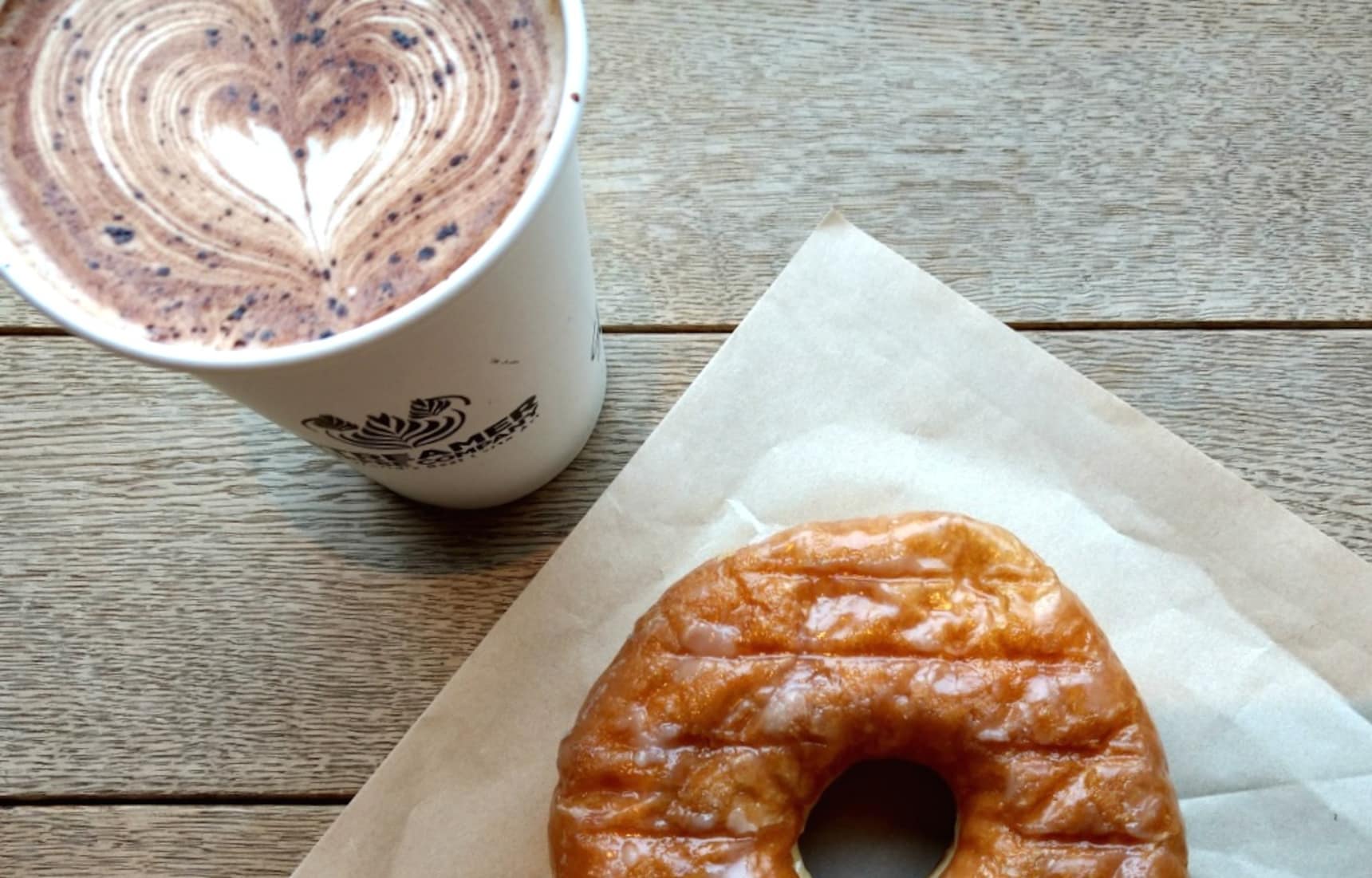 Free Wi-Fi seems abundant in Japan, but you might learn the hard way it's often exclusive to those subscribed to certain Japanese mobile networks. And while some chain cafés and restaurants, like Starbucks and McDonalds, have free Wi-Fi, working at these places could be challenging due to various restrictions. On our list, we offer better options!
5. Wired Cafe (Kawasaki)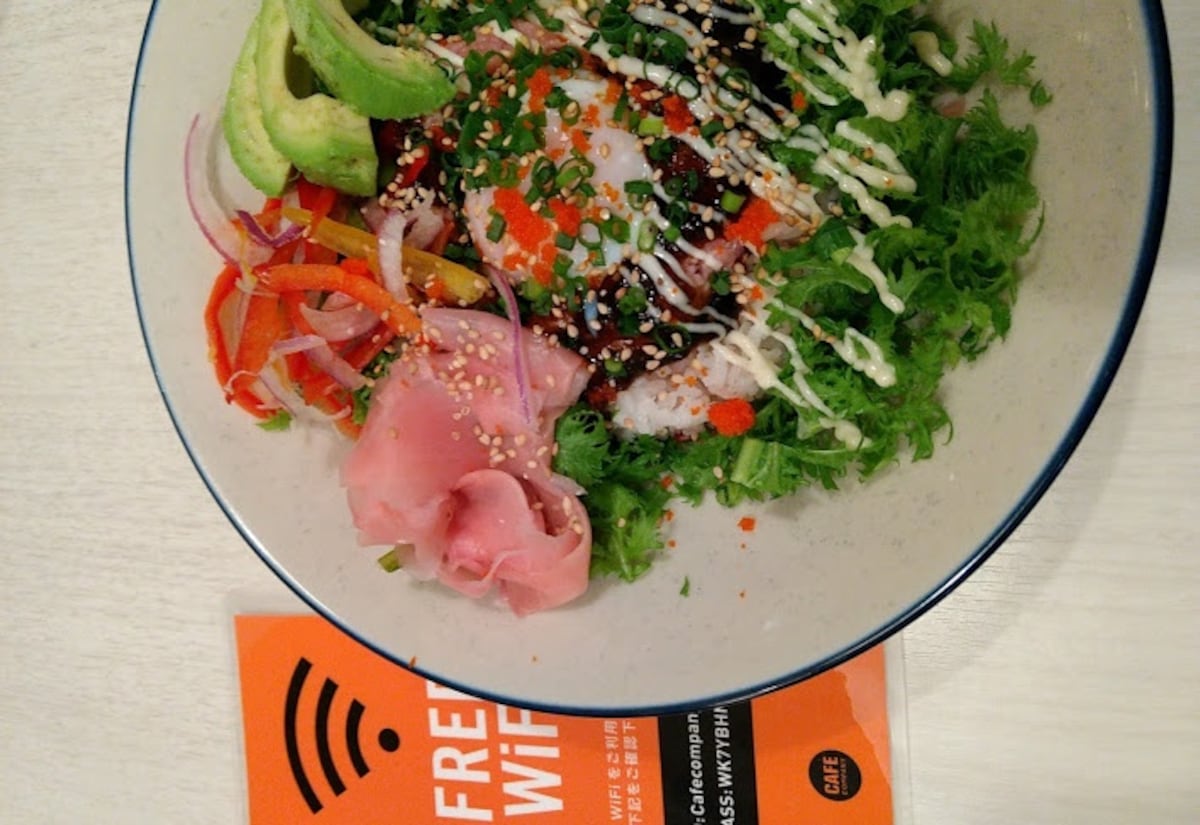 Wired Cafe is a popular chain in Japan, with branches in Yokohama, Musashi-Kosugi, Shinjuku, Shibuya, Kawasaki (Atre), and this one in Lazona, also in Kawasaki. If you're working late, finding a branch that closes later—and does not get very crowded—matters. Lazona branch does this; plus, Lazona Shopping Center is just a good place to go. There are several reasons why you'd like to get work done at Wired: good, filling food that's worth the price, reliable Wi-Fi and outlets by the counter tables, and accessible locations often very near the train stations. Favorite dishes include the Tuna Avocado Rice Bowl, King Taco Rice Bowl, and the Chimichurri Fried Chicken plus rice, which are only about ¥1,000. Set meals, served with drinks and dessert or a side dish, are still under ¥1,500. If you're looking to stay awhile, and might get hungry as you work, this is the place to be.
4. Downstairs Coffee (Roppongi)
One great aspect about Downstairs Coffee, located in Roppongi's Mercedes-Benz Connection, is that it has the longest operating hours for a café on our list, opening at 7 in the morning and closing at 11 in the evening. It also has very fast Wi-Fi, ample electrical outlets and high-ceiling space to free you from the usual claustrophobic feeling you can get from most shops in Tokyo. The pastry selection is great, but the coffee, under the direction of Hiroshi Sawada (the first Japanese barista to win the Free Pour Latte Art Championship in 2008) is stellar. Apart from the opportunity to daydream while exploring the Mercedes-Benz showroom adjacent to the café, you could also reward yourself with a good meal at the Upstairs Lounge, also situated in the same facility.
3. Cosugi Convivial Project (Musashi-Kosugi)
Musashi-Kosugi, central to Shibuya and Yokohama, is the perfect area to meet friends, splurge on shopping, do errands and even homework. There's no bigger café on our list to get some work done than Cosugi Café. Individual tables by the windows have hanging outlets for laptop plugs, perfect for solo work; the big tables are great for brainstorming or group sessions. The café also has a very friendly staff that will still smile at you even if you've spent hours at the café. They also have enough sandwiches, cakes, desserts, drinks and even rice meals to choose from. It will be difficult not to overstay at this café.
2. Streamer Coffee Company (Nagatacho)
While there are other Wi-Fi cafés at Tokyo Garden Terrace in Nagatacho—including The Coffee Bean & Tea Leaf and Starbucks—Streamer Coffee wins. Apart from the interesting seasonal latte offerings, like the maple latte, Streamer also has healthy options like the Moringa Latte. The café's tag line printed on its cups, "World's Best Latte Art" (Hiroshi Sawada is also the founder), is another reason why it wins over the other café options. You can see his street-style inspiration in many branches. The desserts and donuts perfectly pair with the coffee. And because we are talking about Wi-Fi access, of course you can count on a stable internet connection and electrical outlets for laptop charging.
1. The Workers Coffee/Bar (Nakameguro)
Ah, the perfect place for a writer is by a window facing the river. This very window, at Nakameguro's The Works, has a table with outlets for your laptop—such an ideal working space to get some things done. This place has reliable internet and a surprisingly tasty burger. The drink selection is also pretty extensive with fresh juices on the menu. If the burger or the desserts and pastries on the menu are not filling enough for you, despair not! On the same floor as The Workers Coffee/Bar is Stall Restaurant, a sit-down spot that offers salads, pastas, and rice-based dishes.

But really, one important reason to stay here is that they acknowledge one of life's biggest realities: "Coffee is my boyfriend."