12 Historic Churches in Kumamoto & Nagasaki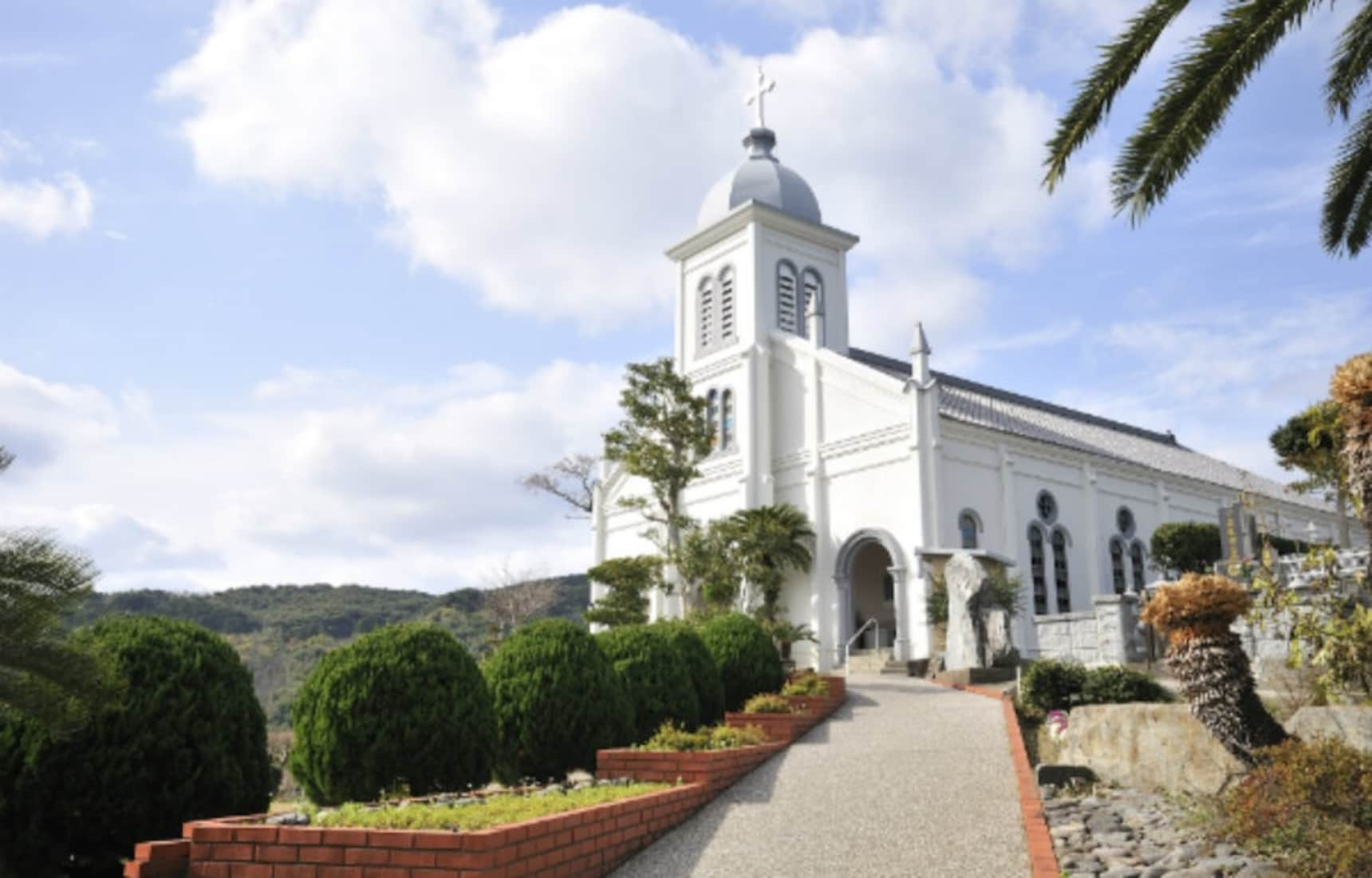 Western Kyushu was the first place where Christianity took a foothold in Japan. Even after the religion was banned in the late 16th century, the islands west of Nagasaki and Kumamoto sustained hidden Christian communities for centuries. When the ban was lifted in 1873, dozens of unique and beautiful churches quickly sprung up across the region.
1. O-ura Cathedral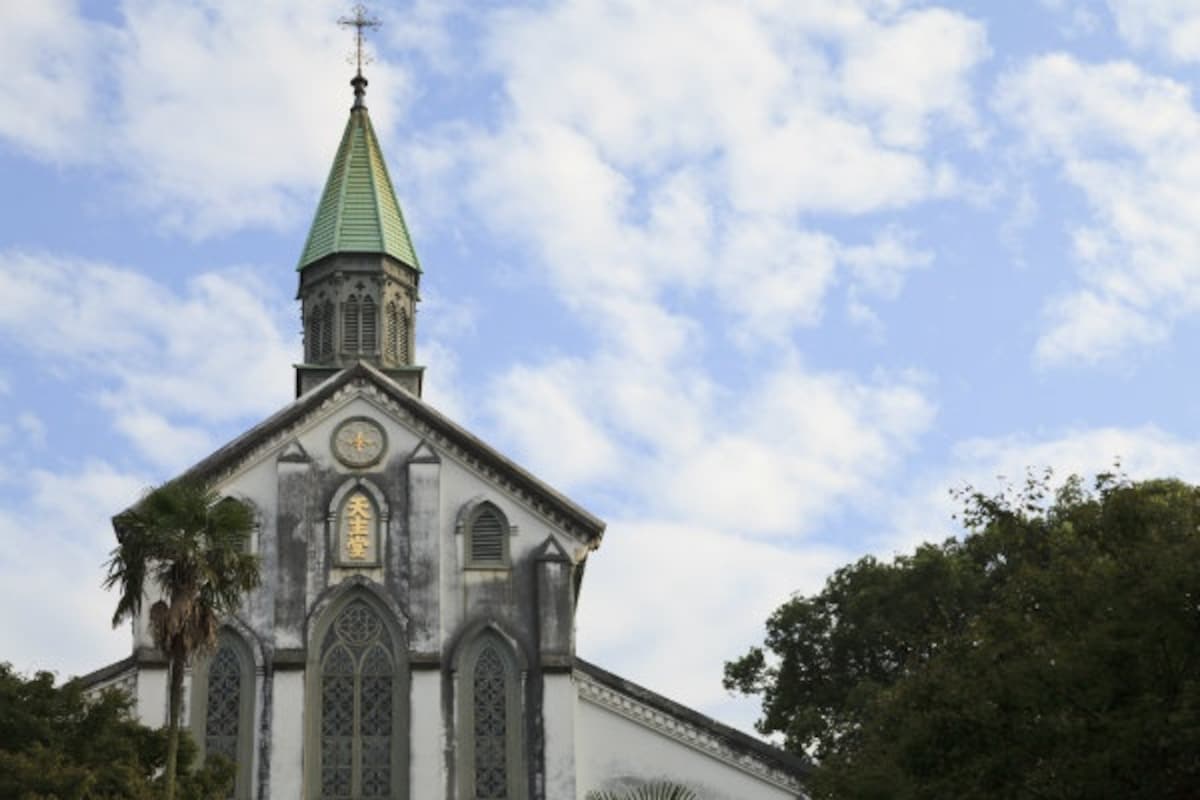 O-ura Cathedral was built in 1864 for French nationals as part of a commercial treaty, at a time when Christianity had become permissible for foreigners but was still forbidden to Japanese nationals. However, in 1865, a number of Kakure Kirishitan, Japanese Christians who had been hiding their faith for centuries, confessed themselves openly to the church. This event was referred to by Pope Pius IX as "the miracle of the Orient."

The original wooden structure in Nagasaki City was rebuilt in brick in 1879, and O-ura Cathedral remains the oldest church in Japan. It was designated a National Treasure twice, in 1933 and again in 1953, and was the first Western-style building in Japan to receive such recognition.

The cathedral's official name is Nihon Niju-roku Seijin Junkyosha Tenshu-do, or "Chapel of the Heavenly Father for the Twenty-six Martyred Japanese Saints." The name refers to 26 Japanese and foreign Christians who were crucified in 1597 under Toyotomi Hideyoshi, who saw the rise of the religion as a threat to his newly established control over Japan.
2. Shitsu Church
Following the appearance of hidden Christians at O-ura Cathedral, other Kakure Kirishitan began to emerge around the area. Built in 1882 for former Kakure Kirishitan in the coastal town of Sotome, some 30 kilometers (18.6 mi) northwest of Nagasaki, Shitsu Church is distinguished by having not one but two bell towers, added in 1891 and 1909. Made from plaster-covered brick, the church's low roof is thought to act as a protection against strong coastal winds.
3. Ono Church
This unique church was made from local basalt fastened using a combination of red soil, caustic lime and sand. The unique style is referred to as "de Rotz walls," after the priest who guided construction by local believers in 1893. The roof is made of Japanese kawara tiles, creating a unique fusion of East and West. Ono Church was built as a satellite of Shitsu Church, located roughly 4 kilometers (2.8 mi) to the southeast.
4. St. Francis Xavier Memorial Church
Originally built on a different site in 1913, St. Francis Xavier Memorial Church was moved to its present location on the northeast of Hirado Island in 1931. It was first called Hirado Catholic Church, but was renamed after a statue of Jesuit missionary Francis Xavier was placed on the grounds in 1971. Xavier visited Hirado several times in the 16th century.

The church stands near bamboo groves and temples, making it a popular spot for photos juxtaposing Western and Eastern iconography. However, no photos are allowed inside the church itself.
5. Tabira Church
With its domed bell tower and multi-tiered roof, this red-brick church was completed in 1918, offering scenic views of Hirado Strait and Hirado Island beyond. The bricks were laid using a mix of red clay and caustic lime called amakawa, which the local believers made by hand.
6. Sakitsu Catholic Church
Sakitsu Church stands in a small fishing village on the west coast of Shimoshima Island in Kumamoto Prefecture. A wooden church was first built in the village in 1880, followed by the present Gothic-style structure in 1934. The church features a floor of straw tatami mats beneath its vaulted ceiling, giving the interior a feel reminiscent of a Japanese home.
7. Oe Church
This chalky white church was built in 1933, established roughly 5 kilometers (3.1 mi) northwest of Sakitsu Church, also on Shimoshima Island. Along with the Shimabara Peninsula to the north, the Amakusa Islands, of which Shimoshima is the largest, became the site of a Christian rebellion from December 1637 to April 1638. The suppression of the rebellion led to the expulsion of Portuguese traders, who had been suspected of involvement, and more stringent enforcement of the national ban on Christianity.

Following the lifting of the ban, the region was featured in an essay series entitled "Five Pairs of Shoes" written by five Japanese poets in 1907. Published in a Tokyo newspaper, the series raised interest in the area's reemerging Christian culture and international flavor. A monument to the essays can be found on the grounds of Oe Church. No photos are allowed inside the church itself.
8. Dozaki Church
Built in 1908, this is the oldest church—and oldest Western-style building—in Nakasaki's Goto Islands, where many Kakure Kirishitan fled during their centuries of suppression. After the ban was lifted, the islands became home to some 50 churches, including Gorin Church, Kashiragashima Church and Nokubi Church. Dozaki Church now holds a museum, and has been designated an Important Cultural Property by Nagasaki Prefecture.
9. Kashiragashima Church
Kakure Kirishitan came to inhabit the island of Kashiragashima in 1869. This incredible little church was built using local sandstone quarried on the island beginning in 1910, and was completed in 1919. The beautiful stone structure has now been designated an Important Cultural Property of Japan.
10. Former Gorin Church
Standing on Hisaka Island, the second of the five major Goto Islands, this church was first built as Hamawaki Church in 1881, but moved to its present location and renamed in 1931. Standing in a remote location by the ocean shore, this simple wooden church was nearly dismantled in 1985, but preservation efforts have allowed visitors to continue to enjoy its unique, Japanese-infused Gothic style to this day.
11. Former Nokubi Church
Built on the small Nozaki Island in 1908, Nokubi Church was an early example of a church designed and executed by a Japanese carpenter without guidance from foreign missionaries. While gradual depopulation led to the island being formally deserted in 1971, this beautiful brick church has been restored, and is now recognized as an Important Cultural Property by Nagasaki Prefecture.

Now standing among the deer that roam the island, prospective visitors are asked to contact the Ojika Island Tourism Office before visiting. The church is generally locked, and the stunning interior may not always be visible.
12. Urakami Cathedral
Officially St. Mary's Cathedral, construction of Urakami Cathedral began in Nagasaki City in 1895. While the red-brick, Neo-Romanesque structure was opened in 1914, its belfry dome wasn't completed until 1925. It was the largest Catholic church in East Asia at the time.

Urakami Cathedral was destroyed on August 9, 1945, when the Fat Man atomic bomb detonated roughly 500 meters (1,640 ft) to the south. A replacement cathedral was built from reinforced concrete in 1959, with an outer layer of brick added in 1980 to more closely resemble the original structure. Partially destroyed statues of saints still stand on the approach to the cathedral, while the original, 50-ton belfry remains where it fell. The nearby Peace Park contains a remnant of the original cathedral's walls, and other remains are on display in the Nagasaki Atomic Bomb Museum.