Department Stores with a Long History
With a strong culture of preserving history, Japan has the largest number of shinise, especially in regards to department stores. Many started out as kimono sellers; but, after a few centuries of mixing Western shopping with Japanese traditional culture, Japan now hosts several remarkable old brands, locally and globally.
5. Mitsukoshi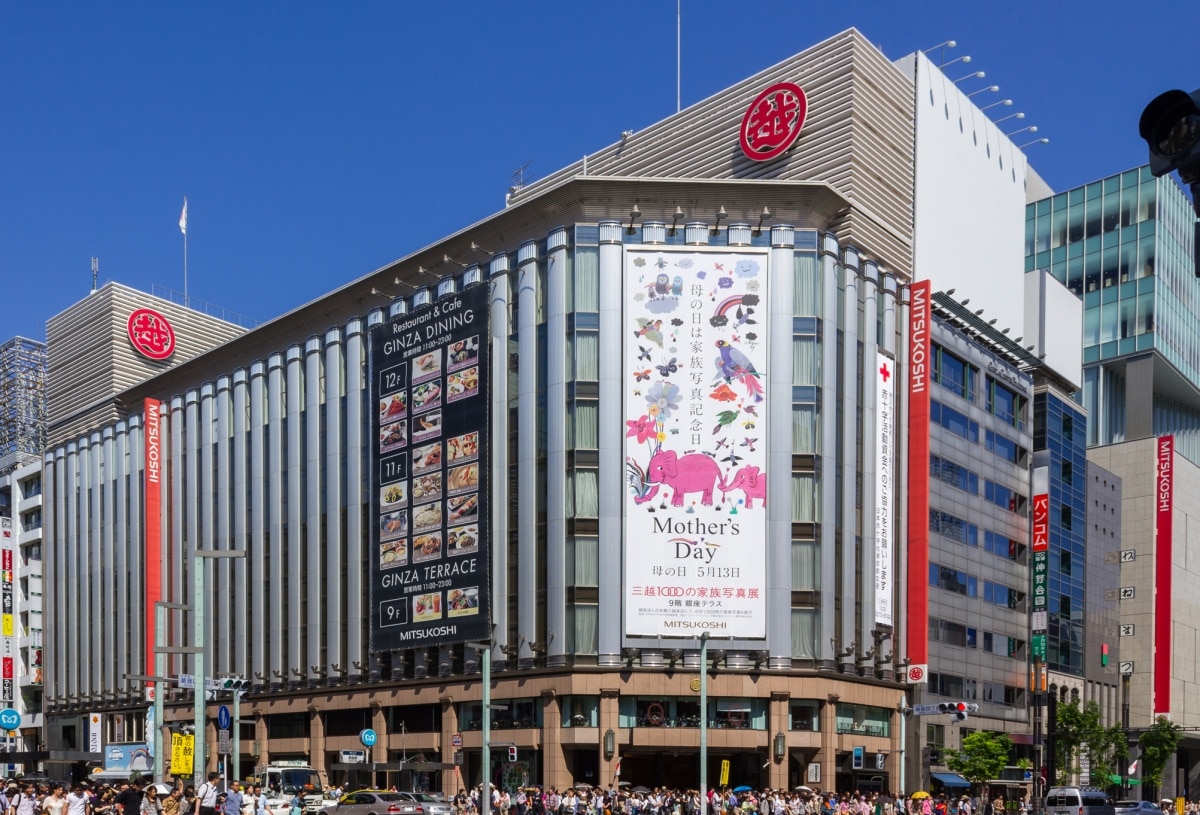 Mitsukoshi, previously named Echigoya, began in 1673 selling elegant kimono directly high society members in Japan. However, in 1683, the first store opened, allowing customers to come to their spot located in Nihonbashi, Tokyo. To this day, they're still based in this neighborhood. The store was renamed Mitsukoshi in 1872. Mitsukoshi became one of the most famous shinise in Japan—setting trends in the country and creating remarkable advertising and posters— and a century later Mitsukoshi is still one of the strongest department stores in Japan.
4. Isetan
Within the same Mitsukoshi Isetan Group with Mitsukoshi, Isetan is now one of the highest profiting department stores worldwide (specifically the Shinjuku store). Isetan started out as a kimono retailer as far back as 1886. The first shop was based in Kanda, but the headquarters was moved to Shinjuku in 1933, which became one of the most remarkable landmarks in the area. The store still retains a lot of old features from the time it was built. Definitely worth noting when you are shopping there.
3. Daimaru
After two Tokyo-based shinise department stores, we have some big names from other regions as well—Daimaru is one of them. Daimaru started business in 1717, selling used clothes under the name Daimonjiya in Kyoto, the former capital of Japan. Then, it expanded to Osaka, which is a traditional business town. With such a good business environment for growing its business, Daimaru grew very quickly and opened stores across the whole country. With its strong standing in the west, it's always being compared to Mitsukoshi as the Yokozuna (the top sumo wrestler title) of the western Kansai region.
2. Mazuzakaya
Mazuzakaya is based in Nagoya, one of the largest business centers of Japan. Similar to other fellow department stores, Mazuzakaya started out in 1611 as a kimono seller called "Ito Gofukudana." They got the new name in 1768 after acquiring Mazuzakaya in Ueno, Tokyo. They were once the only fabric supplier for some famous shogun, such as the Tokugawa family. Then, in 2010, they acquired Daimaru to form "K.K. Daimaru Mazuzakaya Department Store."
1. Takashimaya
For visitors to Tokyo, it might be the most recognized Japanese department store brand with its prime location right next to Shinjuku Station; however, Takashimaya was founded in Kyoto and bases its headquarters in Osaka. They initially sold old clothes and cotton products, but their elegant patterns and quality got them contracts from the royal family. They also had an opportunity to exhibit their products in Europe, making Takashimaya one of the first Japanese brands that was introduced to non-Japanese people. With such a rich history, no wonder they're still one of the most recognized Japanese shinise department store brands internationally.