Tokyo's Too-Big-to-Bite Burgers
5. Benny's Place — Barbeque Chicken Burger (Yokohama)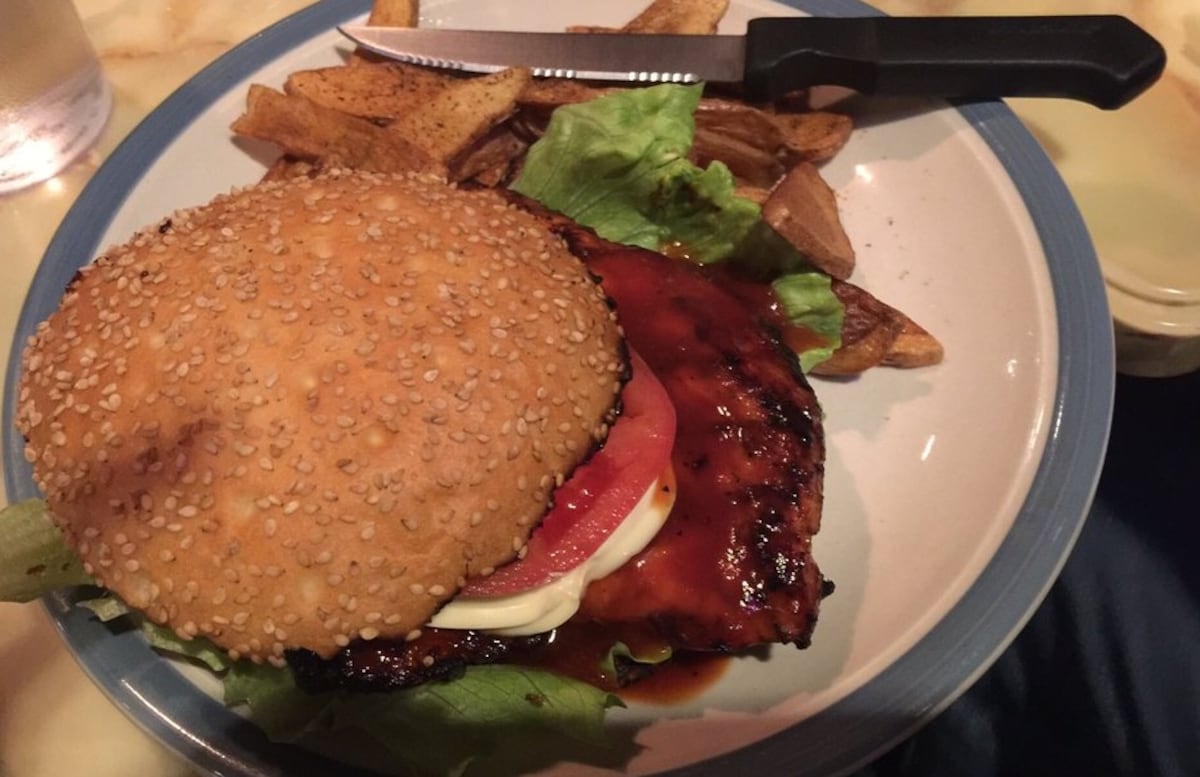 Benny's Place makes tangy barbecue even more sinful by incorporating it into a saucy burger. Benny's Place, a neighborhood favorite in Yokohama, is perhaps more famous for its mouthwatering, real American baby back ribs, but the burgers and sandwiches also win hearts and stomachs. Other bestsellers include the steak sandwich and onion cheeseburger. While this spot may be outside of Tokyo, at 45 minutes by train from Shinjuku, it's a fair contender.
4. The Great Burger — The Great Greedy Burger (Shibuya/Harajuku)
It doesn't take much effort to sell the "Great Greedy Burger" from The Great Burger. With two thick patties smothered in cheddar cheese and complemented with tomatoes, lettuce, chopped onions, relish, mayo, mustard, bacon, avocado and a fried egg, you almost get breakfast, lunch and dinner in one bite. And if this big burger still doesn't satisfy you, you can end your meal with a glass of the restaurant's famous macadamia milkshake. If you still want to load up on calories, The Great Burger can also serve you craft brews, omelettes and pancakes.
3. Grill Burger Club Sasa — Birthday Burger (Daikanyama)
Located just 30 seconds from the East Exit of Daikanyama Station, Grill Burger Club Sasa can offer you everything from a typical 80-gram (2.8-oz) burger to the 2-kilogram (4.4-lb) Birthday Burger—which is so big it has to be ordered at least five days in advance! Enjoy the retro decor while trying to decide just how much burger you can handle.
2. Monster Café — Big Burger (Shinjuku)
This pink and checkered cafe may look too adorably Hansel-and-Gretel to house massive hunks of beef, but these burgers would fill even the giant up the beanstalk. The Big Burger checks every item on our giant burger list: chunky patty, bonus bacon, cheesy cheddar and crisp veggies, it measures 25 centimeters across (almost 10 in) and weighs in at 3.5 kilograms (7.7 lbs)! Everything else in the café might be a little pricey for the serving size, but this one gives you some greasy gold for your well-spent magic beans—though it's not cheap, either!
1. Monster Café — Tower Burger (Shinjuku)
Did you think there was only one monster burger in the Monster Café? If you'd like a beanstalk of your own to size up and munch down, look no further than the Tower Burger, a prime centerpiece for any big group celebration. Imagine burger overdose, with each layer a different kind of burger. There's beef, chicken, bacon and almost every filling a burger could have (yes, including pickles).