5 of Japan's Weirdest Burgers
Burgers' color, composition and character have changed through time, and Japan's battle of the brands keeps pushing the boundaries. Burger King and McDonald's may be the top noisemakers in the "weird burger" department, but there are plenty more cute-slash-weird burgers to be found under the rising sun.
5. Burger King — Aka Samurai Burger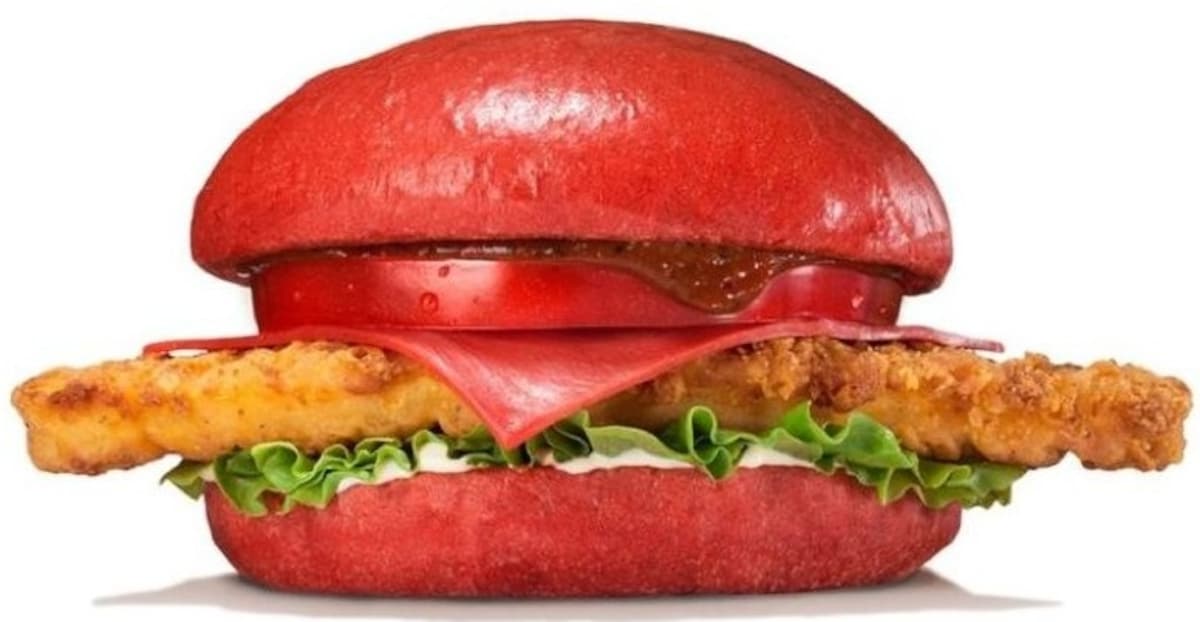 Burger King may just win the award for most bizarrely colored burgers, the chain's Japan branch having come up with a clutch of burgers in a variety of colors through the years. BK's bright red Aka Samurai Burger (aka means red), dyed with tomato powder, came out in 2015 following on the heels of its attention-getting Black Burger.

Burger King Japan's general manager for business management, Matsunori Tatsuiwa, has confessed that Burger King, with less than 100 stores in Japan, has a low advertising budget, and it would be difficult to compete with McDonald's, which has a ubiquitous presence and roughly 3,000 stores in the country. Instead of engaging expensive ad agencies, the team behind Burger King Japan creatively repurposes existing menu items into weird burgers with the aim of getting viral social media attention instead. So far, it seems to be working!
4. McDonald's — White & Black Halloween Burgers
Burger King isn't the only belligerent in the war for the weirdest burgers, however. For Halloween 2014, McDonald's released the Camembert Chicken Filet-O and the Squid Ink Burger—the latter featuring no actual squid, but squid ink sauce, with buns blackened using bamboo charcoal, plus two beef patties, cheese and fried onions. Apparently, the white burger was meant to look like it was wearing a ghost costume. We suppose it's better than a sheet over your head...
3. Peanuts Café — Bite-Sized Stamped Burgers
You know you're in Japan when almost everything you eat begs you to purr, "Kawaii." Admittedly more "cute" than "weird," these mini-burgers are just one of the many interesting items served at the creatively fashioned Peanuts Café in Nakameguro. The four burgers in this set are a mixture of all flavors: a sweet dessert cream blueberry burger, a salty meat burger, a tangy vegetable burger and a slightly spicy meat burger. These too-cute burgers are well complemented by the lightly salted fries served on printed Peanuts wax paper. It's best to make reservations, though—the place is usually packed!
2. Orbi Yokohama — Blue Earth Burger
This weirdly blue burger is available at a science museum called Orbi in Yokohama, created in a collaboration between the BBC and Sega. The blue-colored burger bun, stamped with a map of part of the world, holds what is basically your usual chicken burger, with ample creamy sauce and tangy barbeque sauce to keep it from getting too dry. But this blue burger is not to be belittled, as every bite has the power to remind you of the carbon footprint you're leaving behind.
1. Orbi Yokohama — Frog Burger
How's a deep-fried frog for a patty? It may not look too appealing, but this frog burger was released in early 2015 to mark the Deadly Poison Exhibition at the Orbi science museum in Yokohama. This specially made delicacy is held in a bun colored with bamboo charcoal, and yes, those are frog's legs sticking out of it. No getting around that. Tastes like chicken?