Get Your Fish Burger Fix at 6 Japanese Chains
McDonald's: Filet-O-Fish, Ebi Filet-O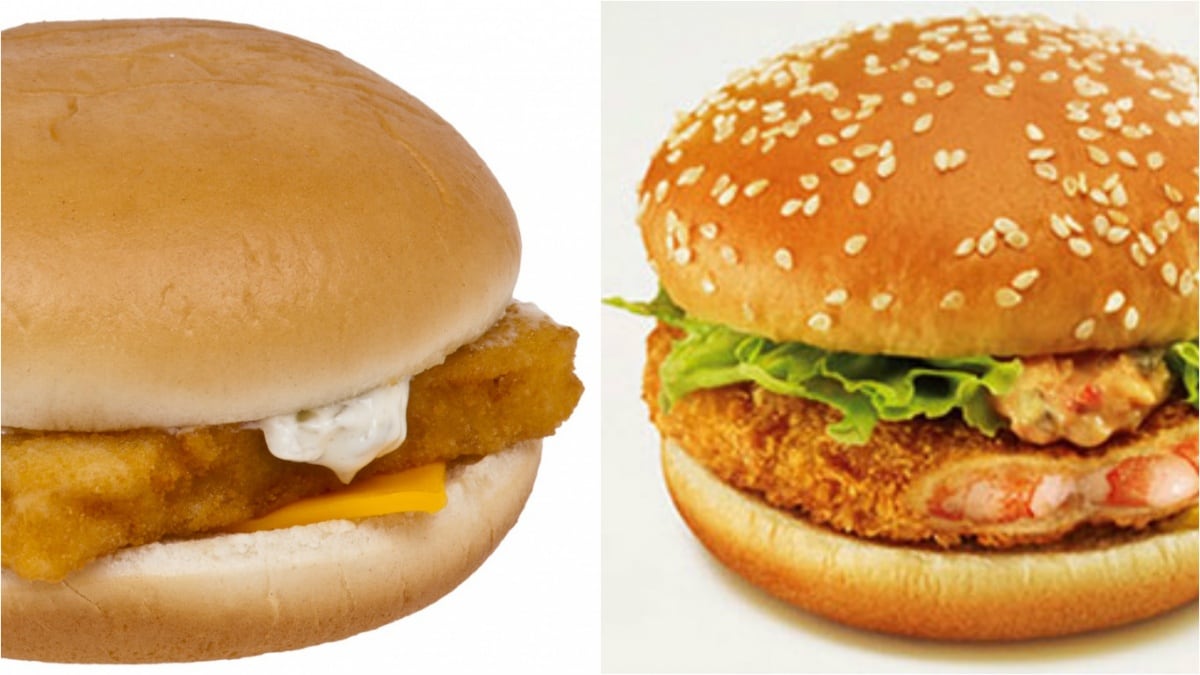 The Filet-O-Fish burger consists of a fried white fish fillet square topped with tartar sauce and an American cheese slice. This entry on the McDonald's menu originated by a chain located in a largely Catholic area. As Catholics are forbidden from eating meat on Fridays during the Lenten season, the Filet-O-Fish was a good way to boost sales on that day of the week. Other than Fridays, it has been revealed on TV that Filet-O-Fish sales increase on rainy days, though nobody knows why.

While the Filet-O-Fish is typical of McDonald's locations all around the world, the Ebi (Shrimp) Filet-O is more easily found in Asia. A patty with minced shrimp rests inside a sesame bun, with onion, mayo and lettuce toppings. The Ebi Filet-O celebrated its Japanese 10th anniversary in October 2015. While at first it was a limited-time option, it was so successful that it eventually became a staple of the country's menus in 2006.
Lotteria: Ebi Burger
Lotteria also serves an ebi burger, with ingredients very similar to the McDonald's one: shrimp patty, lettuce, eggs, mayo and onion topping. The chain started serving ebi burgers in 1977, and the patty's recipe was updated in April 2015 to guarantee an even better taste..
Mos Burger: Fish Burger, 'Ebi Katsu' Burger
The Japanese-born chain Mos Burger has also got your back with its fish burger and ebi katsu burger. Being among the few to also have soy patties, it's only natural that they would have a fish option too. The fish burger is once again your typical fried white fish patty, slid between onions and mayo on top, with American mustard plus a cheese slice on the bottom. The ebi katsu burger is quite similar, omitting the cheese and replacing lettuce and mayo with tartar sauce and cabbage. The chain was born in Japan in 1972 and has been selling fish burgers since April 1976.
Freshness Burger: Fish Burger, Crab Croquette Burger
Freshness Burger is also jumping on the fish patty bandwagon. The speciality of this chain is however their Crab Croquette Burger and its Alaska snow crab patty, the flavor of which is enhanced by onions and lettuce. McDonald's had a similar burger on sale for a limited time in 2014, but it seems that at the time of publication, Freshness Burger is the only chain regularly offering crab patties.
Burger King: Fish Sando
While Burger King might not be as well-known as its rivals in Japan, they are staying in the fish burger game with their own offering. While the ingredients are very similar to those of other chains, it's one of the cheapest options out there.
First Kitchen: Ebi Mayo Shrimp Burger, Tartar Ebi Burger
While nowadays you can eat different kinds of food at this restaurant chain, in the beginning First Kitchen was only a hamburger joint. After expanding its menu in the 90s, it's not a surprise that the new menu would include fish options, with the Ebi Mayo Shrimp Burger and Tartar Ebi Burger, which mainly differ in the topping sauce as the name suggests. While the menu also includes the Gapao Shrimp Burger, this dish actually includes meat. Gapao rice is a traditional Thai dish of rice covered with stir-fried chicken and basil, and the burger features a shrimp patty with the same topping, and a sunny-side-up fried egg.