Jogging the Tokyo Imperial Palace
The circuit around the Tokyo Imperial Palace is almost exactly 5 kilometers (3.1 miles) long, making it an excellent running course with a spectacular view.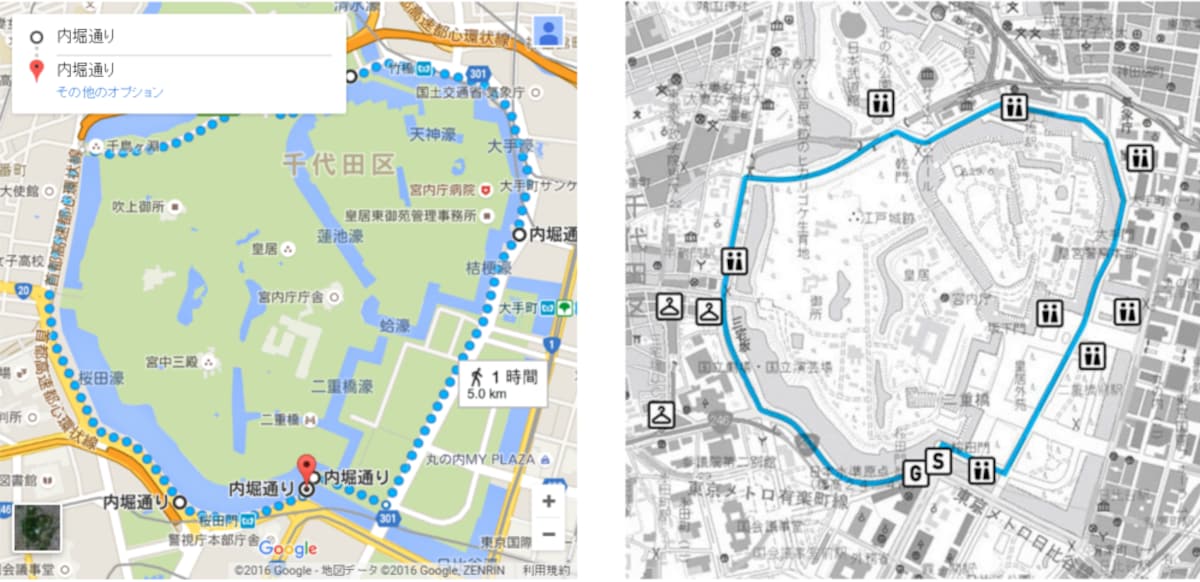 If you run the course counter-clockwise, you will find the Imperial Palace on your left. Beyond the moat is a stone wall, inside which is an abundance of greenery despite being located in the heart of Tokyo.

From the road you can see the stone wall stretching onward, with the inner grounds visible as a background in the distance. Because the course forms an arc, it seems to scroll slowly to the side without you noticing it, as a new background appears gradually. This makes it simply the most natural thing to keep on moving to see what comes next.
Two special sections are wedged into this basic route to give it more flavor. The first is the section from Sakuradamon Gate, past the outer gardens up to Otemon Gate (above). As you run out of the gate and through the evenly spaced black pines, you actually enter a region contained by the moat, or rather actually inside the castle grounds.

The other is the section from Kitahanebashi Gate to Hanzomon Gate through the Chidorigafuchi intersection (below). This is a straight and climbing track over the moat, with almost no view of the stone walls. But in springtime it becomes a veritable tunnel of cherry blossoms in full bloom. A side road used by walkers—the Chidorigafuchi pathway and park—travels parallel to this route.
Enhanced by these two accenting sections, the basic route is actually divided into two. The first part is the even curve from Otemon Gate to Kitahanebashi Gate, while the second is the grand arc gradually going downwards from the sudden rise appearing between the Hanzomon Gate and Sakuradamon Gate.

So the Imperial Palace outer route is thus made out of four general sections. While each has its own specific character, they all have a high degree of finish to give an overall feeling of compactness and harmony to the 5-kilometer run.