The Perfect Beer for Shinkansen Fans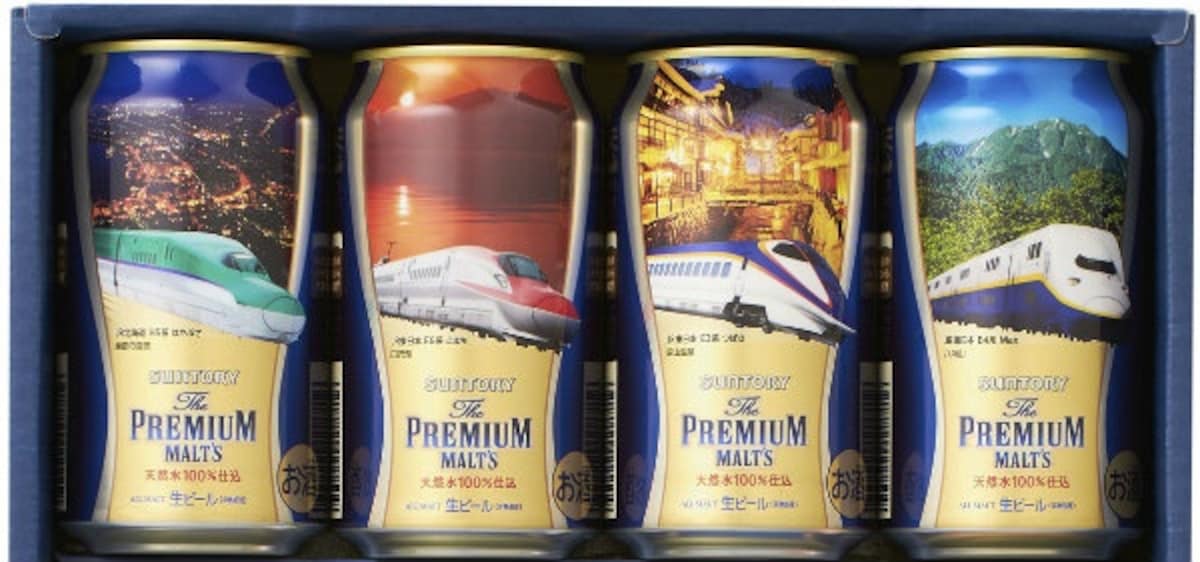 Having won the Grand Gold Medal in the beer category of the Monde Selection awards for three consecutive years—in 2005, 2006 and 2007—the brand has proven itself in terms of flavor, and now they're set to impress us with some exclusive packaging as well.

The new range of limited-edition cans features 15 Shinkansen bullet trains from around the country. In addition to showcasing the different Shinkansen models that run on the nation's extensive high-speed rail networks, the cans will also feature well-known landscapes and tourist spots that can be found on each train's local route.

Above, left to right: The Hokkaido Shinkansen ("Hayabusa" H5 Series) is accompanied by a night view of Hakodate, one of Japan's three great night views; the Akita Shinkansen ("Komachi" E6 Series) features Japan's deepest lake, Lake Tazawa; the Yamagata Shinkansen ("Tsubasa" E3 Series) shows off the stunning Ginzan Onsen town; and the Joetsu Shinkansen ("Max" E4 Series) runs past Mount Hakkai, one of the three great mountains of Echigo, which is the old name for the area of Niigata Prefecture.
Above, left to right: The Hokuriku Shinkansen ("Asama" E2 Series) shows the scenery around Asamayama in Nagano Prefecture; the Hokuriku Shinkansen ("Kagayaki" E7 Series) displays the beauty of Kenroku-en in Ishikawa Prefecture, one of the three most beautiful gardens in Japan; the Tokaido-Sanyo Shinkansen ("Nozomi"/"Hikari"/"Kodama" N700 A Series) runs by world-famous Mount Fuji; and the Tokaido-Sanyo Shinkansen ("Nozomi"/"Hikari"/"Kodama" 700 Series) shows Yasaka Pagoda, the last remaining building from Hokanji Temple, and one of the most impressive landmarks in Kyoto's Higashiyama District.
Above, left to right: The Sanyo Shinkansen ("Hikari Rail Star" 700 Series) is pictured alongside the country's most spectacular castle, Himeji Castle; the Sanyo Shinkansen ("Kodama" 500 Series) is shown with the famous red torii gate at Itsukushima Shrine; the Sanyo-Kyushu Shinkansen ("Mizuho"/"Sakura" Series N700) appears before Mount Kaimon in southern Kagoshima; and the Kyushu Shinkansen ("Tsubame" Shin-800 Series) can be seen with Nabegataki Falls in the background.

The 350-milliliter (11.8-oz) cans will be sold in exclusive dozen-packs around the country from July 19. While the price point is unspecified, online retailer Bravo Ten at Rakuten plans to sell the boxes for ¥2,892 (US$26.03), plus postage.
In addition to the 12-packs, Suntory will be releasing a number of special four-piece sets, available exclusively from convenience stores around the country from July 26. Containing four 330-milliliter (11.15-oz) cans, the designs featured will be: The Hokkaido Shinkansen ("Hayabusa" H5 Series) which also appears in the dozen set; the "0 Series" Tokaido-Sanyo Shinkansen, and the rarely sighted "East i E926" and "Doctor Yellow" 923 model trains, which inspect the conditions of the track and overhead lines while travelling at full speed, using special on-board equipment.