Gotta Catch All the Bundled Pikachu!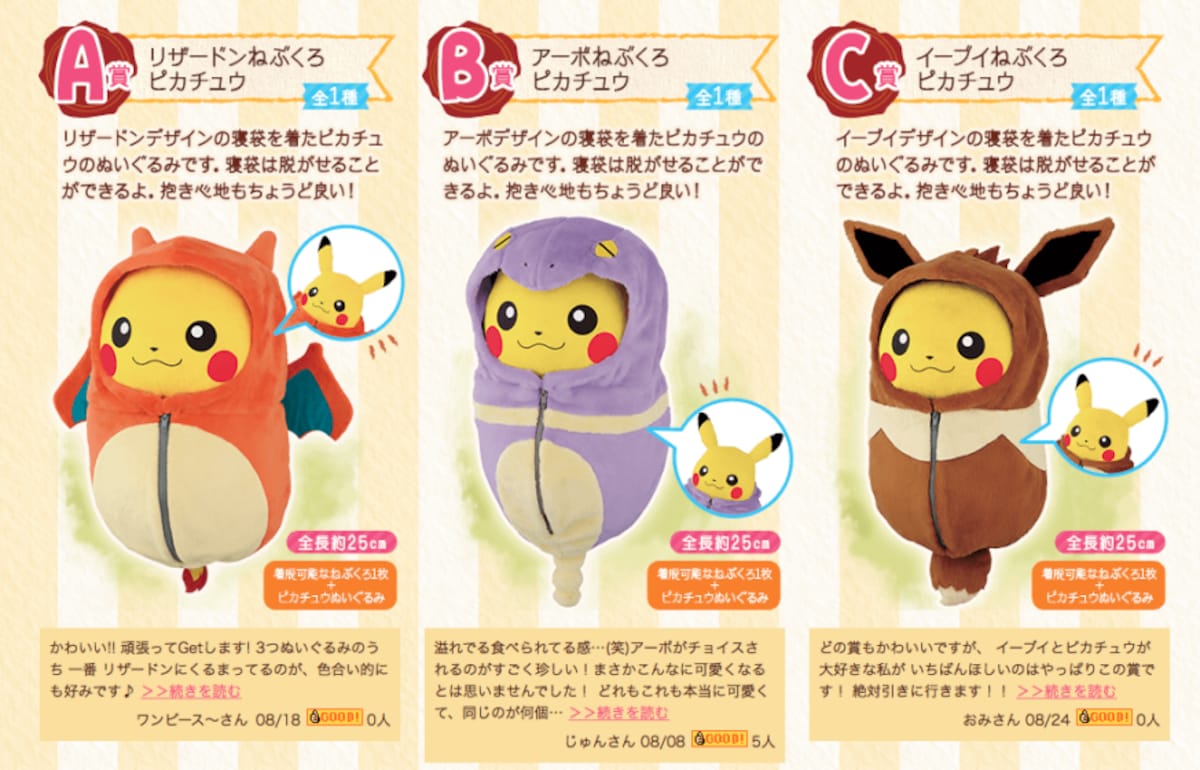 These are three of the options from 2015. With lottery tickets sold at Pokémon Centers and Tsutaya stores around the country, the chances of winning one of the cute characters may have been slim, but now we get to try our luck all over again with a brand new lineup of plushies and a new way to catch 'em all.
There are eight different plushies to collect in the new Pikachu Nebukuro (Sleeping Bag) collection. The new lineup, from Japanese toy company Banpresto, will be available to win as Craneking arcade-exclusive prizes in gaming centers around the country.

Starting from May 12, 2016, six of the adorable Pikachu are set to appear in the nation's crane machines, or "UFO catchers" as they're called in Japanese, with each of the bright yellow rodents zipped up in a cute Pokémon sleeping bag.
Above from left to right we have Fushigidane (Bulbasaur), Hitokage (Charmander) and Zenigame (Squirtle), which will come in large, 24-centimeter (9.5-in) designs.
Fans of Eevee's original three evolved forms will be excited to know that you can collect Showers (Vaporeon), Thunders (Jolteon) and Booster (Flareon) in 13-centimeter-tall (5.1 in) models.
And starting from May 24, we'll get to see Pikachu inside Metamon (Ditto) and Raichu in 24-centimeter (9.4-in) models.

To see more pictures of the adorable critters, including the sweet story behind their sleeping bags (said to have been made for them by a mountain climber after they peeked into his tent and fell in love with his cosy sleeping bag), stop by the toy manufacturer's website for more details.

With or without their Pokémon hoods, these are the some of the cutest Pikachu toys we've ever seen!