7. Turret Coffee (Tsukiji)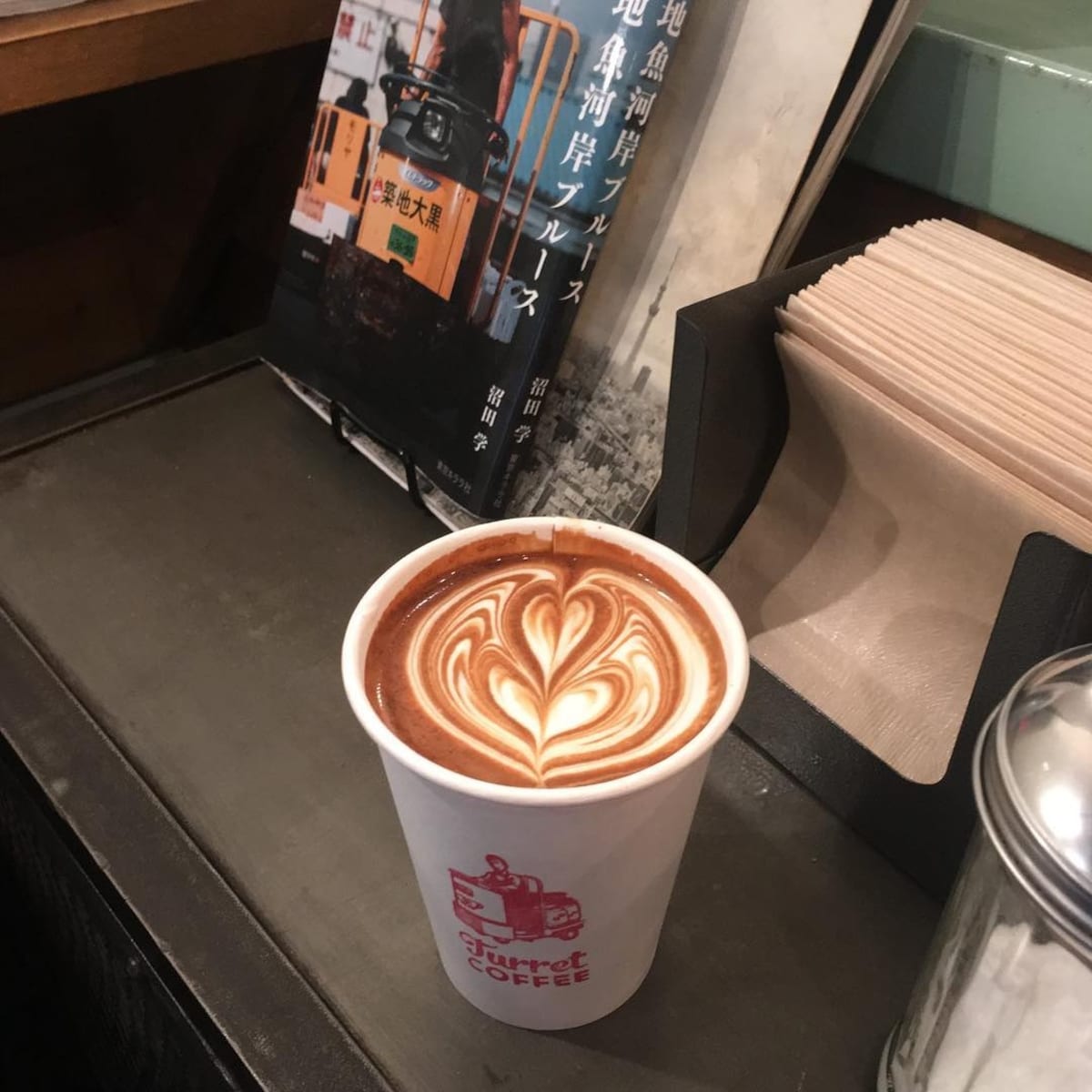 Beyond its artsy latte foam, this shop is changing the aesthetic of espresso in Tokyo by suggesting castella or dorayaki to go with your latte, and serving espresso in ochoko, or traditional sake cups. Open everyday from 7 a.m., Turret is also a good stop to make if you're among the rise-and-shine crowd at Tsukiji Market and need a caffeine boost.

Read more in Japanese at AllAbout.co.jp.
6. Downstairs Coffee (Nogizaka)
The cafe's name doesn't mince words: it occupies the first floor (downstairs!) of the Mercedes-Benz Connection showroom. Coffee is by Hiroshi Sawada, winner of the 2008 Free Pour Latte Art Championships, and baked goods are supervised by Shuichiro Kimura of Maison Kayser.

Read more in Japanese at AllAbout.co.jp.
5. The Theatre Coffee (Shibuya)
You could go to the world's busiest Starbucks overlooking the world's busiest pedestrian crossing at Shibuya Station, or you can take a short walk to the Hikarie building and watch the bustle below from this coffee stand on the 11th floor near The Theatre Table restaurant. With beans from latte artist Sawada-san's shop and the use of a special machine, this shop offers up some good and tasty latte art.
4. Cafe Zenon (Kichijoji)
This western Tokyo café is best known among Japanese people and foreign residents for its hamburgers, but it also has a great latte. Each barista has a different style of latte art, too. With manga as the motif adorning the walls and other fixtures of the shop, Cafe Zenon is certainly unique.
3. Streamer Coffee Company (Shibuya)
Streamer Coffee Company is barista and award-winning latte artist Hiroshi Sawada's own café. Here his team roasts small batches of the "Streamer Blend"—trumpeted as the world's "best-tasting and highest-grade coffee"—which is shipped daily to Streamer's satellite shops in Tokyo and Sapporo. Here you have the thrill of watching your latte being crafted up to the very moment when the milk could overflow from the cup, but doesn't. And if latte art is your thing, Streamer hosts its own annual latte art competition!

Read more in Japanese at AllAbout.co.jp.
2. Latte Graphic (Machida)
This casual Oceania-style café is high on chill and low on frills. Not only does Latte Graphic draw in customers with its hearty Western-style breakfast, lunch and dinner menus, but its coffee is also done the Aussie/Kiwi way: order a flat white, long black, cappuccino or the eponymous "latte graphic" coffee.
1. Move Cafe (Shinjuku)
This unassuming café is perched up and away from the crowds on the second and third floors of a building in Shinjuku 5-chome. Not only is the latte art pretty cute (think bunnies and bears), but the food is also quite well done.

You can read more about these cafés in Japanese at AllAbout.co.jp.