8 Beautiful Bags from Around Japan
Here's a wonderful selection of bags from across Japan in a variety of colors and styles. You'll find an environmental friendly corrugated cardboard bag, as well as the so-called "Bank Robber" bag—a great example of Japanese humor that would definitely work well in a big-budget Hollywood heist movie!
8. Amane Boston Bag (Fukuoka)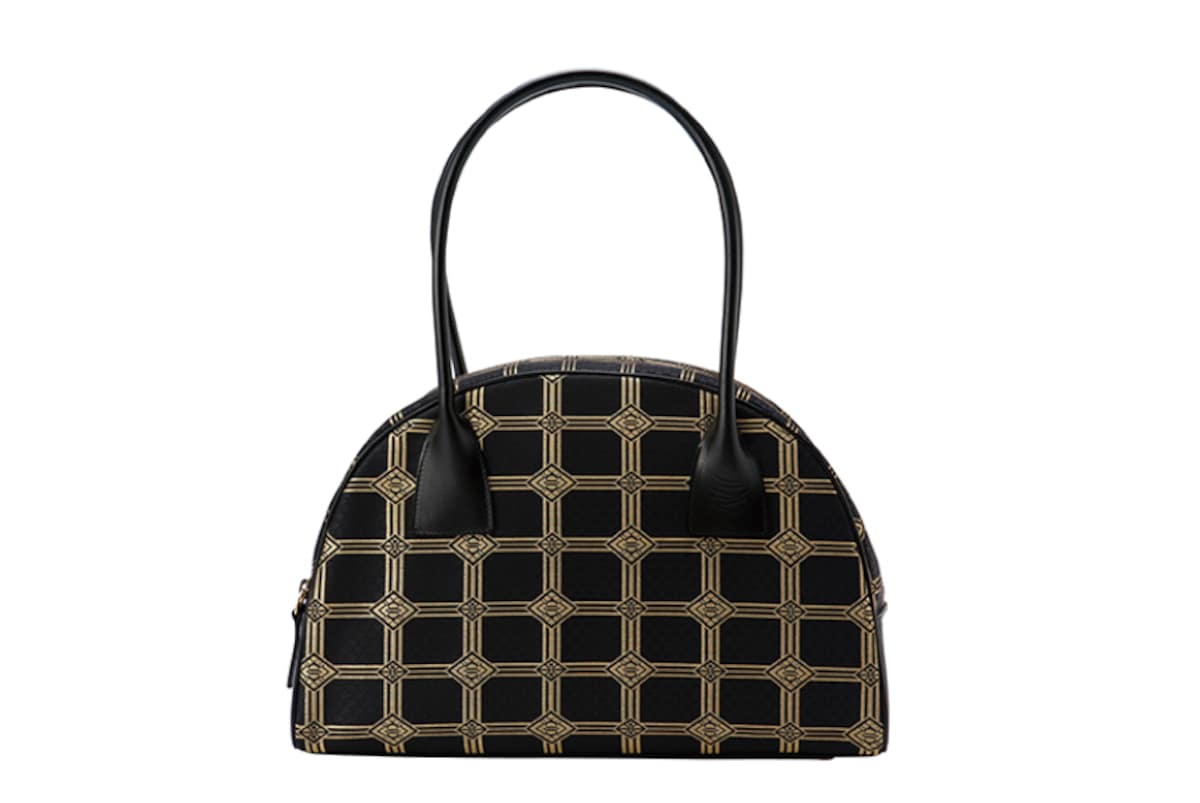 The government-designated traditional craft Hakata-ori began 770 years ago, when weaving techniques learned in China were brought back to Japan and developed in unique ways. Originally very functional and durable, they were convenient for samurai sashes (obi) that withstood storage of swords and violent movement. The three-dimensional patterns are produced by strongly weaving the woof (or weft) threads, making the surface uneven and raising the warp threads to create raised patterns.

In recent years, one of the Hakata-based brands, Hakata Japan, added modern arrangements, and many modern designs that diverge from traditional patterns are now being seen. Amane is an evolutionary bag that was born with a concept of "advanced classicism." These Japanese designs and rounded forms also look nice on young students and give off a lovely impression.
7. Kamatari Danbag: Cardboard Bags (Ehime)
The Danbag (short for danboru bag, where danboru means corrugated cardboard) uses cardboard, a new material for bags, and gives off its own distinctive presence. Its rich texture comes from the combination of original corrugated cardboard, cloth, and Japanese paper. This Japan-evoking design is made using an original print technique, and is alive with the skill of a designer who has created packages and novelties for well-known brands. It is light, so strong that it seems like it couldn't be paper, and includes a convenient inner pocket.

Another attractive point is its user-friendliness, which includes enough space to insert A4-sized files. It can be used in many ways, including as a fashion item, an interior item, and as a package, and is recommended for the environmentally conscious person who seeks innovative designs. Since they're made by hand one-by-one, designs can also be made to order.
6. Corduroy Tote Bag (Tokyo)
Corduroy fabric weaved in the satin style from fishing line (polyester gut) by experienced craftspeople from Fukui Prefecture using their detailed technique. Today's designers have taken this newest material and have fashioned a tote bag that uses modern colors and a simple design. The bags have a brilliant luster that can only be brought out through the complicated relationship between the man-made fishing line and traditional technique. Also attractive is the light-yet-sturdy construction and functional water-resistant design.
5. Kyo-Yuzen Clutch Bag (Kyoto)
In Kyo-yuzen, a technique for dyeing designs made famous in Kyoto, a special paste known as itome nori is applied to undyed portions of a silk fabric, resulting in designs when the item is dyed. When this technique is used on women's clutch bags, they are known as Kyo-yuzen clutch bags. With the top-grade fabric used for kimono, skilled craftspeople work by hand on each of the 14 to 15 steps of the process.

This Kyo-yuzen Clutch Bag is not only made to be light but also to have enough space to hold smartphones, long wallets, cosmetics and all the other essentials. With fabric treated to be water-repellent, the bag is also attractive for its ability to be used in daily situations. Retaining the beauty of Kyo-yuzen, and with care given to functionality, this item blends in well with both Western and Japanese styles. It can be enjoyed as a portable piece of beautiful Japanese tradition as well.
4. Bingo Kasuri Fabric Bag (Hiroshima)
Once counted as part of the three major kasuri (splash patterns) in Japan, Bingo kasuri was once the most-produced fabric in the country, but now only two such textile manufacturers remain. Bingo Fabric is a traditional industry project that attempts to pass on the traditional techniques of this fabric to the next generation, reaffirming the value of the kasuri created in the Bingo region of Hiroshima for 150 years.

The natural colors of kasuri are maintained while recreating the fabric into simple items for a modern lifestyle. Bingo kasuri originally played an important role in work clothes, and those properties have been put to use for a lightweight, strong tote bag and pouch. Colored in sections with natural dyes, the color naturally fades over time and with use for beautiful, deep changes in character over the years. This is sure to become an essential item in your daily life as a somewhat different fashion accent.
3. "Bank Robber" Leather Boston Bag (Tokyo)
This Boston bag has the unique name: Bank Robber. Each of these durable bags, capable of holding up to 20 kilograms (44 lbs), is painstakingly created by craftspeople skilled in the production of leather bags. The president of the producing company, Raregem Co., Ltd., started out in furniture manufacturing, and that background is apparent in his design of this highly functional bag that fits perfectly to the human body. It's easy to carry and easy to use.

The absence of any extraneous ornamentation allows simple appreciation of the high-quality, supple leather. Since its release seven years ago, meticulous improvements have been made in consultation with the leather craftspeople to achieve the amazing level of perfection found in the current bag. The Bank Robber is perfect for an overnight stay and is made to last a lifetime. The more it's used, the more seasoned the leather becomes.
2. Furoshiki Carry: Gold-Brocaded Satin Damask Wrapping Cloth Bag (Hiroshima)
A furoshiki is a square-shaped cloth that has been used by Japanese people from ancient times for wrapping all kinds of things.

A furoshiki is simple and functional, and the idea of combining it with clothing and accessories resulted in the creation of the Furoshiki Hand, a furoshiki made into a bag. Meanwhile, the Furoshiki Carry coordinates the Furoshiki Hand and the original furoshiki into one set to let it be used as a bag.

The series includes bags made using the kinran donsu technique, which is made by weaving a golden thread through a thick fabric called donsuji. It's modern without being showy, and produces a cool effect. These bags are great for men and women alike!
1. Kosho Ogi Totebag (Kyoto)
The novel Totebag was based on the motif of a folding fan, or ogi. Open the hem to open the two pleats and you can see the vivid color accents on the inside. This design, where sophistication is hidden out of view, is the essence of Kyoto fashion sense. The expression changes depending on how much you put in the bag, giving it a unique touch. Traditional Japanese colors reminiscent of Kyoto are used for the accents.

This bag is very popular around the world, being sold at New York's Museum of Modern Art and select shops in Europe and Asia (as well as online at Nihon Ichiban!). This bag is made with Kyoto-bred sense and traditional techniques, and shaped like a work of art. Enjoy Japanese craftsmanship in these bags, each crafted one at a time.