Top 5 Accessory Designs from The Wonder 500™
Any fashionista knows that the key to any outfit lies in the accessories. Check out these incredibly intricate items that add to any ensemble, and any look you're going for! Each of these products is also unique, meaning you can stand out and simultaneously know that you're supporting Japanese traditional craftsmanship.
5. Samurai Bresu Bangle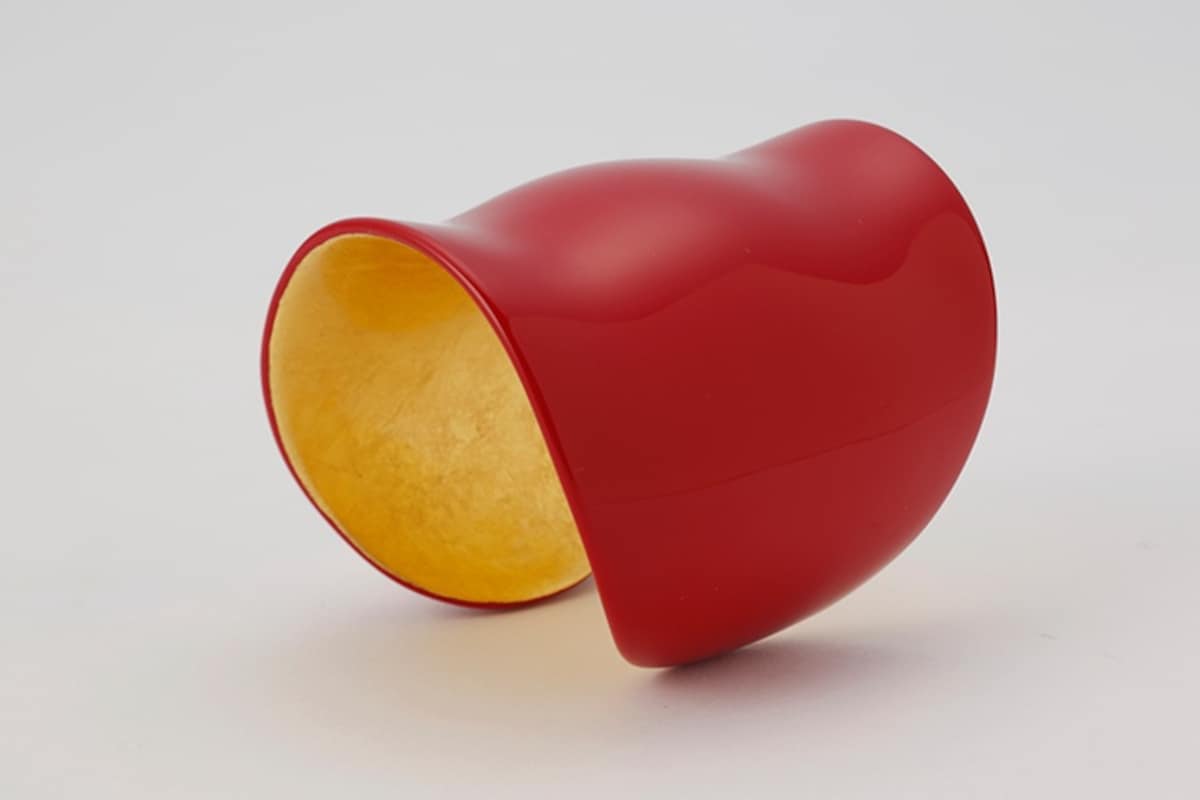 This is an innovative bangle that combines the luster of lacquerware with the lightness of Japanese wood. On a foundation of elegantly curved wood carved from a single magnolia tree, this bangle is lovingly crafted by repeated paintings and polishing. On the bangle's outside-facing surface of black lacquer is applied a stunning vermilion color, and on the inside, a tasteful yet dazzling gold leaf. This is a gem with a presence that conveys its creation through traditional techniques unique to Japan. Lightweight, despite its size, it has the appealing characteristic of excellent comfort with contours that match well to the wearer's arm.
4. 'Atsubougu' Gloves
These gloves have the specific function of protecting hands from extremely hot temperatures, so they probably won't become a part of an average person's everyday ensemble. But they're worth mentioning because of their design and technology!

Atsubougu were developed by fiber professionals, and just as the name suggests (it means "heat protector"), they are made of a heat-resistant material by those with a passion for fiber and craftsmanship.Atsubougu are formed using aramid, cotton, and a special twisted thread to provide both a level of safety where even the nearly 1,200-degree-Celsius (2,192°F) sparks and spatter of arc welding have difficulty permeating the glove, and work performance that makes them a dependable and secure partner above all others for those involved in work that involves fire or high temperatures.
3. Kyo-To-To Embroidery Iron-Ons
The exactness of Japanese craftsmanship can be perceived in the technology of intricate embroidery. The name "Kyo-to-to" is a combination of traditional Japan (Kyoto) and modern Japan (Tokyo). An embroidery workshop from Kyoto and a design company have joined to create an embroidery brand that thinks of new forms for passing on culture and possibilities for embroidery. Traditional Japanese motifs such as festivals, temples and folktales are given modern designs for products that include patches and hand towels. These products make a cute little gift that will put a smile on the recipient's face.
2. Satsuma Ceramic Button
The story goes that after experiencing the West's modern arms firsthand in 1863 as a result of a brief war with Britain, the Satsuma Domain (present-day western Kagoshima Prefecture) produced the Satsuma button to gather funds.

Ceramic painter and instructor Shiho Murota has created ceramic paintings depicting a modern interpretation of the daily life and scenes of Japanese nature at the time. Her efforts have helped to bring back the once-extinct Satsuma button. Though these buttons are barely one-and-a-half centimeters across, they brilliantly capture Japanese culture, and are even favorites of collectors.
1. Biwako Pearls
Biwako pearls are historic jewels, having been mentioned in Japan's oldest collection of waka poems, the Manyoshu. However, at one time, the oyster species endemic to Lake Biwa was on the verge of extinction, and the number of oyster farmers dwindled. Even today, the pearls are extremely rare, with only about several dozen kilograms' worth making it to the market each year.

No time or effort is spared in developing a thick nacre layer through a three- to five-year cultivation process. Since they reflect light in complex ways, the pearls give off unique hues, including purple, pink, white, orange and gold. Not only "nucleus-free pearls" made from nacre alone, without the insertion of a nucleus, but also "nucleus pearls" have unique shapes, with no one pearl the same as another. Their shapes, full of personality, are used for decorations on jewelry such as rings, bracelets and earrings, fascinating people with an elegant luster and a feeing that deepens over time.