5 Brilliant Japanese Necklace Designs
The Wonder 500™ has compiled some of the most beautiful and unique statement pieces to add to any jewelry collection and to wear for any occasion. These necklaces also make great gifts—something worth keeping in mind when it's time to buy something for that special someone!
5. Sphere Necklace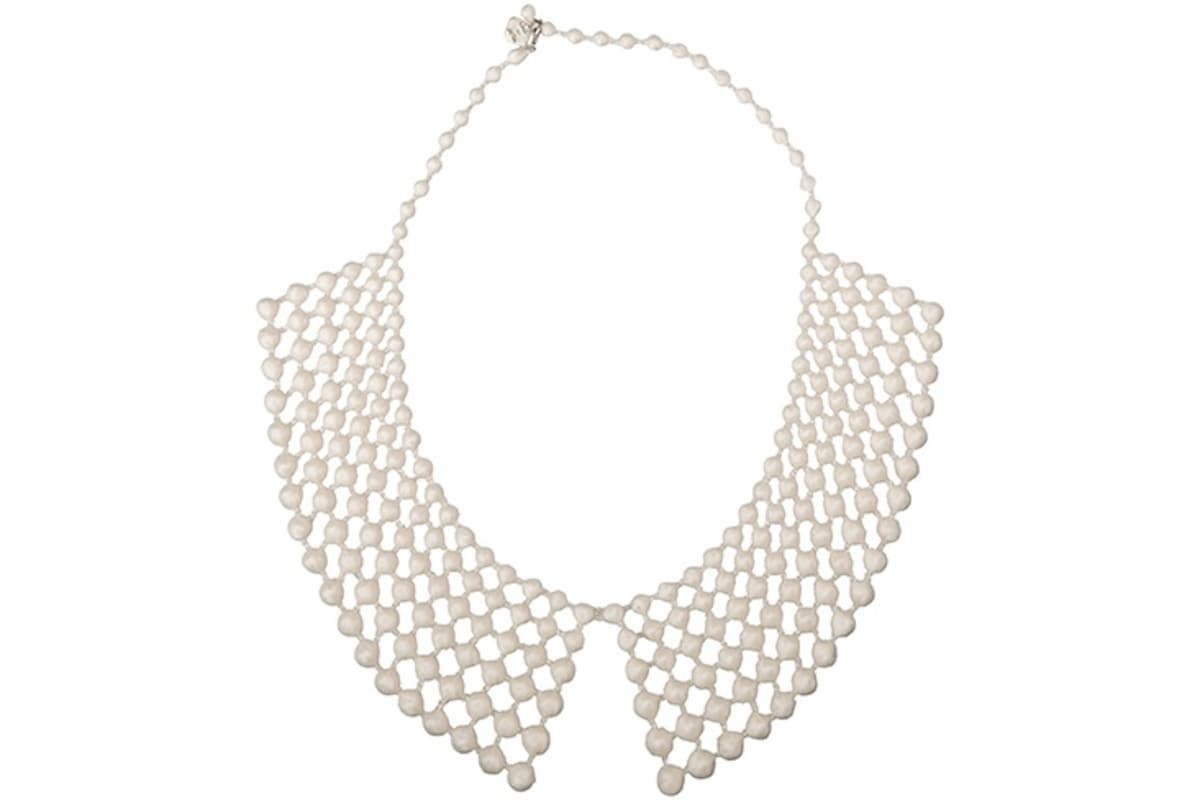 The city of Kiryu in Gunma Prefecture has a renowned weaving industry with a history of 1,300 years. Here, established 138 years ago, is the venerable textile company Kasamori. It is now offering a new brand of textile accessory, the "000 (triple O) Sphere Necklace/NE003," made purely of silk threads.

Based on the well-established techniques of weaving craftspeople, this detachable collar necklace adorns the wearer's neck in a pearl necklace-like motif, and is appealing for the delicate and lightweight feeling created by its fine threads. Being made of thread, there are no worries for those with metal allergies. This is jewelry with a new aesthetic: a modern take on traditional embroidery owing to the power of design.
4. 'Kinsai Chidori' Perfume-Bottle-Shaped Pendant
Imari Nabeshima Porcelain of Saga Prefecture, a leading production area, has shone through 400 years of history. Hataman Touen Corporation has made and sold this porcelain since its establishment 90 years ago, and is now offering an accessory product called Kinsai Chidori, a perfume-bottle-type pendant of Imari Nabeshima Porcelain.

This pendant is the result of traditional techniques blended with fashion sense. It's handmade by seasoned craftspeople who lovingly apply to the pendant a drawing of a chidori, or plover bird, which is known as a good luck charm, then baked in a kiln three to five times.

Although having an antique style, the design of the pendant is truly novel. Being small yet hollow, it can contain the wearer's favorite perfumes or aromatic oils, and be used as a dropper to enjoy fragrances all day long. Worn around the neck, it emits soft scents from the wearer's neckline to create a pleasant, relaxing atmosphere.
3. Raden Mother-of-Pearl Jewelry
Gorgeous Takaoka lacquerware from Toyama Prefecture dates back to the beginning of the 17th century. The lacquer was famous for decorating armor, chests of drawers, trays and other items via a wide variety of techniques. Raden, a Japanese traditional decorative technique that places shells on the surface of lacquerware, is one of these decorative techniques.

A mother-of-pearl layer skillfully cut to less than 1 millimeter thick is transformed into flowers, birds and landscapes, casting brilliant rainbow colors. The magical beauty that floats up from the jet-black surface is breathtaking. This technique is still used today to decorate flower vases, tea paraphernalia and interior items, but it was designer Rie Gomajima, who was born into a long line of jewelers, who thought it would be fun to wear these rainbow tints. She is now using this traditional technique to create completely new mother-of-pearl jewelry designed with a modern sensibility, such as a "four seasons of Japan"-themed flower motif, part of which can be seen above.
2. 'Kohaku' Gold Foil Lacquered Pendant
This item is an accessory made with the traditional Japanese craft of maki-e, which uses lacquer to create a pattern or picture and then layers gold foil on top. Usually people who work in lacquer specialize only in one aspect of the craft, but this product is created entirely in a single workshop, from painting to the maki-e finish, all using the technical prowess of the craftspeople.

This lacquered pendant, called a kohaku, has a three-dimensional feel due to the layers of gold foil. The shine of the lacquer and sparkle of the gold foil changes depending on how the light strikes the pendant, making it match nicely with both formal and casual attire. It also makes a lovely sash clip or scarf clasp when the genuine leather cord is removed. This is a masterpiece that exudes the Japanese culture of lacquer and maki-e.
1. Ginpaku Modern Necklace
Fibers used in Western paper are shorter than those in Japanese paper, which is created from a traditional handmade process called tesuki that produces paper so strong and supple that it was used in kimono and umbrellas. These necklaces are made from multiple layers of handmade Japanese paper dyed in traditional Japanese colors that have been decorated with silver foil. The elegance of Kyoto is found in the texture of the paper and impressive modern design.

Both the materials and design are high quality, and though the necklaces are elaborate, they are surprisingly light. Enjoy the enchantment unique to Japanese paper, combining functionality and practicality with beauty and exotic Japanese taste.