6 Fun Styles of Japanese Shoes
Split-toe shoes can be seen worn by construction workers all around Japan, and are a fantastic stand-out present to take home. Wooden-sole shoes are another Japanese traditional favorite, often worn together with a kimono or yukuta cotton robe. But with tradition an innovation intertwined, there's much more to be seen as well!
6. Nuno Zori: Banshu Textile Cloth Sandals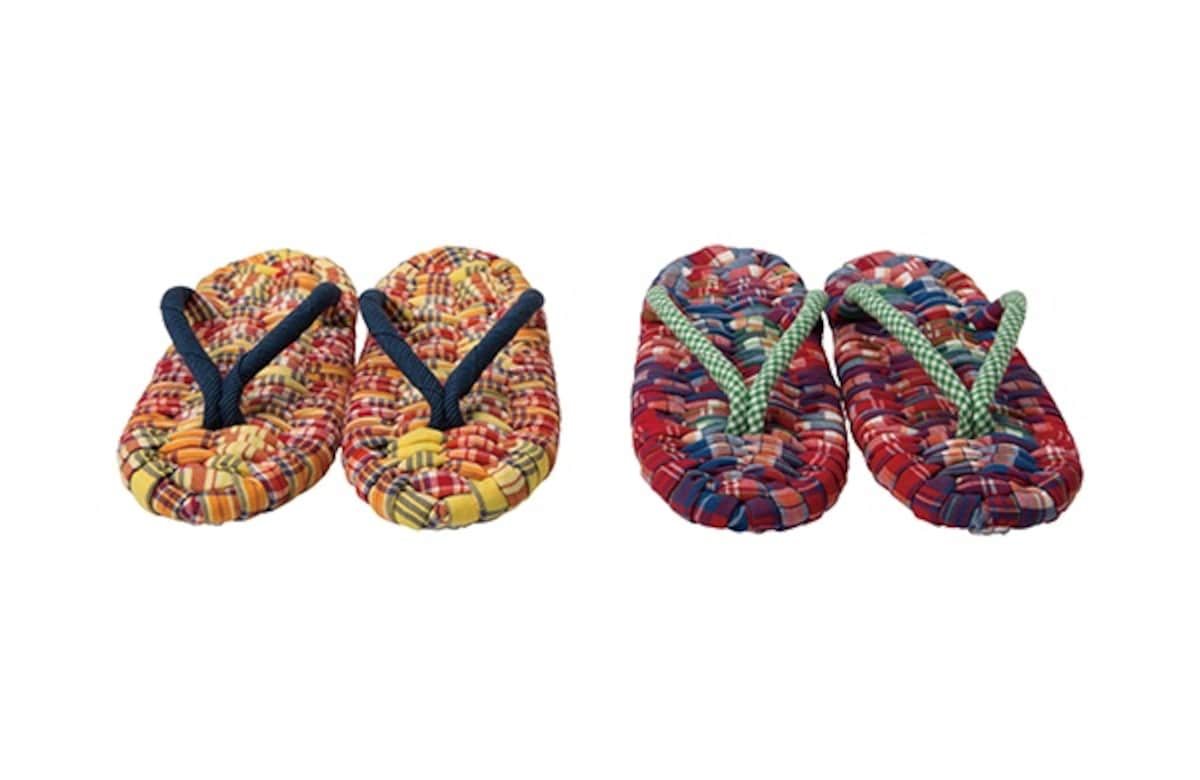 Nuno Zori are a new twist on the traditional Japanese zori footwear made from rice straw. These zori incorporate the Japanese eco concept of never wasting resources, efficiently using leftover fabric to create an original product. Nuno Zori are made from leftover Banshu textiles that are first dyed and then woven for a richly multi-colored design.

Zori support the foot with a thong in between the toes, promoting good health. Wearing zori without socks lets you feel the good weather on your feet for a sensation that is almost like walking barefoot. Wearing Nuno Zori indoors instead of a pair of slippers provides the soft, comfortable touch of fabric that is a bit different from traditional rice straw.
5. GS Rain Shoes
Based on the Stussy Livin' General Store with roots in Southern California, these rain shoes were created by special order to Moonstar, a company that has continued to make shoes since its founding in the city of Kurume, Fukuoka Prefecture, where the rubber industry continues to thrive.

These rubber-soled shoes canvas shoes are not only highly waterproof, but also light and comfortable to wear, making them perfect for everyday use on both rainy and sunny days. The production process, which flexibly adheres the rubber soles to the canvas body with heat, is not left to a machine, but also includes techniques from skilled craftspeople, producing an especially strong shoe that retains its shape and has a sole that stays put. This all-purpose shoe also blends into an urban setting, and is a must-have item for the stylish, adventurous adult at home in the city.
4. Design 'Setta' Japanese Sandals
It is said that traditional Japanese zori and setta sandals have been continuously manufactured in the town of Sango in Nara Prefecture since the Edo Period (1603-1867). At its peak, the area produced over 80 percent of the zori and setta in Japan.

Amid a decline in demand for traditional sandals as lifestyles change, local craftspeople have created these newly designed setta to suit modern fashions. The most noticeable part of the sandal, the thong strap, is made with vintage cloth from Europe.

The modern, stylish design smartly accents the feet. The sole is constructed from dungaree used for jute bags for coffee beans and material used for Panama hats. Not only do these setta look great, but they are also extremely comfortable to wear. Slip them on once, and they feel so good that they will immediately become favorite, go-to sandals.
3. Two-Piece Tunnel: Flexible Geta Sandal
Geta are a form of traditional Japanese footwear made of wood. Mizutori Industrial Co., Ltd. was established in the city of Shizuoka, a thriving footwear production center, in 1937. Originally, the company manufactured traditional geta, but as the Japanese lifestyle changed, fewer and fewer people wore their products.

The company explored the modern modalities of geta and proactively engaged in joint projects with universities and product development with the help of externally hired designers. The "Two-Piece Tunnel" is an indoor footwear item that brings the traditions of geta into the modern lifestyle. The sole of these unique shoes is made of two wooden planks connected by elastic rubber material, so the shoe bends easily following the movements of the foot, enabling wearers to enjoy a comfortable walking experience even for extended periods of time. The sole is made of Japanese cypress, a material known for its excellent moisture-absorption and moisture-retention properties.

This innovative product, available online at Nihon Ichiban, offers the perfect blend of stylish design and comfort.
2. Toyokuni 'Zori' Japanese Sandals
Made of rice straw, zori sandals are a traditional Japanese footwear born from the nation's unique rice culture. Zori manufacturing has developed and blossomed in Yamagata Prefecture since the Edo Period, creating generations of craftspeople skilled in the manual weaving of sandals.

In 1912, craftspeople discovered that the Toyokuni rice variety cultivated for brewing sake was perfect for making zori sandals, and manufacturing of Toyokuni Zori Sandals began.

Later, the craft of manually weaving zori was taken up and preserved in Sagae City, Yamagata Prefecture, where even today skillful veterans with more than 60 years of experience meticulously weave each single strand of rice straw into beautiful and functional sandals. Toyokuni Zori Sandals are used in sumo wrestling, Bunraku theater and historical films. They have become a must-have masterpiece of Japan's traditional culture, giving users an opportunity to experience a craft perfected through the ages.
1. Split-Toed 'Jika-Tabi' Sock-Shoes
Since long ago, jika-tabi have been a hidden gem in Japan, traditional footwear with a rubber sole and a split toe. The clasp on the heel secures the jika-tabi. Although traditional jika-tabi are black, Kyoto textile maker Sou・Sou has reinvented them with modern colors. This is a highly functional and fashionable pair of footwear.

This traditional footwear has been given a modern twist in the hopes that it will gain popularity with those who have never worn them. This is an innovative product with a unique textile design.