The Best in Star Wars Personal Care
1. Lightsaber-Sharp Eyeliner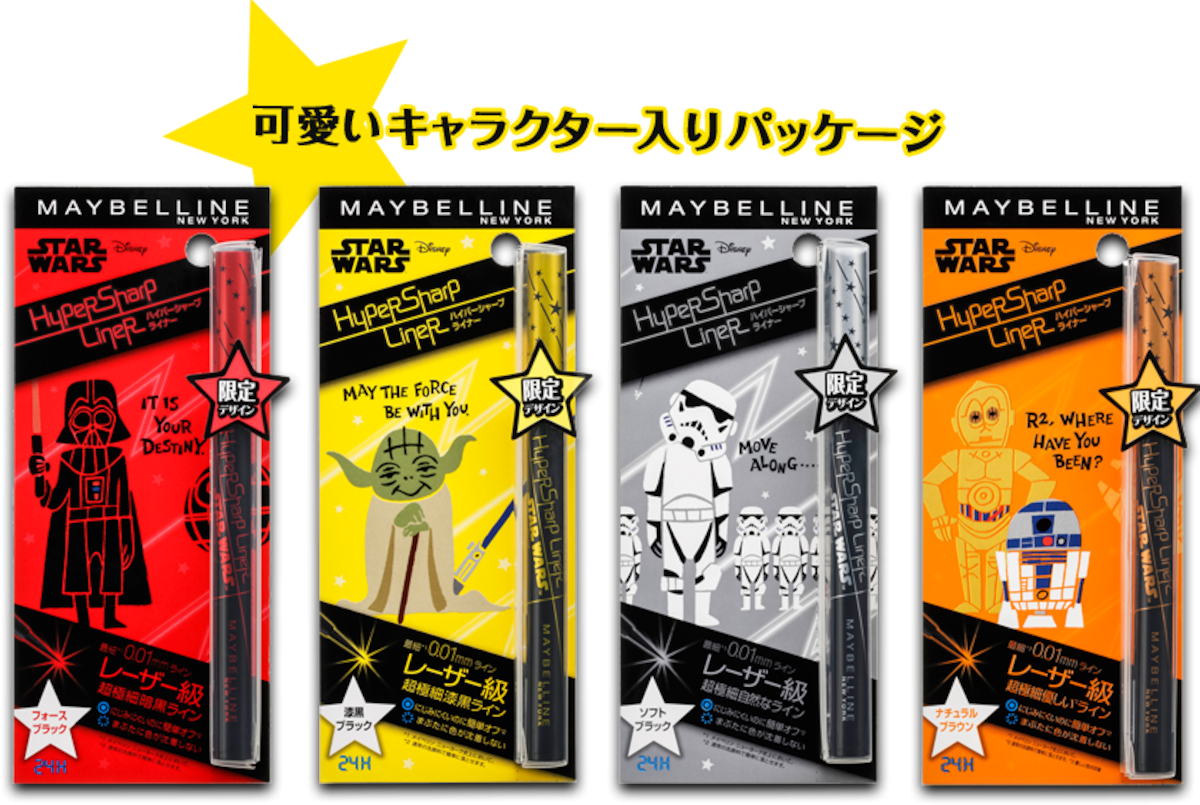 Maybelline has released four new designs for its Hyper Sharp Eyeliner, available at Japanese makeup and medicine retailers for a limited time!

1. Force Black: FBK-S1 "It is your destiny"
The Force Black eyeliner is the darkest shade, now decked out in a Darth Vader theme. The outside is decorated with metallic red letters and a crimson cap. Your interest in this product has been foreseen.

2. Jet Black: BK-S3 "May the force be with you"
Jet Black, this thing's color is. Sharp and cautious line you can draw, yes. The design, based on Master Yoda theme, with bright yellow color it is. Line, or line not. There is no try.

3. Soft Black: BK-S4 "Move Along..."
They may look strong and cruel, but surely these soldiers have some softness inside. Maybe that's why they miss so often. This is Soft Black eyeliner with a Stormtrooper theme, and it's definitely the shade you're looking for. The pens are decorated with a modern metallic color.

4. Natural Black: BR-S2 "R2, where have you been?"
This liner is based on our heroic droids C-3PO and R2-D2. The pen is decorated with a copper color. Restraining bolt not included.
2. Galactic Cleansing foam
Shiseido has released the Star War limited design for its Uno Perfect Whip Cleansing Foam.

1. Darth Vader
This is powerful black cleanser takes the power of the Dark Side to oily skin.

2. Stormtrooper
This is moist cleanser for dry skin. Just don't miss when you apply it.

3. R2-D2
Finally, the scrub cleanser for making your skin smoother—just like the head of a little droid.

These cleansers were released on November 21,2015 in Cosmetic and Medicine Retailer in Japan.
3. First Order Razor Holders & Resistance Shaving Cream
Schick has released a collaboration campaign for its Hydro 5 razor. When you buy one, you'll get the Stormtrooper or Kylo Ren razor holder for free. You can also get Kylo Ren, Stormtrooper, Flametrooper, C-3PO, R2-D2 and BB-8 as premium gifts with different model of razors.

Not enough? You can also get C-3PO and R2-D2 Shave Guard shaving cream to use with your galactic razor.

You can find the razors and shaving cream at Amazon Japan and at cosmetic and medicine retailers around the country.
4. Covergirl Cosmetics
Want more? How about the Covergirl collaboration with Star Wars? Sure, it's an American brand, but who's splitting gundarks?
For example, you have Outlast Star Wars nail polish, Dark Side mascara for emphasizing thick eyelashes, Light Side waterproof mascara, and Coloricious lipstick with Star Wars inscribed on the cap.
Most of the Star Wars cosmetics are on sale for a limited time, with stock expected to run out in early 2016. So if you'd like to get your hands on some, you may need a fast ship—one that doesn't drop its cargo at the first sight of an Imperial cruiser!