5 Ramen Festivals Around the World
5. Ramen Yokocho Festival (Los Angeles)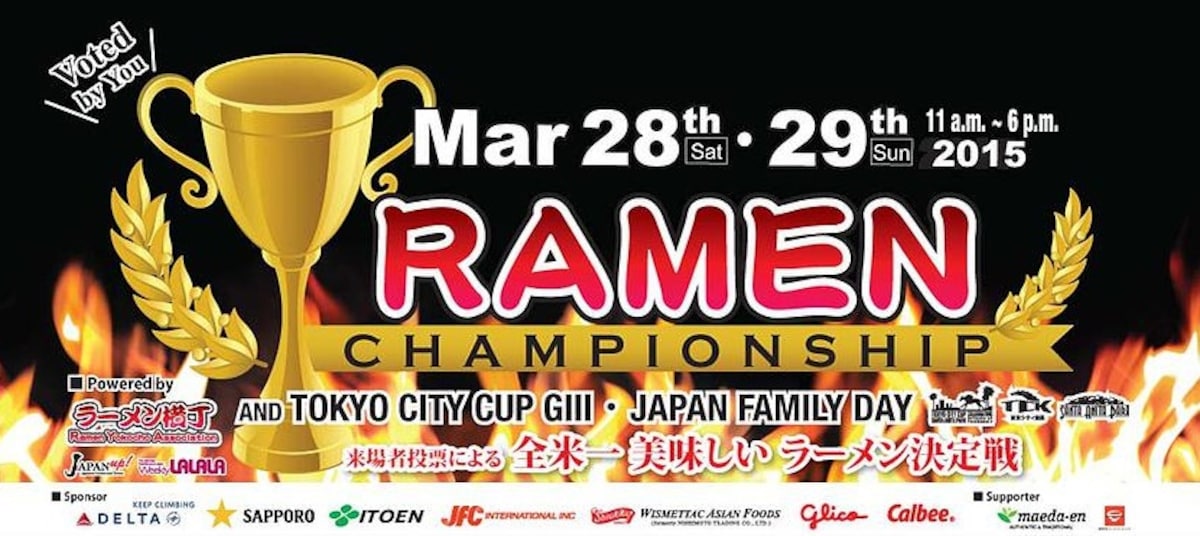 With over 50,000 bowls sold in 2014, the Ramen Yokocho Festival has clearly made a name for itself in southern California. Held at the end of March in Los Angeles' Santa Anita Park, the 2015 edition featured the first Ramen Championship, with Shin-sen-gumi's Satsuma tonkotsu ramen taking home the gold. Be sure to buy express tickets online to skip the lines.
4. Paris Ramen Week Zuzutto
From January 20 to 25, 2015, the world of ramen took Paris by storm with the introduction of Paris' first Ramen Week. Featuring well-known chefs such as Shigetoshi Nakamura, who collaborated with Sun Noodle to open Ramen Lab in New York, visitors could not only satisfy their craving but also participate in ramen workshops where they learned how to make their own delicious noodle bowls. It didn't return for 2015, but we're keeping our chopsticks crossed for the future.
3. Ramen Girls Festival (Yokohama)
The Ramen Girls Festival at Yokohama's Red Brick Warehouse is challenging the common Japanese notion that ramen is just for boys. Morimoto Satoko, a diehard ramen fan, helped organize the world's first and only Ramen Girls festival in March 2015. The event isn't entirely X-chromosome exclusive, however: while there's a girls-only only seating area, men are free to come along and slurp a bowl or two.
2. XL Ramen Festival (Tennessee)
In late April, Nashville, Tennessee does ramen like no other with the largest ramen festival in America's heartland. The third edition in 2015 saw seven different vendors from around the States and craft beers like Sierra Nevada and Murphy's Stout to quench visitors' thirst. Since a portion of the profits is donated to the Pablove Foundation, a pediatric cancer NPO, you won't only have a bigger stomach when you leave, but also a bigger heart.
1. Nagoya Ramen Festival
Going strong for nearly 50 years, Nagoya's is one of Japan's longest running ramen festivals. After the New Year's festivities have finished, ramen shops from around Japan gather in Nagoya for a five-day ramen fest. Bowls go for about ¥850 individually, but to maneuver past the crowds, we recommend purchasing ramen tickets in advance. Act fast—they tend to sell out quickly!