5 Temples & Shrines for Design Lovers
5. Homangu Kamado Shrine (Fukuoka)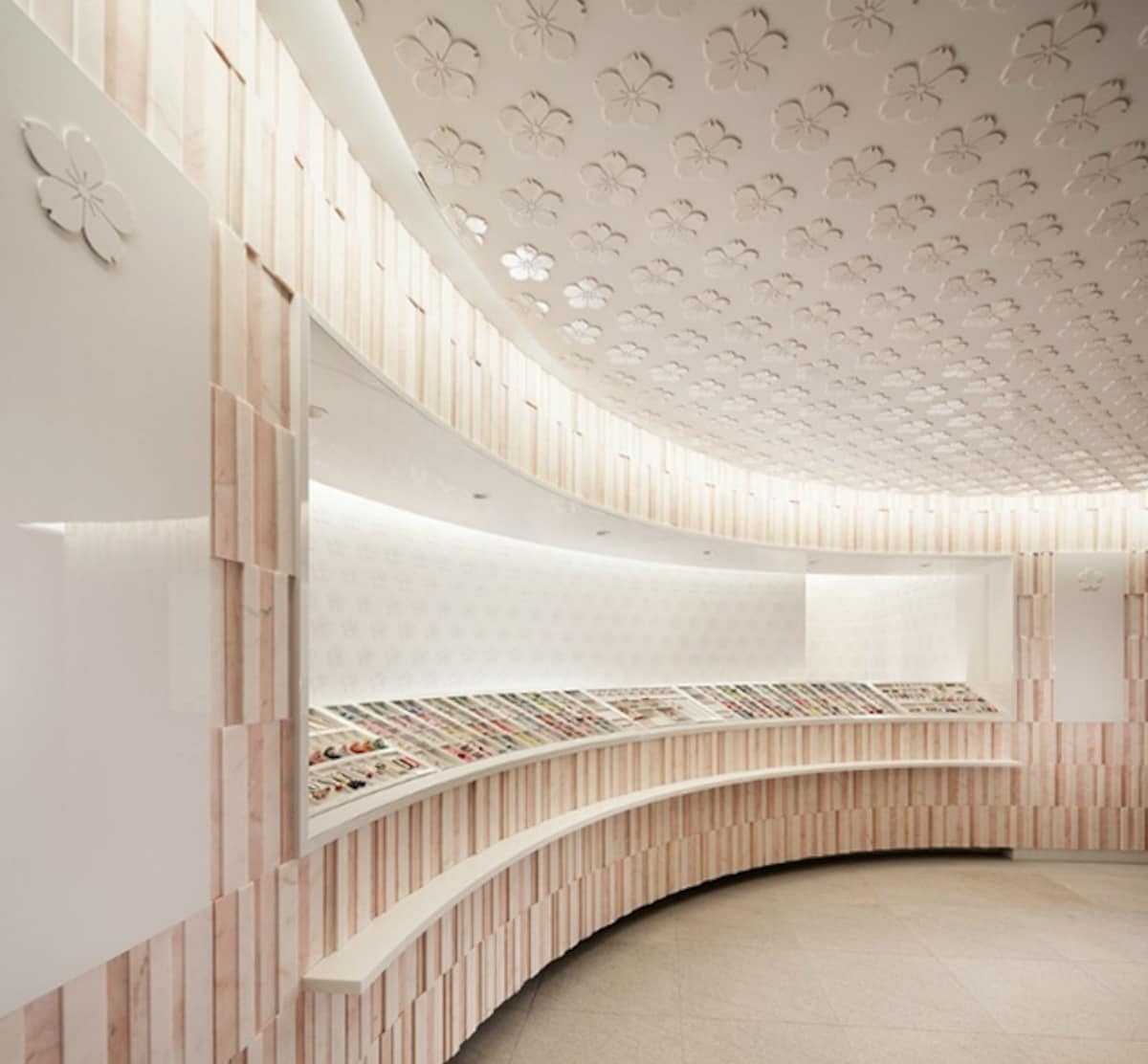 This beautiful, light-filled shrine was designed by Masamichi Katayama, who also designed stores for Bape (a.k.a. A Bathing Ape), Billionaire Boys Club and Nike. The temple is said to be the dwelling place of the god of love and match-making. White cherry blossoms line the walls and ceilings on the inside of the shrine.
4. Shinto Shrine Hut (Kyoto)
This Shinto Shrine Hut in Kyoto, designed by Kengo Kuma, is a tribute to the famous 12th century waka poet Kamo-no-Chomei, who lived in a tiny hut after becoming a Buddhist and recluse. Kengo Kuma re-imagined the hut with modern building materials, using cedar bars held together with magnets to sandwich plastic sheathing. It's located on the grounds of Shimogamo Shrine in Kyoto.
3. Akagi Jinja Shrine (Tokyo)
Akagi Jinja Shrine, in Tokyo, is one of the most famous modern shrines, and very representative of what Tokyo has become known for: an intersection of the past and present. This one was also designed by Kengo Kuma, who is a professor at the Graduate School of Architecture at the University of Tokyo. This unique shrine can be found near the top of Kagurazaka.
2. Komyo-ji Temple (Ehime)
Komyo-ji was designed by Tadao Ando and built in 2000 to replace an aging 250-year-old temple. Inside the sacred space of this temple there's a large square space with long wooden beams and tatami mat flooring, with the resulting environment feeling almost like a forest. The slatted walls fill the interior corridors with lines of light as the sun moves throughout the day.
1. Kou-An Glass Tea House (Kyoto)
Tokujin Yoshioka designed this transparent glass tea house beside a traditional Buddhist temple in Kyoto. The temple, Shoren-in, was built in the late 13th century, and the glass tea house rests on a broad wooden deck before it, offering an expansive view of the city below. The floor is made of glass that replicates the sparkle and texture of water ripples, while the roof acts as a prism, creating rainbows of light in the afternoon.