The Bridge Beneath the Sea
Out in Tokyo Bay lies Umi-hotaru, an artificial island that seems to only be linked to the mainland by a single four-lane bridge. However, looks can be deceiving. In truth, this island is located at the crossover point of an amazing feat of Japanese engineering: a bridge-tunnel system spanning the entire bay.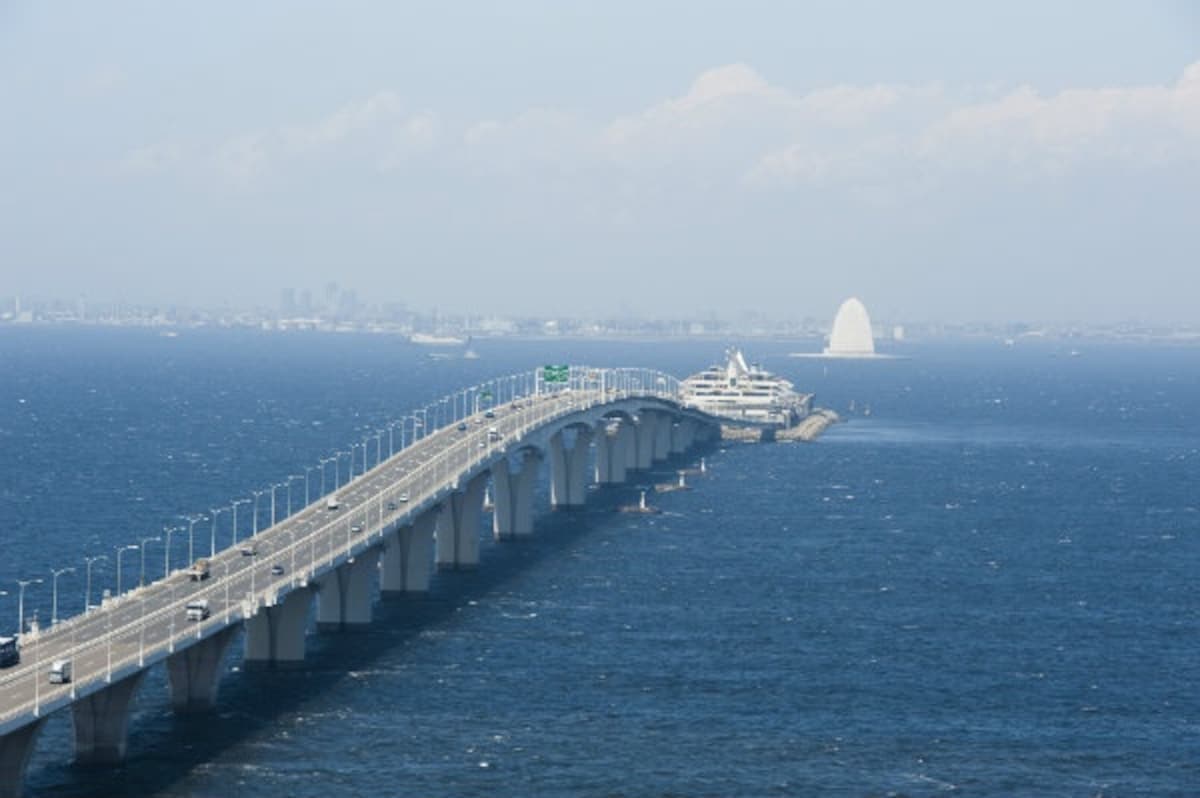 This is called the Tokyo Bay Aqua-line, and it connects the city of Kisarazu in Chiba Prefecture with the city of Kawasaki in Kanagawa Prefecture. It took 23 years to plan and nine years to construct so that the travel time between Chiba and Kanagawa Prefectures could be completed in just 15 minutes. Compared to the old route that led drivers around the bay and through Tokyo for up to two hours, it was a welcomed but colossal project.
Umi-hotaru, which literally means "Sea-firefly," is a rest stop located just as the 9.6-kilometer (6-mile) tunnel section from the Kanagawa side transitions itself into a 4.4-kilometer (2.7-mile) bridge toward the Chiba side. It's a white five-story structure that consists of restaurants, shops and amusement facilities.

Its popularity mainly stems from the fact that from the observation deck on the fifth floor visitors can take in an exceptional panoramic view of Tokyo Bay. Furthermore, on clear days, you can watch aircraft land and take off from nearby Haneda Airport.
With the first three floors taken up by parking space for about 500 vehicles, the next two floors contain an excellent array of shops and restaurants to pique your interest for several hours. If you're in need of a feed, there's a food court that serves popular dishes such as ramen, soba, sushi and tempura. For those in need of something more Western style, there's a hamburger joint, a Starbucks and a Hawaiian restaurant accompanied by spectacular views.
For dessert, why not try an Italian yogurt, coned ice cream or a choice of cakes and sweets? For your entertainment, enjoy the game center, which specializes in UFO catcher games.

For the weary traveler, dip your tired feet into a hot water bath or take a relaxing body massage. If you're a keen shopper, there's also an assortment of souvenir shops, a Hawaiian merchandise store, and some locally produced goods from the surrounding prefectures.
There's also a fascinating technical museum called Umimegane, which can be accessed from the third floor parking lot toward the Chiba side. Here you'll discover the engineering technology that was applied to construct this marvel. For example, it's known that initially Tokyo Bay's seabed was too soft to drill, so harder dirt and rock had to be brought in from other prefectures and compacted onto the site before construction began. Adjacent to the first-floor parking area, you can view an actual cutting blade that shows just how gigantic the tunneling machines were that were used to bore through the undersea ground.
You can visit Umi-hotaru by car or highway bus. The buses go between Kawasaki and Kisarazu stations. For drivers, the Aqua-line toll costs ¥3,000 for a standard-sized car. From Tokyo, head toward Haneda Airport via the Wangan Road (湾岸線), and then change to the Aqua-line at the Ukejima (浮島) junction.

Once you've completed your rest at Umi-hotaru, you can either do a U-turn back to Tokyo, or continue on your way to Chiba.

Address: Umihotaru Parking Area, Nakajimachisaki, Kisarazu Umihotaru, Chiba, 292-0071
- Access from Tokyo by train and bus
There is a couple of shuttle bus at Kawasaki Station.
- Access from Tokyo by car
Use Shuto Expressway to Tokyo Bay Aqua-Line (40 min.)