Exploring 'Little Edo'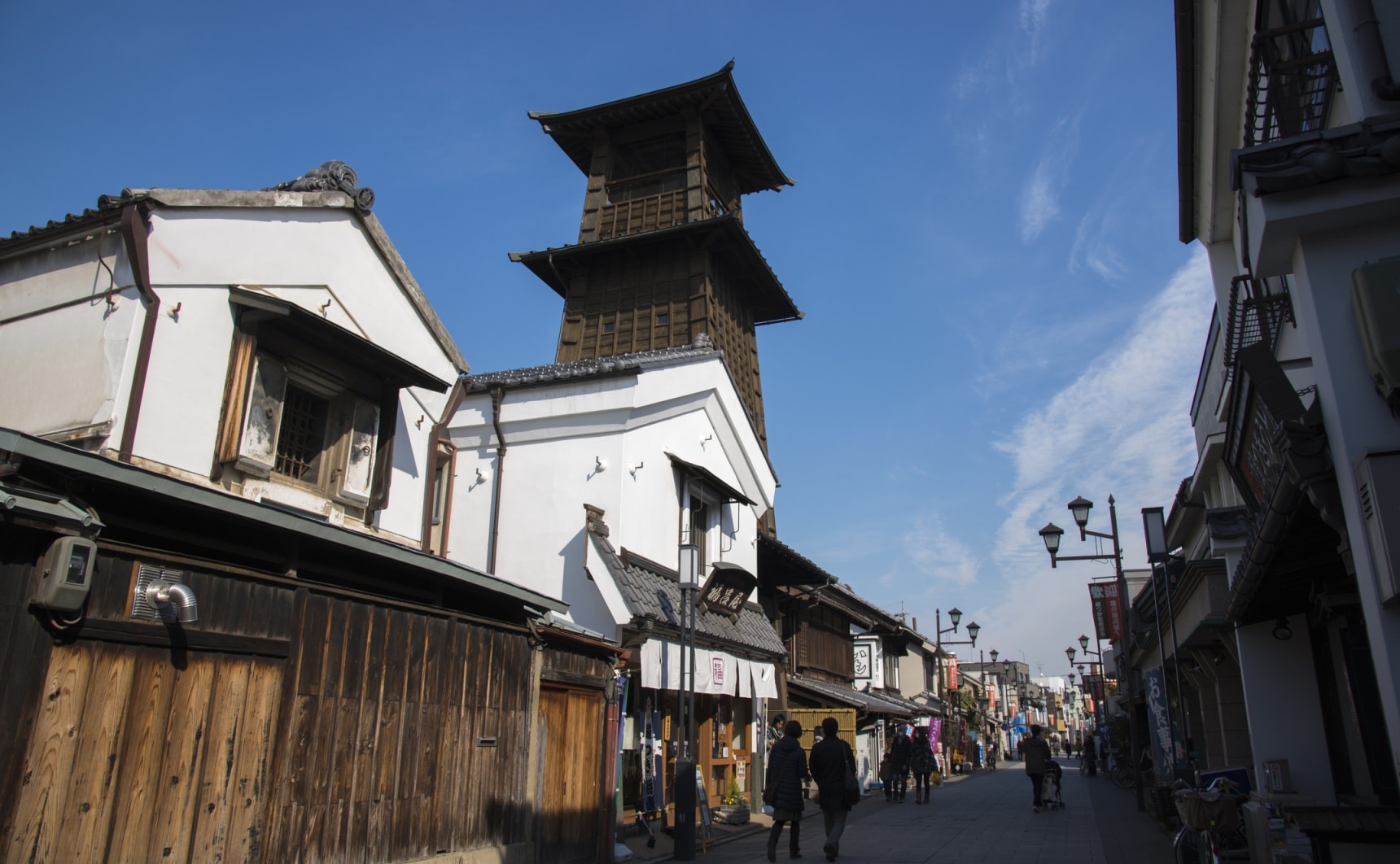 During the Edo Period (1603–1868), Kawagoe flourished as a castle town. The town's streets have been preserved to this day, and it has been designated a historical city by the Japanese government. Known as "Little Edo," this historical town is only 30 minutes away from Tokyo's bustling Ikebukuro Station.
1. Vivian
Vivian is a kimono rental shop in Kawagoe, where the staff are always delighted to help you get geared up in Japan's traditional robes. Vivian's appeal? A low starting price of just ¥2,200! You don't need to bring anything, and hair styling will also be done for you. Plus the shop has a huge selection of kimono types—so many that some visitors even take 30 minutes just to choose.

Vivian's kimono dresser will assist you in selecting a kimono, the sash (obi) and accessories, and even prepare your hair to create your desired look. For anyone who's anxious about trying on a kimono, you can find a video about the whole experience here.
2. Toki-no-Kane
Kawagoe offers traditional storehouses and merchant houses lined up side-by-side, the Toki-no-Kane (Bell Tower) ringing out to tell the time. Take a stroll through the town in a kimono and you'll feel as if you've traveled back in time to ancient Edo!
3. Kashiya Yokocho
Kashiya Yokocho (Penny Candy Alley) is a famous street in Kawagoe that's home to a row of about 20 traditional Japanese sweets shops. See the process of making amezaiku, candy craft sculptures made from multi-colored taffy. Shops here also sell dagashi, which are cheap, traditional sweets. There's such a wide selection of dagashi that you might have trouble picking which ones to eat! If you're having trouble deciding, why not ask the shop staff about their favorites?
4. Kaiuntei
Kaiuntei is a restaurant where you can enjoy what's called "B-class gourmet" food (Please be aware that "B-class" in this case doesn't have a bad meaning; it refers to food that's inexpensive, convenient, and delicious). The restaurant is located on Ichiban Gai Street, the main sightseeing street that's characterized by its row of traditional earthen-wall storehouses.

Don't hesitate to wander into Kaiuntei when your stomach grumbles while exploring Ichiban Gai Street. And while you're there, you absolutely must try the Kawagoe yakisoba. The dish differs from regular yakisoba in that the noodles are thicker and its sauce is sweet. You'll be hooked after just one try! And be sure to accompany your meal with a Coedo beer, a well-known local product that goes really well with any yakisoba dish!
5. Hikawa Shrine
In 1956, the Hikawa Shrine's main shrine and other historical buildings representative of Edo culture were registered as designated cultural properties of Saitama Prefecture. Known for enshrining the god of married couples, many couples can be seen holding weddings here every year. Here you can pick up omikuji (fortunes) that might grant you a perfect romantic match, appropriately taking the shape of a fish ready to be caught!
6. Kita-in Temple
Renowned nationwide, this is the most famous temple in Saitama Prefecture. Apart from the obvious beauty of the main shrine building, be sure to take a look at the so-called 500 Statues of Rakan, representing the disciples of Buddha. There are actually approximately 540 stone statues conveying a broad range of human emotions. It's said that rubbing the head of the statue bearing your favorite expression will bring you peace of mind. Also be on the lookout for the 12 Chinese zodiac signs hiding among them!
7. Nagamine-en (Fuda-no-Tsuji Branch)
Tea cultivation has been taking place in Saitama for roughly 700 years. Sayama-cha, or Sayama tea, is a tea mainly produced in Saitama, and the area including Sayama City, Iruma City and Tokorozawa City produces the greatest amount of tea in the prefecture. A long time is taken to knead the tea leaves to make them soft, with the result being a Japanese tea that has a rich taste accompanied with a great smell.
You can purchase Sayama tea produced in Kawagoe at Nagamine-en. The store on Ichiban Gai Street is run directly by the tea producer's top management, ensuring that you can taste genuine Sayama tea here.

In the café on the second floor of the building, you can enjoy various types of Japanese tea. The exquisite sweets make for an excellent accompaniment, including Sayama tea chocolate and roasted green tea cookies made using Nagamine-en's tea.

Back down on the first floor, there are around 50 types of products available. A pack of Sayama tea makes for a great gift! Plus, the different packaging designs will mean you'll have a fun time choosing!
Area Access
From Tokyo:
Kawagoe Station, Kawagoe-shi Station and Ikebukuro Station are connected by frequent trains along the Tobu Tojo Line (30 minutes by express train).

Around Kawagoe:
The Koedo Loop Bus is an old-fashioned bus that matches the style of the surrounding streets. This bus provides access to all the main attractions of the city, and a one-day pass costs ¥500.