10 Properly Hot-hot Tokyo Ramen Shops
10. Tantan-men Hozuki (Nakano)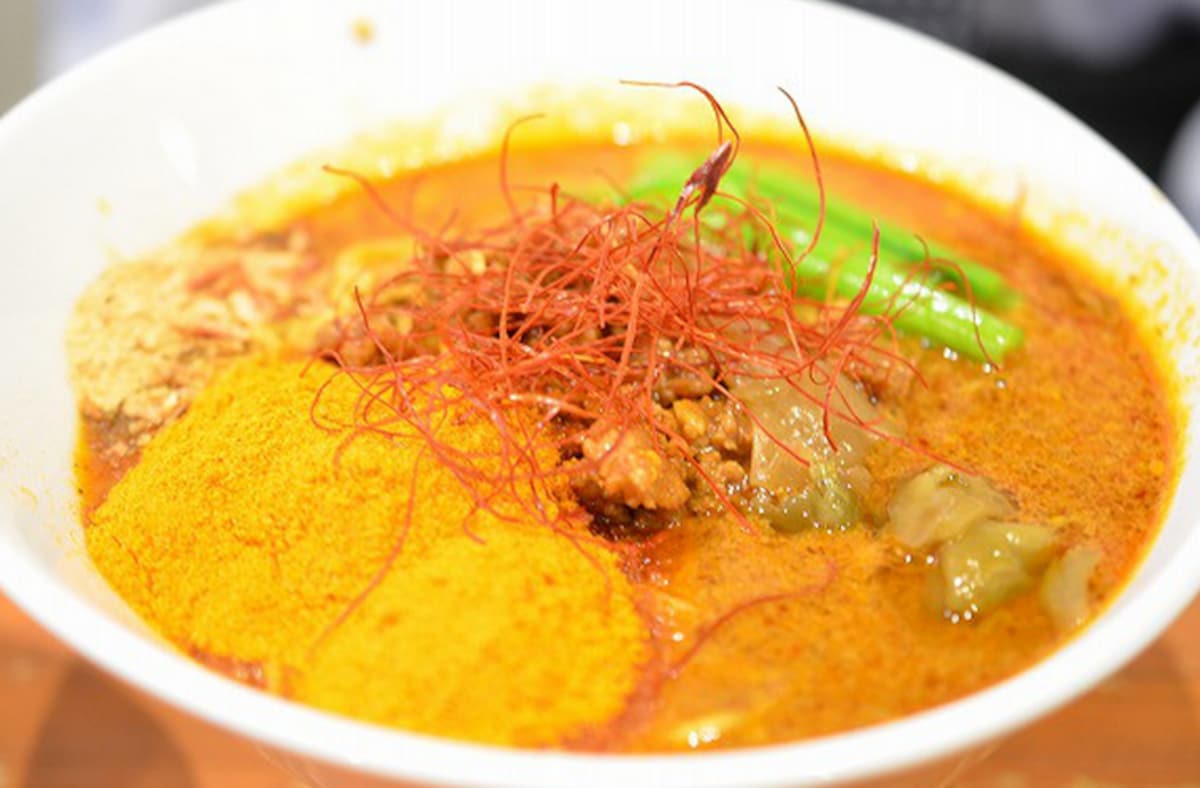 Located adjacent to Nakano Broadway, Tantan-men Hozuki is a popular spot often presaged by long lines. While you can officially set your tantan-men to regular (futsu), medium (chu-kara), hot (oh-kara) and really hot (tok-kara), "hageshiku karai tantan-men" ("intensely hot tantan-men") is also a perfectly viable option.
9. Rishiri (Shinjuku)
This shop is a veteran of Shinjuku's Kabukicho area. Named after the Orochon Fire Festival in Abashiri, Hokkaido, the shop's super-spicy option is dubbed Orochon Ramen. With minced onions, green peppers and pork, there's a subtext of umami in all the spice, and you can set your spice level from one to nine.
8. Metta (Omori)
Seven minutes' walk from the west exit of JR Omori Station, this Thai-Burmese restaurant can be found by following Ikegami Dori toward Kamata. Metta ramen's tantan-men style noodles offer a piquante taste—a burst of heat that's particulary welcome in the cooler months.
7. Yaguratei (Hatsudai)
A leading city-center spicy ramen shop located on Fudo-dori Shotengai, this shop is famous for its "hotaru" ramen. The shop claims it's the spiciest ramen in the universe, and only two people to date have ever been able to finish the spiciest bowl. It's served with flames dancing on top of the soup, and the consensus among spicy ramen maniacs is that this burning-hot bowl is best described as "painful."
6. Do Miso (Kyobashi)
The spicy Miso Orochon Ramen (another one named after Hokkaido's Orochon Fire Festival) can be prepared futsu (normal), geki-kara (super spicy), or faiya (fire). For the more advanced spicy ramen eaters, this shop offers the Miso Orochon Mega Fire, available in five levels of danger.
5. Bingiri (Ogikubo)
Onion, minced meat, chive, and Japanese pepper float on chili oil—and this delicious bowl is so spicy that you might see a few patrons trying to stifle coughs. To get to the shop, famous for its Katsuura tantan-men, walk along Ome Kaido toward Shimendo from Ogikubo Station's north exit, then travel another 100 meters north along Kanpachi Dori.
4. Kikanbou (Kanda)
The special thing about this bowl is its shibire (the sensation of numbness it generates) in addition to its extraordinary spiciness. The spiciness of the chili peppers and the numbing sensation of the Sichuan peppers can be adjusted to your taste, with the highest level being oni-mashi, in honor of the near-invincible mythical Japanese ogres, the oni.
3. Inosho (Nerima)
The kara kara koisai-men (spicy, spicy rich vegetable noodles) is served in five different levels of spiciness ranging from "super spicy" to "super restrained spicy." Not only can this bowl be made extremely hot, the vegetables in the soup give it plenty of umami.
2. Koya (Yotsuya)
This Yotsuya shop is famous for its wontons, but the karai karai soba (spicy, spicy soba) will set your mouth on fire. The bowl's deceptively mild appearance hides copious amounts of green chili, so be sure to have a beverage nearby to soothe the worst of the burning.
1. Mouko Tanmen Nakamoto (Kami-Itabashi)
While Mouko Tanmen Nakamoto branches dot Tokyo's city center, the original store can be found in Kami-Itabashi. With spice levels famous among ramen lovers, every steaming bowl is infused with characteristic umami. Just one bite will have you going back for more—if you can handle it!