The Roots of Tottori's History and Culture in Japanese Mythology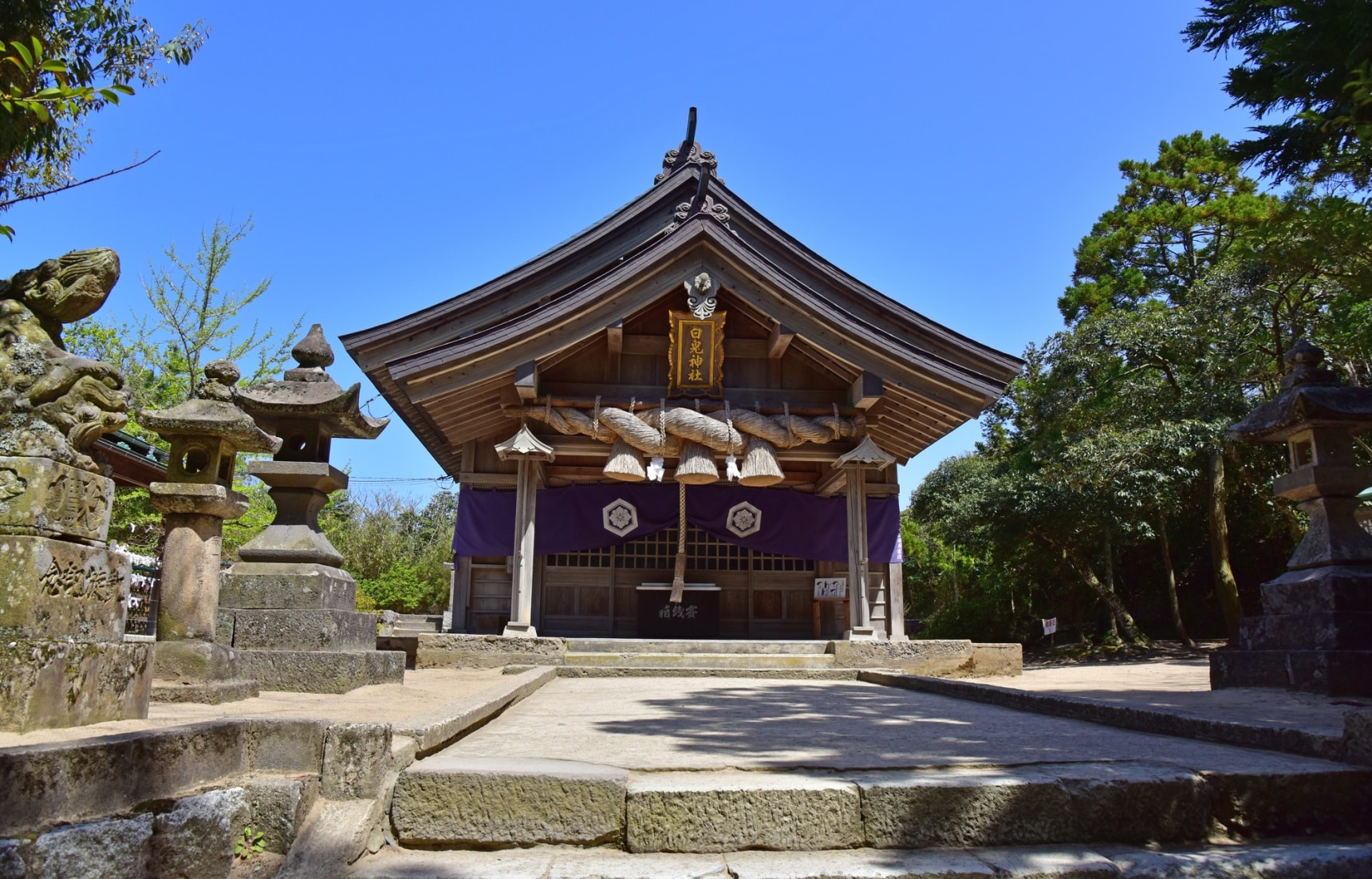 Tottori Prefecture is located in the northeastern part of Japan's Chugoku region, on the western edge of the main island of Honshu. Long and narrow, it runs from east to west along the Sea of Japan. The northern part features a coastline with beautiful sandy shores, including the Tottori Sand Dunes, with Mt. Daisen and other peaks of the Chugoku Mo
Tottori Prefecture has many locations of historical importance. These include Hakuto Shrine, which is associated with a tale in the Kojiki, an ancient collection of Japanese myths, and the cliff-side Nageire Hall, a national treasure said to have been established by the founder of Japanese mountain asceticism. There is also Kyaku Shrine, tucked away among the rice paddies, which has been around since the Edo period yet still has close ties to the locals' daily lives. Tottori is also home to the Lion Dance (Kirinjishi), a unique, traditional performing art.
Mitokusan Sanbutsuji Temple Nageire Hall
Nageire Hall is often called the most dangerous national treasure in Japan. The structure is perched on a precipitous cliff outside Misasa-cho, a town in central Tottori Prefecture famous for its hot springs. The ancient temple was founded by En no Ozunu in 706, when legend says that he threw the building up the mountain to its precarious location. It is a Shugendo temple, a religion based on mountain worship that reveres the mountains as gods and Buddha, and combines elements of Shinto and Buddhism. The goal of Shugendo is to attain enlightenment and to approach a supernatural state by undergoing rigorous ascetic training in the sacred mountains. Nageire Hall has withstood the elements—including intense winds and heavy snow—for more than 1,000 years. To reach the site from Sanbutsuji Temple at the foot of Mt. Mitoku, visitors must climb a steep mountain slope, sometimes pulling themselves up on chains embedded in the rock. This is practically a form of ascetic training!
Hakuto Shrine
Hakuto Shrine is associated with the myth of the "White Hare of Inaba" which appears in Japan's Kojiki (Records of Ancient Matters), a chronicle of myths compiled in the year 712. The story tells of Okuninushi, a young member of a family of gods who, on his way to visit a princess, helped a white hare that was injured by alligators (or sharks, depending on the translation). The hare then returned the favor by helping the young god win the princess's hand over his 80 brothers. This Hakuto Shrine enshrines the rabbit deity, and is popular for its romantic emphasis.
Kyaku Shrine
Kyaku Shrine is a small shrine constructed about 300 years ago that is dedicated to the deities Okuninushi no Mikoto and Sukunahikona no Mikoto. It is located within a small grove of trees that stands out from the surrounding the rice paddies, and has therefore been affectionately nicknamed "Broccoli Shrine" by the locals. The atmosphere of the shrine changes with the seasons, making it a popular spot for photography year-round. It has remained a well-kept secret and is rarely crowded.
Kirinjishi (Tottori's Lion Dance)
Tottori's Lion Dance (Kirinjishi) is a traditional performing art in eastern Tottori Prefecture, and is recognized as a part of Japanese Heritage along with Nageire Hall. The lion-headed "Kirin" is a sacred, imaginary beast from Chinese culture. From ancient times it has been a symbol of a peaceful world because it does not harm other living creatures. The dance is performed by two adults wearing a Kirin-shaped lion head attached to a long draping cloth that serves as the animal's body. Kirinjishi is also accompanied by an attendant wearing a red mask and holding a red stick, who leads the Kirin and also dances nearby in slow, gentle movements. Loved by the locals as a performing art that brings happiness, Kirinjishi has been a tradition in 150 villages, so shrine performances can be seen somewhere in Tottori throughout the year.

Read More About Tottori
Tottori Folk Crafts: Traditions Passed Down Over Generations