The Road to Koyasan: A One-Day Pilgrimage with Kobo Daishi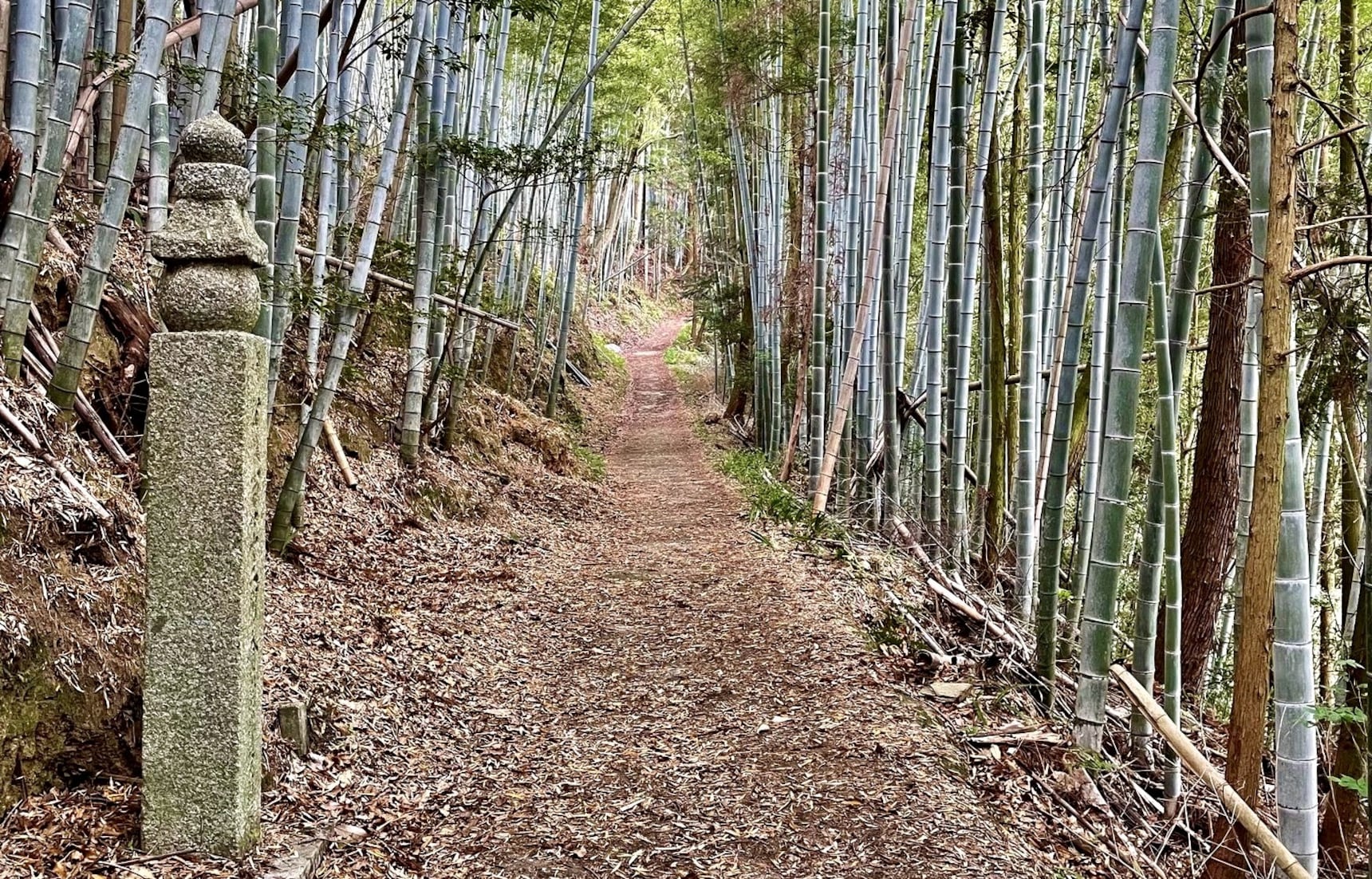 Mt. Koya (more commonly called Koyasan) was settled in 816 by the monk Kukai, the founder of Shingon Buddhism and posthumously known as Kobo Daishi. The more than 100 temples located here have made it a popular tourist destination. John Rucynski guides you on the pilgrim's way, a 25-kilometer hike culminating at the monk's mausoleum.
Counting Down From 180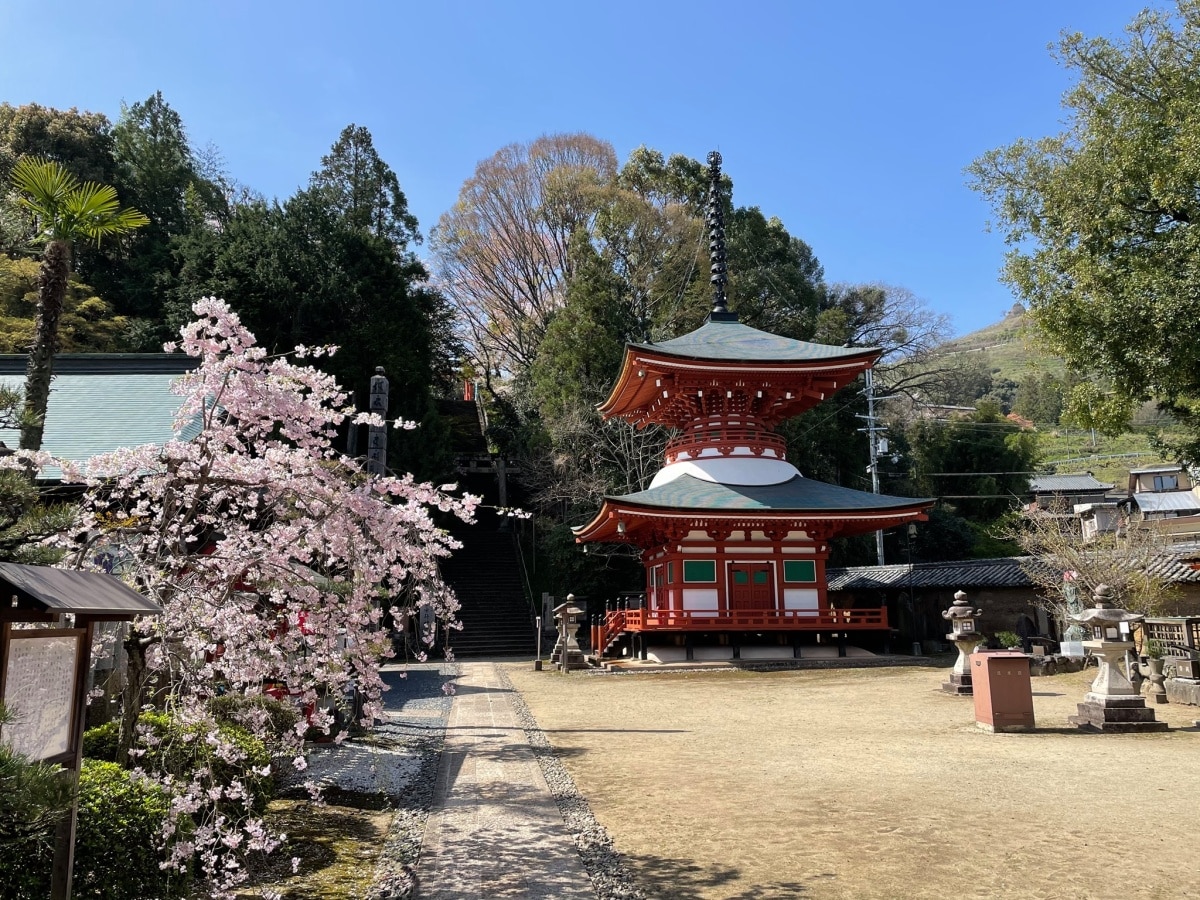 Of the seven walking trails to Koyasan, the Choishi-michi offers the best combination of convenient accessibility, well-maintained trails, and historical significance. Cho is an ancient measurement of about 109 meters, ishi means stone, and michi means path or trail. Evenly spaced stone pillars mark the entirety of the Choishi-michi, starting with number 180 at Jison-in Temple in Kudoyama and ending with number 1 at the Danjo Garan Sacred Temple Complex shortly past the main gate (Daimon) of Koyasan.

From Kudoyama Station (on the Nankai Koya Line), a 2-kilometer walk leads to Jison-in Temple, our starting point for the Choishi-michi. The presence of the monk Kobo Daishi can immediately be felt. Legend has it that he used to walk to this temple nine times a month to meet his mother, as women were barred from entering Koyasan until 1872. Kudoyama literally means "nine times mountain" and Jison-in is also known as Nyonin Koya (Women's Koya).

After a short, pleasant stroll through bamboo forest, you will soon discover why Wakayama Prefecture is also known as the "Fruit Kingdom." The trail passes through an orchard where, depending on the season, you can buy kaki (persimmons) or mikan (mandarin oranges) from an unmanned "honesty stall" for a fraction of the cost at a typical supermarket. Before the entrance to the thick woods, there is an observatory with a picnic table and a panoramic view of the surrounding mountains and the city of Hashimoto below. It is a nice place to have a snack and say goodbye to civilization before heading deep into the wilderness for the next several hours.
Into the Wild and the Mystic
After about two kilometers of walking on paved roads, you will finally be on a dirt trail and flanked by towering cedars. The initial steep climb is followed by long flat sections on a wide trail. The Choishi-michi offers not only spectacular natural scenery, but also a series of bilingual signposts detailing significant moments in the life of Kukai. For example, one spot along the trail is designated as the Settai-ba ("Place of hospitality").

Those familiar with the Shikoku 88 Temple Pilgrimage will recognize settai as small gifts such as food, drinks, or even money, given to pilgrims to assist them on their journey. When hiking the Choishi-michi on March 21st one year, we were surprised to encounter a friendly man who had pulled a wheelbarrow full of chocolates, oranges, and other treats up the steep dirt trail from the village of Kyoraji below to give to hikers. March 21st commemorates the day in 835 when Kukai entered eternal meditation. In the past, pilgrims would walk to Koyasan on this day to attend a special Buddhist service.

At around the 7-kilometer point is another picnic area offering one of the best viewpoints on the trail. It is also decision time, as a 1.6-kilometer detour leads (steeply) down to the impressive Niutsuhime Shrine. This Shinto shrine honors the goddess Niutsuhime and is one of the cultural aspects of Koyasan included in the UNESCO World Heritage Site "Sacred Sites and Pilgrimage Routes in the Kii Mountain Range."
The Final Stretch
Just as civilization is seeming like a distant memory, you will be jarred back to reality by the sound of cars. This means you have arrived at the village of Yatate, where you need to cross one of the main roads leading up to Koyasan. Yatate is a good point for a final break, as you will be greeted by a cluster of vending machines and a small shop selling yakimochi (grilled rice cakes).

Although there is only about another six kilometers to reach Koyasan, you have to earn your entry with one of the hardest sections of the hike. The trail undulates for a while, but then gives you one more flat, winding walk through the forest before the final ascent. You will be in a surreal space between the ancient and the modern, as on your right you will be blessed with the view of endless trees and mountains, but on your left cars and motorcycles are just a stone's throw away on the road above. However, you can take this as an encouraging sign that you are almost at Koyasan.

You will also be blessed with idyllic scenery on this final stretch, as you walk beside a stream and cross several small wooden bridges. After a steep and punishing series of switchbacks, you will finally poke your head out of the woods and be greeted with flat ground and the grand gate to Koyasan.
Entering the Main Gate
The reward for 20 kilometers of ups and downs is reaching Daimon Gate, the main entrance to Koyasan. This 25-meter-high structure was rebuilt in 1705 and features massive guardian gods on both sides. Although all the hard climbing is behind, the Choishi-michi is not yet complete. Pass through the gate and in about 10 minutes you will finally reach stone pillar number one, located in front of Danjo Garan. With its temple, shrine, and 45-meter-high pagoda, this central temple complex is worth exploring before embarking on the final stage of the journey.

For those who need to recharge before the final walk to Okunoin, Koyasan is home to a number of cafes, as well as shops selling gomadofu. Another speciality of Wakayama Prefecture, it is tofu made from sesame and arrowroot instead of soybeans, giving it a creamier texture.
Onward to Okunoin and Kobo Daishi
From Danjo Garan, it is a pleasant 1.5-kilometer walk through the town of Koyasan to the Ichinohashi Bridge, the main entrance to Okunoin. Be sure to bow to Kobo Daishi before entering what is the largest cemetery in Japan. Inside is a mesmerizing 2-kilometer walk through natural and sacred wonders. Okunoin features more than 200,000 monuments, commemorating everyone from monks to feudal lords and captains of industry. The path is surrounded by cedars, some up to 600 years old and over 50 meters high.

Take the time to appreciate this spectacle before arriving at the culmination of the hike, the mausoleum (Gobyo) where Kobo Daishi is believed to be in eternal meditation. There is a row of Buddha statues to the right of the mausoleum entrance. Make a gentle water offering to the feet of the statue of your choice to purify yourself before entering this sacred space. Bow to Kobo Daishi again and cross a small bridge to reach Torodo Hall (Hall of Lamps), which houses more than 10,000 eternally-lit lanterns. Just behind the hall is the mausoleum, where pilgrims pay their respects to Kobo Daishi at the end of their journey.
Trail Notes
Access
The easiest access to the Choishi-michi is via express train from Nankai Namba Station in Osaka to Kudoyama Station (most trains will require a transfer at Hashimoto). The ride takes about 60 to 80 minutes, depending on transfer times.

Stocking Up
Between Kudoyama Station and Jison-in Temple is Roadside Station Kaki no sato Kudoyama. The small supermarket and the Persimmon Cafe don't open until 9:00 and 9:30. Those looking to make an earlier start than this (the hike will take six to eight hours), should get their provisions in Osaka.

It's Worth Staying Over
Although this could be done as a day hike, I would highly recommended spending at least an extra day at Koyasan to take in the other sights. Overnight temple stays (shukubo) can be booked through the Koyasan Shukubo Association. There is also the excellent Koyasan Guesthouse Kokuu, conveniently located about a kilometer from the mausoleum.

When to Do It
The hike can be done year-round but will be most pleasant in spring or fall. Koyasan is charming in the winter, but sturdy hiking boots with a strong grip are necessary in case of snow on the trail or at Okunoin.

Watch Out For . . .
As with hikes in most parts of Japan, be careful about mamushi (pit vipers) and suzumebachi (giant hornets). Signs warning of bears are visible along the trail, but sightings have been extremely rare in recent years.

Something Special
Night tours of Okunoin (in English) are also available. Reservations can be made here: https://www.night.koyasan-okunoin.com/