Five Otaku Things to Do at Japan's Nijigen no Mori Theme Park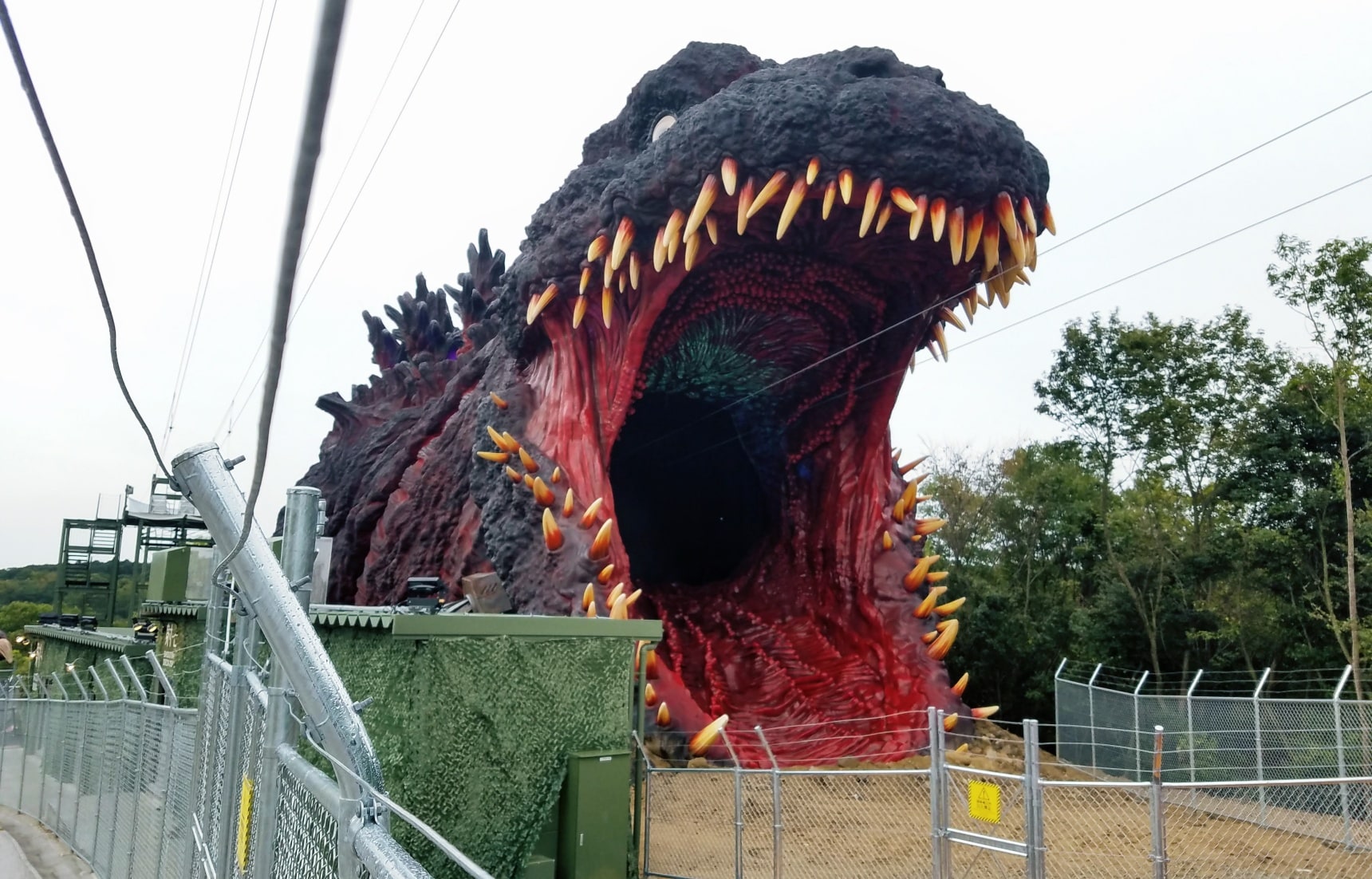 Nijigen no Mori is a somewhat quirky theme park whose name means "2D Forest." It is located on Awaji Island in Hyogo Prefecture, southwest of Osaka. Its rolling hills and lush fields are home to several anime-, manga-, and kaiju-themed attractions that make for a great day out (or two)! Here are five key highlights of the park.
The Godzilla Zipline
The stuff of fantasy for Kaiju fans became a reality when the park opened in October 2020. You can now zipline through the mouth of the world's first life-size Godzilla. Well, at least Godzilla's Head, that is, which was buried in the ground after he was made inert on Awaji Island. This is all purportedly a part of an operation by NIGOD—the National Awaji Island Institue of Gozilla Disaster.

The attraction consists of a movie that lays out the backstory, the zipline, a shooting game where you have to take out cells emerging from Godzilla's body, and a museum, which is a must for monster fans. The whole attraction was developed closely with Toho, the creators of Godzilla, which means some exclusive props are on display. The themed food is also on point, with Godzilla Cream Puffs, Mothra White Curry, and some fluorescent kaiju-coloured drinks amongst the delights!
Naruto and Boruto Shinobi-zato
Fans of the epic Naruto franchise will love every aspect of this zone, starting with the Aun Gate entrance! This leads into the Hidden Leaf Village, Konohagakure no Sato, where you first encounter Hokage Rock, the Mount Rushmore like mountain overlooking Konohagakure that has all the faces of the Hokage carved into it. Inside is a three-story, three-dimensional maze full of puzzles and mysteries to solve following the Ten-no-Maki (Scroll of Heaven), one of two scrolls you get with your ticket purchase.

There are two courses through the maze, one more physically challenging than the other, with a handy, easy exit should you decide Ninja school isn't for you. The Chi-no-Maki (Scroll of Earth) attraction sets you on the mission of restoring missing seals by solving seven mysteries. There is also a Ninjutsu AR Smartphone experience and the chance to dine on Ichiraku ramen, Naruto's favourite.
Crayon Shin-chan Adventure Park
This is one for the park's younger guests, perhaps—since there are height restrictions on some of the attractions–-though it still provides fun for all the family. This zone is based on one of Japan's most popular anime, Crayon Shin-chan. Appare! Sengoku Daiboken! is an athletics course based on a film of the same name and designed in the shape of a Warring States-period fort. There are four courses, including the Samurai Taisho Course, 8 meters above ground. The "Challenge! Action Mask Squadron!" course takes visitors over a lake on a zipline while being shot at with water cannons by the evil Black Mekemeke Group (manned by other visitors!). A reverse bungee jump, and a horror house for kids two years and under round out the fun.

There are 54 statues of the show's cast dotted throughout the park. The AR app also allows you to participate in a stamp rally by scanning QR codes with your smartphone. Some are tough to find, but if you do find them all, you'll receive a reward!
Hinotori Night Walk
After sunset, immerse yourself in the legend of the Hinotori, a popular manga by Osamu Tezuka, the creator of Tetuswan Atomu—also known as Astro Boy. A 1.2km-long forest trail winds past animations, speakers and projections, which together create an audio-visual experience that brings to life the legend of the Hinotori. Mystery and magic abound. Staff are dotted along the route to tell stories and inspire one's sense of awe. Some "locals" along the way explain the story and interact with visitors to more deeply involved them in the Phoenix story.
Dragon Quest Island
This is Nijigen no Mori's newest attraction. Dragon Quest Island: Zoma and the Archipelago's Origin is an outdoor role-playing game in which you explore the world of Dragon Quest, the Japanese role-playing video games franchise created by Yuji Horii, through online and offline experiences. Lots of quests, fighting monsters in the forest and boss battles will keep you busy for a few hours! The restaurant has plenty of themed food and drink—Slime latte, anyone?—and the gift shop has plenty to satisfy merch urges.
How to Get There
Awaji Island is located in the middle of Kansai and Shikoku. Akashi Station is the most convenient entry point by rail. From there, take a boat to Iwaya Port followed by a 5 minute shuttle bus to Nijigen no Mori. If you're driving, it's approximately 3 minutes from Awaji I.C. on the Kobe Awaji Naruto Expressway.

While you're here, it's worth exploring Awaji Island itself, which according to ancient legend was the first of the Japanese islands. Today, the island is famous for its onions and the Naruto Vortex, a whirlpool in the sea offshore that is the world's largest at 30m in diameter. If you do want to see more, Ninjigen no Mori's Glamping cabins are a good place to stay!

Check out the website https://nijigennomori.com/ for the latest ticketing information.

Photos not credited otherwise by Mac Salman.