Japan's 5 Most Elegant Christmas Trees
5. Sendai Pageant of Starlight (Sendai)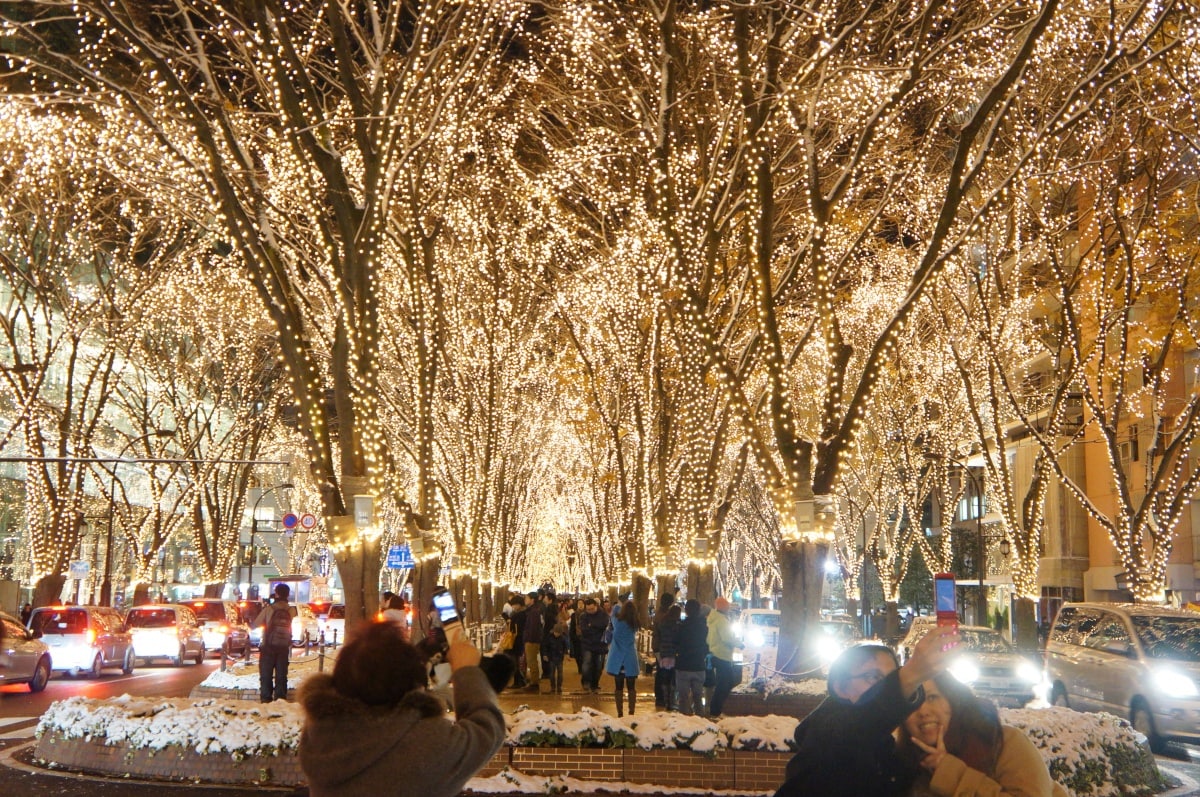 Head to Sendai in Miyagi Prefecture this winter from December 12 to 31 to view the zelkova trees on Jozenji-dori street, whose 600,000 lights shine brilliantly against the black sky and snow-clad branches. If you happen to be walking Jozenji-dori on top of the hour at six, seven or eight o'clock, the lights may instantaneously turn off, leaving you in darkne—but don't start heading home just yet! For as soon as you start putting away your camera, the lights will flicker back on! These hijinks are known as the "Starlight Wink," and are one of the more popular attractions at Sendai Pageant of Starlight.
4. Hakone Glass no Mori (Hakone)
Housing over 100 pieces of Venetian glassware, the Italian-style buildings of Hakone Glass no Mori are a wonder in their own right, but the real attraction during the winter time is the Crystal Glass Tree. Made of approximately 75,000 crystals, the tree can be viewed during the day or at night since the museum extends its hours until 8:30 p.m. on December 21, 22, 23 and 24. Otherwise, you'll have to have to view it during the regular hours between 9:00 a.m. and 5:30 p.m.
3. Ginza Mikimoto (Tokyo)
While Mikimoto, a well-known Japanese jeweler, normally turns heads with its high-quality pearls, when Christmas time rolls around, a particular corner of the building starts to twist them right around. Next to the irregular glowing windows you'll find a dazzling blue and purple Christmas tree. Whether it was strategically placed there to lure in customers or a kind gesture from the jeweler to get people in the holiday spirit, the enormous tree is a thing of beauty that's hard to miss on a stroll through Ginza.
2. Huis Ten Bosch (Nagasaki)
Rated as the best spot for light displays in the country by the Illumination Ranking Association, Huis Ten Bosch theme park in Sasebo City, Nagasaki, has the world's largest collection of lights, totaling 13 million bulbs! However, Huis Ten Bosch goes above and beyond just ordinary Christmas themes: The park features a lit-up bungee jump platform, a riverboat cruise with a river bottom that looks suspiciously like Mario Cart's "Rainbow Road," and a 66-meter (216-ft) tall waterfall made entirely of lights. Pay ¥6,400 for a one-day pass that includes the day rides and nighttime illumination, or shave off ¥2,100 by going in past 5 p.m. Either way, you'll definitely get your money's worth if you stay out past dark!
1. Universal Studio Japan (Osaka)
If you're in Osaka heading toward USJ for the Harry Potter attraction, you also won't want to miss the Guinness World Record holder for Most Illuminated Christmas Tree, which has a total of 374,280 bulbs. The tree is not the only attraction to win awards, however, as USJ's Christmas-themed light show, "The Gift of Angels," won the prestigious Thea Award for Outstanding Achievement in the Live Show category, presented by the International Association of Amusement Parks and Attractions. To catch the show, head over to the New York/Gramercy Park area at 5:45 p.m. and watch the magic unfold!