Coastal Culture & Living History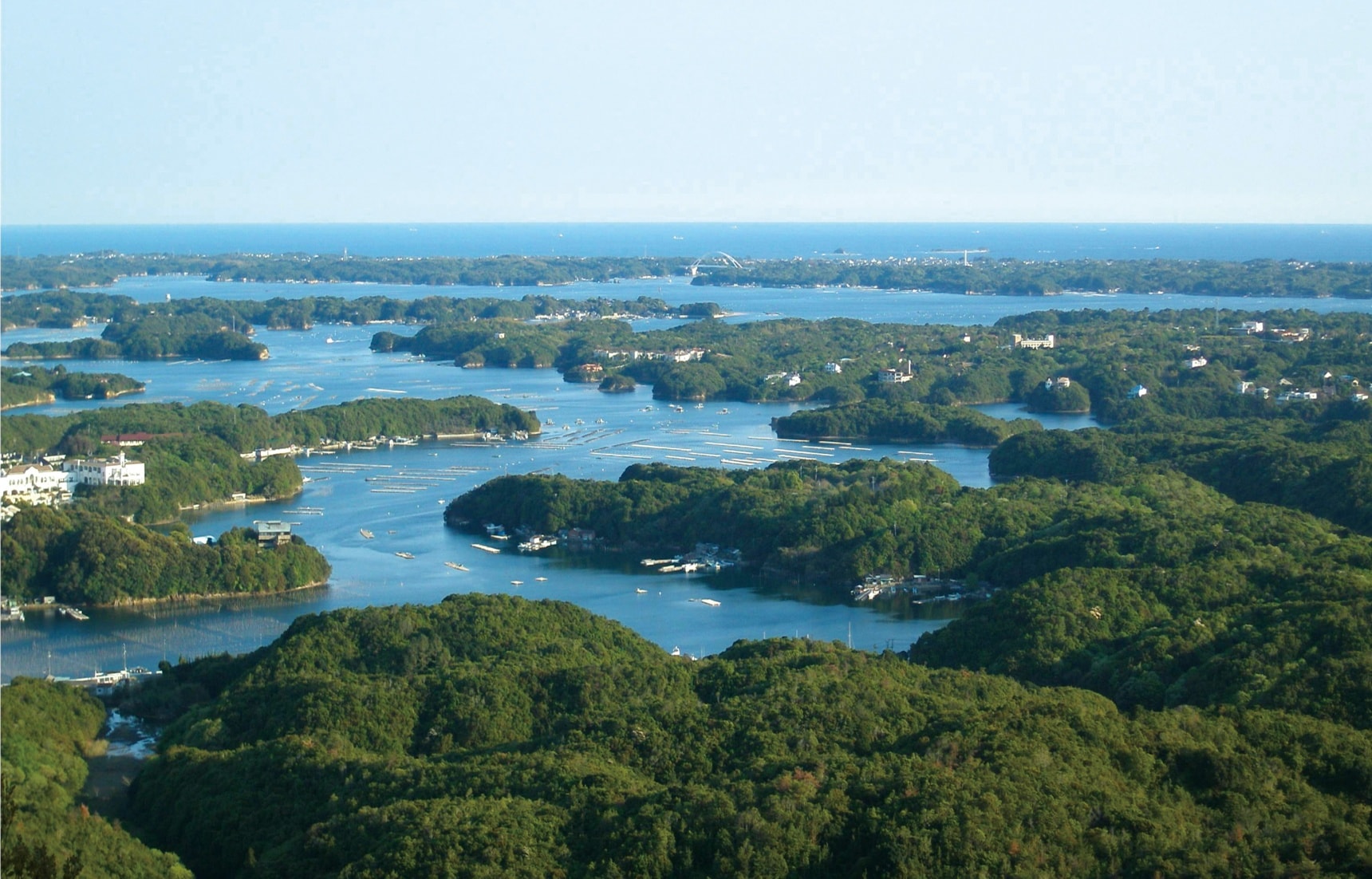 Spanning the cities of Ise, Toba, Shima and Minami-Ise on the Shima Peninsula, as well as four major outlying islands of Kamishima, Toshijima, Sugashima, and Sakatejima; and dozens of smaller, uninhabited islands, the area's nutrient-rich waters and picturesque coastlines make it a haven for photographers, water sports enthusiasts, hikers of all ability levels, and seafood lovers.

Top Photo: The Rias Coast of Ago Bay.
Rugged Coastlines, Inspiring Experiences
Yet Ise-Shima National Park's pleasures extend far beyond its abundant culinary and leisure opportunities; the area has long been known both as a creative muse and holy ground. Its beauty inspired generations of poets and writers, such as the prolific novelist Yukio Mishima (1925-1970, who set his bestseller The Sound of Waves here.

Photo: Morning over Ago Bay.
The islands are also linked by legend to the Princess Yamatohime-no-mikoto, founder of Ise Jingu Grand Shrine, one of the country's most sacred shrines. She was so moved by the natural wonders here, the story goes, that seafood caught off the coast came to be used as religious offerings in the shrine's daily ceremonies—a holy ritual unbroken for two thousand years. The park is the perfect spot to relax and recharge body, mind, and soul.

Photo: Ise Jingu Grand Shrine.
Island Hopping
Ise-Shima is ringed by majestically rugged coastlines and dotted with islands where traditional ways of life still flourish. Regular sightseeing cruises depart from Toba Port daily, as do ferries linking the mainland to the bay's outlying islands.

The largest of those islands is Toshijima, located roughly 15-25 minutes from Toba Port. The maze of alleyways in the village center offers a rare glimpse into the everyday life of a traditional fishing community. Toshijima is particularly known for the quality of its salted wakame seaweed and toro-sawara mackerel, a local delicacy.

Sugashima, the second-largest of the area's islands, lies just fifteen minutes from Toba Port. Sacred Shirongo-hama Beach is one of the most beautiful in the area. Those seeking adventure can try climbing Mount Oyama for unparalleled views of the surrounding waters.

Kamishima, located some 30-40 minutes from Toba Port, is a great spot for coastal hiking. Its roughly two-hour long nature trail winds its way through a variety of picturesque sites along the coastline, including naturally sculpted karst limestone formations and an old lighthouse.

Sakatejima, closest of the four inhabited islands, is a ten-minute ferry ride from Toba Port. Staircases traverse the village's terraced streets, leading to sights such as an iris pond that blooms from mid-May through the beginning of summer and the nearby Sakatekai swimming area on Hime-no-hama Beach, which is open.

Photo: Saketejima, just 10 minutes from Toba Port by ferry.
Treasures of the Sea
Ise-Shima National Park is an intersection of natural and cultural wonders. Its abundant and clear waters have provided generations of locals with their livelihoods, supply the nearby Ise Jingu Grand Shrine with food offerings for its daily ceremonies, and represent the birthplace of Japan's pearl cultivation industry, which continues to thrive to this day.
Female divers, known as ama, have played an important role in the Ise-Shima region for centuries. They are trained from an early age to free-dive for shellfish and seaweed, remaining submerged without breathing apparatuses for long periods as they harvest the ocean floor. Tiny huts, where the divers warm their bodies after long hours spent among the waves, are a common sight along the area's coastlines, Sugashima and Toshijima islands in particular. In certain months the huts are opened to visitors, who can listen to tales of the sea and feast on local delicacies.

Photo: Harvesting pearls from Ago Bay (photo courtesy of Shinju no Sato Pearl Studio).
In times of old, the ama divers would occasionally happen upon pearls in the course of harvesting seafood. That all changed in 1893, when local Mikimoto Kokichi (1858–1954) launched the world's first successful pearl-farming business in the Ise-Shima region. Neatly arranged rows of oyster rafts bobbing atop the waters of Ago Bay represent one of the region's most distinctive sights.

Photo: Pearl found in an Akoya oyster.
Legend has it that after founding Ise Jingu Grand Shrine, Princess Yamatohime-no-mikoto traveled throughout Ise-Shima in search of suitable culinary offerings. In the waters of Ago Bay, nourished as they are by mountain streams and warm ocean currents, she found an ideal source. For two millennia, the coastal waters have continued to supply the shrine with abalone, edible seaweeds, shellfish, and a great variety of other seafoods. It was also one of the three areas of the country collectively known as miketsukuni that provided foodstuffs for the Imperial Court.

The rocky reefs, seaweed beds, tidal flats, and beaches provide habitats for a great many sea creatures. The Toba Aquarium celebrates this natural heritage by showcasing more than 1,200 different types of sea life in displays categorized to introduce the various undersea habitats of the waters of the bay. For those interested in how locals traditionally interacted with these waters, the Toba Sea-Folk Museum offers exhibits on ama divers, famed local mariners, ancient fishing techniques, and sea conservation, plus a collection of more than a hundred traditional fishing vessels.

Meanwhile, fresh seafood is served up daily at local markets and restaurants. Throughout the year, a great variety of fish, crab, oysters, and many other seasonal delicacies await adventurous diners both on the mainland and on the outlying islands.