A Mountainous Trove of Nature and Culture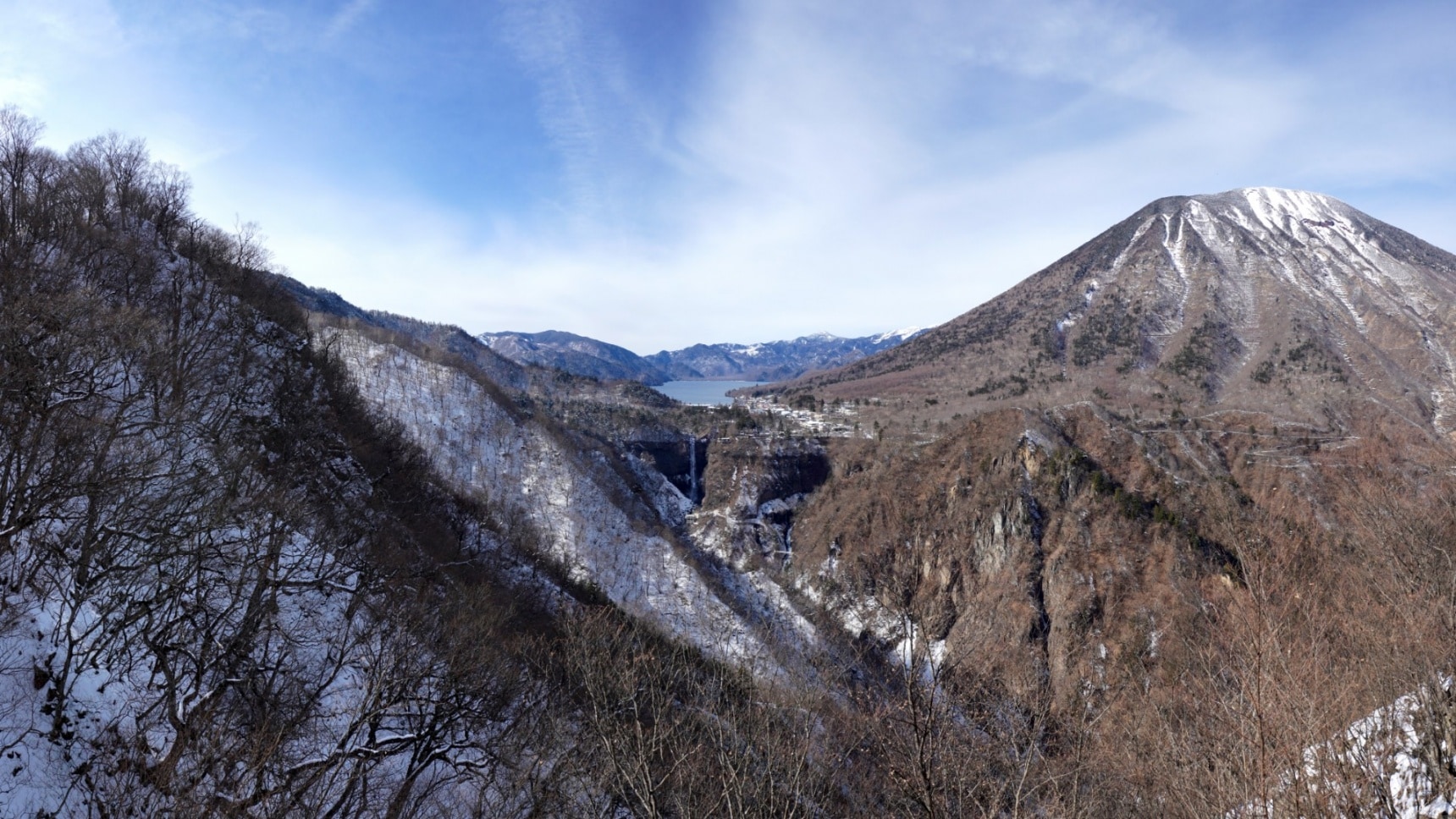 Tell anyone that you're contemplating a short trip beyond Tokyo and you'll likely be asked, "Have you been to Nikko?" Among all of Japan's national parks, it's hard to match the accessibility of Nikko National Park. Just a few hours by car or train from Tokyo's urban center, it boasts awe-inspiring nature and a rich cultural heritage.
Below are some of the places not to be missed!

Top photo: View of Okunikko in winter, as seen from the Akechidaira Ropeway Observation Deck.
Natural Beauty
Lake Chuzenji

One of Japan's highest natural lakes, Lake Chuzenji embraces the foot of majestic Mount Nantai. Most of Lake Chuzenji's approximately 25-kilometer circumference remains undeveloped, with a pleasant hiking trail along the shore that affords scenic views over the rippling waters. The high altitude also ensures a cooler climate even during the peak months of summer, while early autumn is a great time to catch Mount Nantai's colorful changing leaves.

Photo: View of Mt. Shazan (left) and Mt. Nikko-Shirane (right).
Kegon-no-Taki Falls

All of that water in Lake Chuzenji has to exit somewhere, and that somewhere is Kegon-no-Taki Falls, where water plummets down nearly 100 meters (!!!) through a forested valley. It's ranked as one of Japan's top three most beautiful falls for good reason—the cascading water dropping down a broad, rocky cliff with Lake Chuzenji off in the distance makes for a truly spectacular scene. Particularly noteworthy times to visit Kegon-no-Taki Falls are in the autumn, when colorful leaves frame the falls, and winter, when much of the water freezes over and creates beautiful ice formations.

Photo: Ice formations from the freezing waters of Kegon-no-taki Falls.
Kinugawa Gorge

As the Kinugawa River made its way down south from the mountains towards the Kanto Plain, it wore through layers of volcanic rock to carve out a dramatic gorge. One particular stretch was thought to resemble a dragon thrashing around, hence its name, Ryuokyo Gorge, literally "Valley of the Dragon King."

This section starts from the hot spring town of Kinugawa Onsen and extends three kilometers up toward the nearby area of Kawaji Onsen. Many smaller falls flow into the river of Kinugawa Gorge, making it a popular course for rafting, as well as traditional river cruises in wooden, flat-bottomed boats.

Nasu Heisei-no-Mori Forest

Located in the northernmost area of the national park, this forest used to be off limits back when it belonged to Japan's Imperial family. Approximately 560 hectares of this important habitat were opened to the public in 2011, giving visitors a chance to spot a wide variety of plants and animals, including several rare species. There are numerous walking paths, which can be enjoyed on self-guided walks or through excursions and other programs led by experienced naturalist/interpreters.

Photo: An enormous Japanese horse chestnut tree on the shores of Lake Chuzenji.
Deep Cultural Roots
The town of Nikko is an excellent base to explore one of the park's most famous areas: the UNESCO World Heritage Site which encompasses Nikko Futarasan Shrine, Nikko Toshogu Shrine, and Mt. Nikko Rinno-ji Temple.

Nikko Futarasan Shrine

Nikko Futarasan Shrine was established in 782 by a Buddhist monk called Shodo Shonin, who was responsible for discovering Nikko and developing it as a sacred place. The shrine, with its distinctive red structures, is dedicated to the deities of Nikko's three most sacred mountains: Mount Nantai, Mount Nyoho, and Mount Taro, though it is Mount Nantai (also known as Futarasan) that is the most prominent object of Shinto worship here. A small area to the left of the main hall features tall cedar trees, many more than several centuries old, and a potable mountain spring—this peaceful place is more than worth the price of admission.

About a kilometer away from the shrine grounds, the distinctive, red Shinkyo Bridge—both a symbol of Nikko and a World Heritage Site—also belongs to the shrine. This bridge once marked the formal entrance to Nikko, separating the holy site from the regular town nearby.
Nikko Toshogu Shrine

The third Tokugawa shogun Iemitsu spared no expense when he built most of the main buildings of Nikko Toshogu in 1636 as a mausoleum for the first shogun of the Edo Period (1603 – 1867), Tokugawa Ieyasu. Here, everything seems to be an order of magnitude more grandiose and lavish than at other shrines, befitting Japan's most powerful warlord. Multiple structures on the premises are either National Treasures or Important Cultural Properties, with intricate carvings, vibrant decorations and generous gold leaf accents that reveal careful attention to detail.

Mt. Nikko Rinno-ji Temple

Also founded by Shodo Shonin in the year 776, Mt. Nikko Rinno-ji is Nikko's most important temple. Housed inside its large, main building known as the Sanbutsudo are three wooden Buddhist statues, which represent the three sacred mountains of Nikko mentioned earlier: Mount Nantai, Mount Nyoho and Mount Taro.

Located nearby Nikko Futarasan Shrine is a temple called Taiyuin, built as a mausoleum for Iemitsu. In his will, Iemitsu requested that his mausoleum be smaller and less opulent than Nikko Toshogu out of respect for his grandfather Ieyasu. Nevertheless, this mountainside complex still features remarkable craftsmanship and painstaking attention to detail on the structures and stone railings carefully carved out of immense stone blocks.
Soak in the Scenery
Okukinu Onsen

In the eyes of most locals, no visit to the national park would be complete without a soak in its abundant hot springs. Okukinu Onsen lies in a remote mountain valley of Tochigi Prefecture, and offers a rather rustic experience, with scenic and peaceful outdoor baths and milky white spring water. Restrictions on traffic have helped to preserve the natural environment and ambience.

Nikko Yumoto Onsen

This small, picturesque hot spring town lies deep in the mountains near Lake Yunoko, and your nose will confirm your arrival when you notice a slight sulfuric odor in the air. If time allows, walk over to nearby Yunodaira Marsh, the fountainhead of the town's hot springs. Here you'll find a series of low, wooden huts built to house the pumps that draw hot spring water, with wooden walkways around the marsh to ensure safe and dry passage over the hot, milky water bubbling up from the ground.
Regardless of what season you visit, Nikko National Park will not fail to leave an impression. Learn more here!