Cruise Around Okinawa with The Wandering Quinn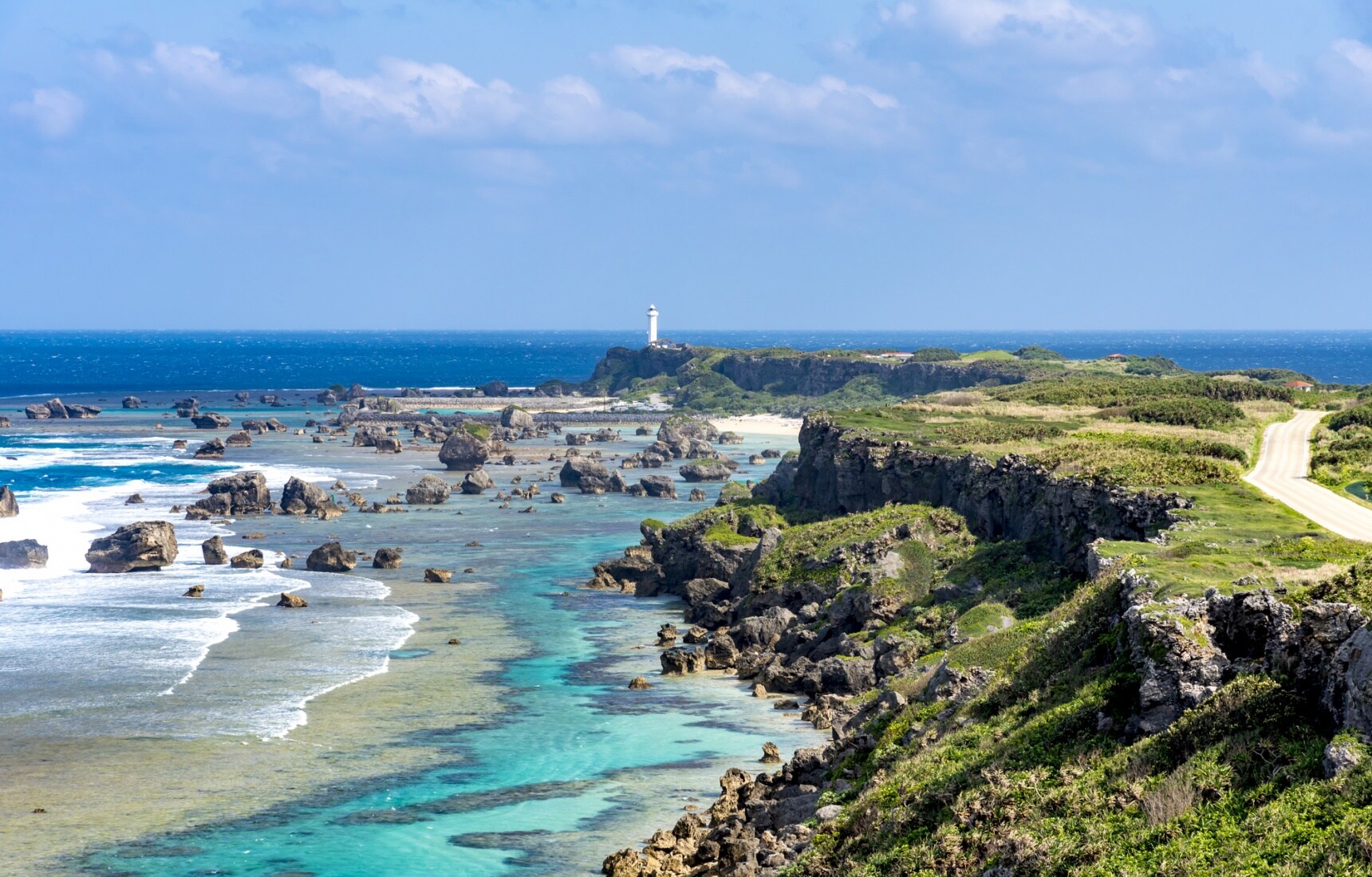 Miyako Island in Japan is popular for Japanese domestic tourists and I can see why! However, it is becoming more popular with tourists and I was surprised at the number of people on my Instagram and Twitter who said that Okinawa was on their Japan bucket list when they saw that I was in Miyakojima, Okinawa.

After visiting mainland Japan on a 2 week trip to check out the most popular places, and now visiting Okinawa on a second trip to Japan, one of Japan's islands which is closer to Taiwan than it is to Tokyo, this is the perfect area of Japan to travel to on a second or third trip to Japan if you want to get a bit deeper into Japanese culture, customs and feel like you're on a vacation in Japan at the same time!

Whether you need further convincing that you should travel to Miyakojima, or you've already got your flight booked and you need some ideas of what to do in Miyakojima, this is your Miyakojima Okinawa Travel Guide to help you out!
Beach Hopping Around Miyakojima
A quick Google search of Miyakojima will show you many of it's white, pristine beaches and I'd say that these Japan beaches are the biggest Miyakojima tourist attractions, as not only are they unique to Japan but these days it's hard to visit beaches like this around the world without crowds of people and noticeable negative sides of tourism. However, in Miyako, these beaches are still perfectly clean and it's very possible that you'll get a beach to yourself!

The best way to get around Miyako island is to hire a car and if you don't do this I'd say that you're going to struggle to see the island. If you do have access to a car, it's easy to see many of the best beaches on the same trip! Taxis are an option, but they can get kind of expensive. Plus, while they are easy to find in the city, you'll want to arrange a return car ahead of time, since your odds of catching one at the beaches can be a bit lower.

Yonaha Maehama Beach is a great place to start, since it easily ranks among the best beach in Japan and stretches for a whopping 6-7 kilometers! It's great for swimming and one of the best places to visit in Japan so make sure Maehama Beach is on your Okinawa itinerary!

Sunayama Beach is small but it's a hidden gem, and I'd recommend it as one of the top places to visit in Miyakojima. There's a car park at the end of the road and then you need to walk a few meters along a footpath and small sand dune before seeing this incredible beach pop into view!

A lot of the beaches in Miyakojima do not seem to have English names, at least not on Google Map,s so I think that the best way to see the beaches of Miyako is to drive around the island (which only takes a few hours) and stop wherever you fancy, this way you're more likely to get a piece of paradise to yourself and it will be more of an adventure!

The beach pictured above is on Irabu, which leads me to my next point!
Island Hopping Around Miyakojima
Miyakojima is actually made up of six islands and these combine as some of the best places to visit in Japan so don't stick to Miyako Island only!

I visited the two islands near Miyakojima, Kurima and Irabu, as well as the much smaller island, Shimoji, which is also nearby. These islands are connected to Miyako Island by huge bridges that are an experience to drive over in their own right. Going to these islands provides an even more in-depth look at Okinawa prefecture and tourist attractions, specifically in the sense of learning and observing local ways of life which differ to many other parts of Japan.
Snorkelling & Diving
There's no point in having crystal clear water if you're not going to get in it. You may not have thought that snorkelling and diving is one of the top things to do in Japan but Okinawa snorkelling is, and especially in Miyakojima because the island is a coral island! I'd suggest packing snorkelling equipment or buying some in Miyako as this way you can stop and snorkel wherever you want. However, if you want to go out snorkelling with a guide (which is a good idea if you are not a confident swimmer or this is your first time snorkelling), I'd recommend this company which is who I went out with.

We went snorkelling on Nakanoshima Beach, also known as Kayaffa Beach on Shimoji. This is a nice secluded beach with amazing coral and marine life so I'd recommend visiting here. For a safe and secluded snorkelling spot head to the beach opposite the Imgya Suite Hotel on the south coast, also known as the Imgya Marine Garden. Here there are many places to snorkel and you can hire paddle boards and relax on the beach.

If you want to go diving in Okinawa, I'd also recommend the company I went snorkelling with as a company to go diving in Miyakojima with. The guides speak really good English too so don't be worried about that if you don't know diving terms in Japanese!
Soak in the Scenery
You may be surprised to hear that the highest point on Miyakojima island is just 130 meters! This is because the island is made up of coral and doesn't have any mountains. However, there are many viewpoints in Miyakojima offering you a great look at the island.

Ryugujo Observatory is located on a hill on Kurima Island which is just a few km away from Miyako via one of its many impressive bridges. From Ryugujo you get an amazing view of Miyako island in the distance, plus its famous 2-kilometer-long beach! Another popular beach in Okinawa!
Higashi Hennazaki Lighthouse on the very Eastern point of the island is a must-visit place in Miyakojima and actually combines 2 viewpoints! Right at the very end where the lighthouse is located, you'll get an amazing view out into the ocean which is where the East China Sea and the Pacific Sea meet. You can also go up to the top of the lighthouse for ¥200 for an even better view.

Another place to stop is just before you get to the small stretch of road that leads to Miyakojima Lighthouse which gives an excellent view of the road and the coast in the distance. In fact, it looks pretty similar to the Twelve Apostles outside of Melbourne, Australia, except it's a lot less busy!
Irabu-Ohashi Bridge is another Miyakojima tourist attraction because it's the longest toll-free bridge in Japan at 3.5km, it's structurally impressive and it offers incredible views of the bright blue ocean as you drive over it. On that note, make sure to keep a lookout for turtles as they can often be seen from the bridge!

Aside from seeing the bridge as you drive over it, be sure to stop at the car park on the right before you get on the bridge to head over to Irabu as there is a small viewpoint where you can see just how incredible it is!
Wine & Dine on a Sunset Cruise
This Miyakojima activity is great for Japanese tourists and foreign tourists to Miyakojima. I went out on the Montblanc Hayate evening cruise and really enjoyed it.

The dinner is buffet style with plenty of food to choose from including a sushi bar. I was also impressed with the number of vegetarian options. However, the desserts were the highlight with the biggest selection of mochi I have ever seen!
After dinner, you can head onto the top deck to take in the sunset views and experience sailing under the Irabu Bridge. The basement of the boat is also open and acts as a cinema out into the ocean! On a clear day you can see fish and maybe even turtles through the glass windows at the bottom of the boat, but don't forget to come back into the dining room to listen to the entertainment and get up for a dance later on!
Stay at Miyakojima Tokyu Hotel & Resort
For the best Miyakojima Hotel, you need to stay at the Tokyu Hotel and Resort. This is the only hotel on Miyako Island with direct beach access which is surprising considering the number of beaches on the island and therefore makes for one of the best Japan Beach Resorts.
Not only does the Tokyu Hotel Miyako have beach access but it also has a huge outdoor pool, 5 dining options and 2 breakfast dining options, tennis courts, mini-golf, bike rental and snorkelling. This is a 4-star hotel in Miyako so the bedrooms are high quality with friendly staff, and it's in a great location just 15 minutes away from Miyako Airport!
Dress Up in a Kimono
Getting dressed up in a Kimono one of the popular things to do in Japan for tourists and here on Miyakojima, you can do this in the most authentic way and it will be one of your Okinawa highlights I think!

A lot of females will hire a Kimono in Kyoto and wear it around the city, there is nothing wrong with this and from what I have heard Japanese people like that foreigners are embracing the traditional wear, however, they can be put on quickly and not in the traditional way.

At Miyakojima Botanical Garden there is a lady who can dress you in a Kimono so you can take photos in the garden in this beautiful outfit.

The website is Miyakotaiken, however it is in Japanese, bookings are often made over the phone but may be difficult to make if you do not speak Japanese. What I would suggest is going into the Botanical Garden in Miyakojima and seeing if she has a slot free for you. There are many other Miyako activities you can do here like going to the crafts village and workshop so it's a nice place to visit and one of the really good things to do in Miyakojima for children.
Hang Out at a Goat Café
For one of the more unique things to do in Miyakojima, head to Shirou Nouen Goat Cafe, also known as Go at Cafe which is a cafe with lots of goats on site.

You'll find this cafe in Miyako on the South Western part of the island on the way to Kurima Island.
Dinner & a Show at Kiyama
For amazing food and one of the best restaurants in Miyakojima head for dinner at Shimauta Izakaya Kiyama Restaurant in Downtown Miyakojima.

The restaurant is popular with tourists but is also visited by locals however, what I liked is that it has a very local feel to it still. The menu is full of dishes that are popular from Okinawa, it's small and intimate with friendly staff and they also offer nightly entertainment shows at 18:30 and 20:00 with Sanshin local music which will put you in a fantastic mood and give you a taste of the many local experiences and the many things to do in Okinawa.
These two played brilliant Okinawa music for us!
Try Blue Seal Ice Cream
Finally, no holiday in Okinawa is complete without trying the famous ice cream of Okinawa Island—Blue Seal! There is a store in the downtown part of Miyakojima which sells a huge number of flavors but you'll also see stands dotted around the island. The Salt Flavours are particularly popular and famous in this region and I really liked the Cookie Salt flavor. I also had the Sweet Potato Ice Cream which was a taste sensation!
How to Get There
You're convinced that you need to go to Okinawa and Miyako, but how to get to Okinawa?

Flying is the answer. You can fly from Tokyo to Miyako Airport in 3 hours, Japan Airlines run a regular service and you can check out all of the times and prices on Skyscanner.

In my opinion, you need about 3 days in Miyakojima island to enjoy it, so if you want to stay in Okinawa for longer I'd suggest checking out the other nearby islands:

The island of Okinawa. This is the main island in the prefecture and popular with tourists. The best way to get to Okinawa is to fly into its airport Naha Airport.

The island of Ishigaki. This is another popular island in Okinawa, people often question whether to go to Miyakojima or Ishigaki so if you have time you could do both. Ishigaki has an airport, or you could cruise between the islands like I did on a Costa Cruise, we left Miyako in the evening and had arrived in Ishigaki by morning!

Eager for more adventure? Check out the rest of The Wandering Quinn's adventures for travel inspiration!