Travel Like a Pro with the WOW! JAPAN APP
Are you still searching for that perfect Japan guidebook? Or are you looking for discount coupons to use in Japan? The WOW! JAPAN APP is the perfect solution to both of these issues. On top of containing a wealth of information on travel in Japan, this smartphone app also has amazing discounts for popular Japanese pharmacies and electronics stores!
Before Traveling to Japan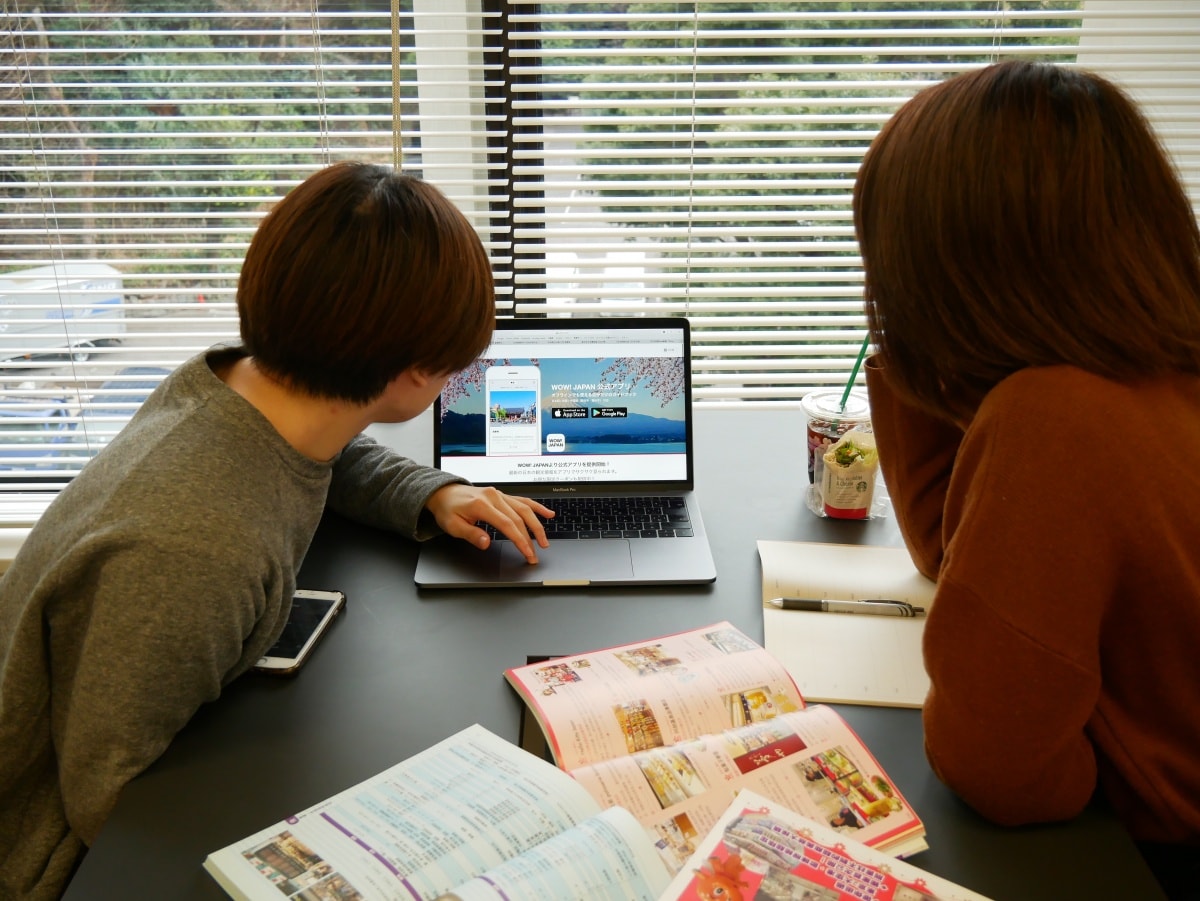 Are you the type that likes to download useful apps with in-depth info on train transfer times, foreign exchange rates and consumption tax? One more app to add to your roster is the WOW! JAPAN APP! You'll be able to view trip itineraries and famous tourist spot info even when you're offline, meaning that you can travel without carrying a thick and heavy guidebook. Best of all, it comes with a bunch of coupons, so you can play and shop on the cheap!
About the WOW! JAPAN APP
The WOW! JAPAN APP is run by the Japanese communications giant, docomo. It is a smartphone app that offers info on the charms of Japan, and the many different ways you can enjoy your time there. You'll easily be able to pick up the latest info on travel in Japan, as well as some generous app-only discount coupons!

When you first open the app after downloading it, you'll come across the following screen. In the Guide menu, there are basic introductions of famous tourist spots.
If you click on Learn more, you'll discover recommended articles related to that particular spot.
There's a wide range of info available, from sightseeing spots great for Japan beginners to spots that even experienced travelers to Japan have never heard of before!
Wondering where to head next after exploring countless places in the big capital of Tokyo, the gourmet heaven Osaka and the former capital of Kyoto? Tap on the Add area button in Area setting and pick a couple of areas to add to your list. Japan's 47 prefectures are waiting for you.
The Spot search function in Search will look up information that's been categorized based on what most international visitors tend to look up. You can also fine-tune your search by adding criteria such as "English speaking staff available," "English menu available," "Credit cards accepted," and "Non-smoking area available." There's also a Google search function, which makes the app even more convenient!
Field Testing the WOW! JAPAN APP in Japan
We went ahead and actually used the WOW! JAPAN APP in Ikebukuro, a place that's just as lively as Shinjuku and Shibuya. As a result, we uncovered three amazing things about this app.
1. You Can Favorite Articles & Read Them Offline

Before even coming to Japan, we added any articles we were interested in into the Favorite tab. There, we could read them even when offline, so we studied up on Ikebukuro's tourist spots during our flight! We decided to spend a whole day there, exploring shopping hot spots like the Seibu department store around Ikebukuro Station's East Gate, Sunshine City, the Tobu department store connected to Ikebukuro Station's West Gate, LUMINE and OIOI.
Sunshine 60 Street is said to be Ikebukuro's busiest street, and is full of places to eat, drink and have fun! If you bring a shopping list, you'll be able to tick everything off here, since it's home to pharmacies, consumer electronics shops, clothing stores and more!
Before we embarked on our shopping fiesta, we paid a visit to one of the arcades to try our hand at the UFO catchers.
According to the WOW! JAPAN APP, the Sunshine Aquarium opened in the summer of 2017 after undergoing renovations. They have shows where you can see sea lions up close, and you can also catch a glimpse of penguins leisurely swimming with the city skyline in the backdrop. It sounded interesting, so we went all the way to Sunshine City's top floor to visit it.
True to its concept of being an "oasis in the sky," not only can you learn more about marine life and ecology, but you can also take a breather from the busy city. It's a great place for people of all ages.
2. You Can Create Your Own Guidebook

With this app, you won't miss out on anything when it comes to food in Japan! For example, even if there's a super long line outside a store or the restaurant you wanted to visit is closed for the day, you can find many other articles related to food in Ikebukuro through the Notes section of the Favorite tab, so you'll always have other options.
That's one of WOW! JAPAN APP's great points! Apart from WOW! JAPAN articles, you can add pages you discovered using the Google search function in the Notes tab.
If you store all your info in one app, you don't have to spend a ton of time switching pages or apps, and you won't run into any trouble with not being able to find a specific page.
Ikebukuro is filled with ramen restaurants, and you can find every kind of ramen there, including shoyu (soy sauce), tonkotsu (pork bone broth), and shio (salt). If it's your first time visiting Ikebukuro and you're looking for something rich and heavy, go for Mutekiya; their ramen has a thick tonkotsu base and comes with a generous amount of toppings. We would have ordered a bowl, but one of us prefers more light and refreshing ramen, and the line was really long, so we gave up on it and headed over to Ikebukuro's West Gate. On the app, we found two articles—5 Recommended Ramen Restaurants in Tokyo (Ikebukuro Edition) and Seven Must Eat Ramen Bowls – Shio Ramen Edition—that helped us discover ramen so good, it placed into our top three!
After we finished our ramen, we went to a cafe that was on our must-visit list in Japan. Luckily, the Ikebukuro location was conveniently situated inside LUMINE, which was connected to the West Gate of Ikebukuro Station. We ordered a fruit milk crepe and a strawberry shortcake. The smells and tastes were so amazing that we still can't forget just how delicious everything was.
3. You Can Use the App's Coupons to Shop Smart

After eating, drinking and playing, we were ready to go shopping! However, we didn't want to go far since we had a lot of luggage, and we wanted to compare prices. Ikebukuro was great for meeting both of those needs. After exiting the East Gate of Ikebukuro Station, we were brought face-to-face with Bic Camera, Matsumoto Kiyoshi and Don Quijote.
The WOW! JAPAN APP had coupons that we could use for those stores, which we really needed since we were looking to save on our shopping!
It's worth noting that the details written on the coupons change depending on your language settings.
Don't throw away your receipts! If you spend over a certain amount at specific stores, you can exchange those receipts for gifts at the Docomo World Counter in Narita Airport, Haneda Airport, Kansai International Airport and Chubu Centrair International Airport. You can find more details in the Coupon section.
The WOW! JAPAN APP has information on spots all over Japan. You can find anything from trip itineraries for each area to tourist spots not featured in any guide books which only locals know of. Download it to create your own guidebook, view info even when you're offline and have an amazing fun-filled trip! To top all that off, we're sure that the coupons it contains will make you say "Wow!"

Download the app here for iOS users, or here for Android.

Read the original article from WOW! JAPAN via the link below.