The Downtown Osaka Onsen of your Dreams
Visiting an onsen, or hot spring, is absolutely something everyone who comes to Japan should do at least once. Unfortunately, many onsen are located in rural parts of the countries that require lengthy detours from travel itineraries that are focused on seeing the cool sites of Japan's largest cities.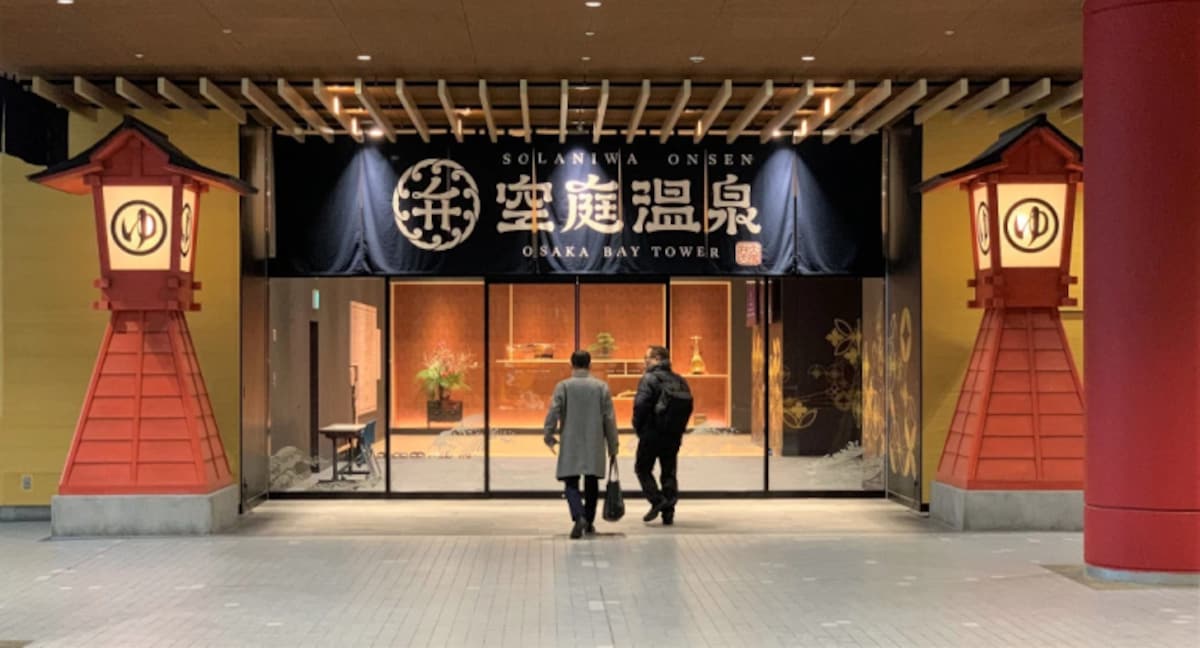 But this month there's a brand-new onsen opening right in the middle of downtown Osaka. The Solaniwa Onsen Osaka Bay Tower is located right across the street from Bentencho Station, and unlike some other urban onsen that ship in hot spring water from other parts of the country in tanker trucks, Solaniwa draws the water for its baths from a spring that's located directly beneath the building.
Though it won't be open to the public for a few more days, we got to stop by for a sneak preview. The interior takes cues from the Azuchi-Momoyama period, which corresponds to the late 16th century, and the lobby area has a number of traditional Japanese accents.
To help customers relax, you're given a lightweight kimono-style robe upon check-in, with a variety of men's, women's, and children's sizes and patterns to choose from. You may wonder what the point is in getting dressed up if you're supposed to be nude when you enter the baths (as is the custom in Japan), but as we'll see there are also plenty of fully clothed common-use areas in the sprawling 16,528-square meter (177,906-square foot) complex.
First, though, let's take a look at the baths, which are gender-segregated and allow for both indoor and open-air soaking...
You can even get the best of both worlds with indoor baths that shield you from the elements while giving you a tranquil view of the landscaping.
There are also private baths that you can enjoy alone or with family or friends, which can be reserved for an additional fee.
Moving on to the mixed-gender common-use areas, one of the most distinct features of Solaniwa is its rooftop garden area, in which clothed guests can stroll about and soak their feet in shallow onsen foot baths.
Space heaters are set up to keep you warm as you move from one foot bath to the next, and the exterior lighting should make for a romantic atmosphere in the evening.
At various spots around the facility, such as the torii gate tunnel seen above, there are automated cameras that you can use to snap pictures for you via a QR code, which you can later print out for a fee or receive the data for.
Back inside, you'll also find a huge variety of relaxation spaces and massage lounges.
Of course, the changing rooms that connect to the bath areas are pretty opulent themselves, as you can see in this photo of the women's powder room.
If the provided-for-free kimono isn't quite fancy enough for you, there are also more elaborate samurai-style outfits for rent, and a photo space.
Solaniwa is open almost around the clock (the doors open at 11 a.m., and stay open overnight until 9 a.m. the next morning), and so it also rents out private rooms and event spaces for visitors who plan on sticking around for longer than an hour or two.
And, naturally, there are gift shops filled with snacks and souvenirs.
Solaniwa Onsen Osaka Bay Tower officially opens on February 26, 2019, and since we had to keep our clothes on the whole time during our visit (it was a press event after all) we can't wait to go back.

Information
Solaniwa Onsen Osaka Bay Tower / 空庭温泉大阪ベイタワー
Address: Osaka-fu, Osaka-shi,
大阪府府大阪市港区弁天1丁目2の3
Open 11 a.m.-9 a.m.
Admission: ¥2,400 (about US$21.60) weekdays, ¥2,600 weekends, ¥2,800 designated days
Website

Photos ©SoraNews24

Read the original story from SoraNews24 via the link below!