Enjoy Seaside & Flowers in Ibaraki
This year, some unusually warm spring weather shifted the start of cherry blossom season up about two weeks earlier than usual. Because of that, the sakura are now gone from Japan's eastern Kanto region—but if you're feeling blue about that, there's an amazing, azure pick-me-up waiting for nature lovers in Hitachi Seaside Park!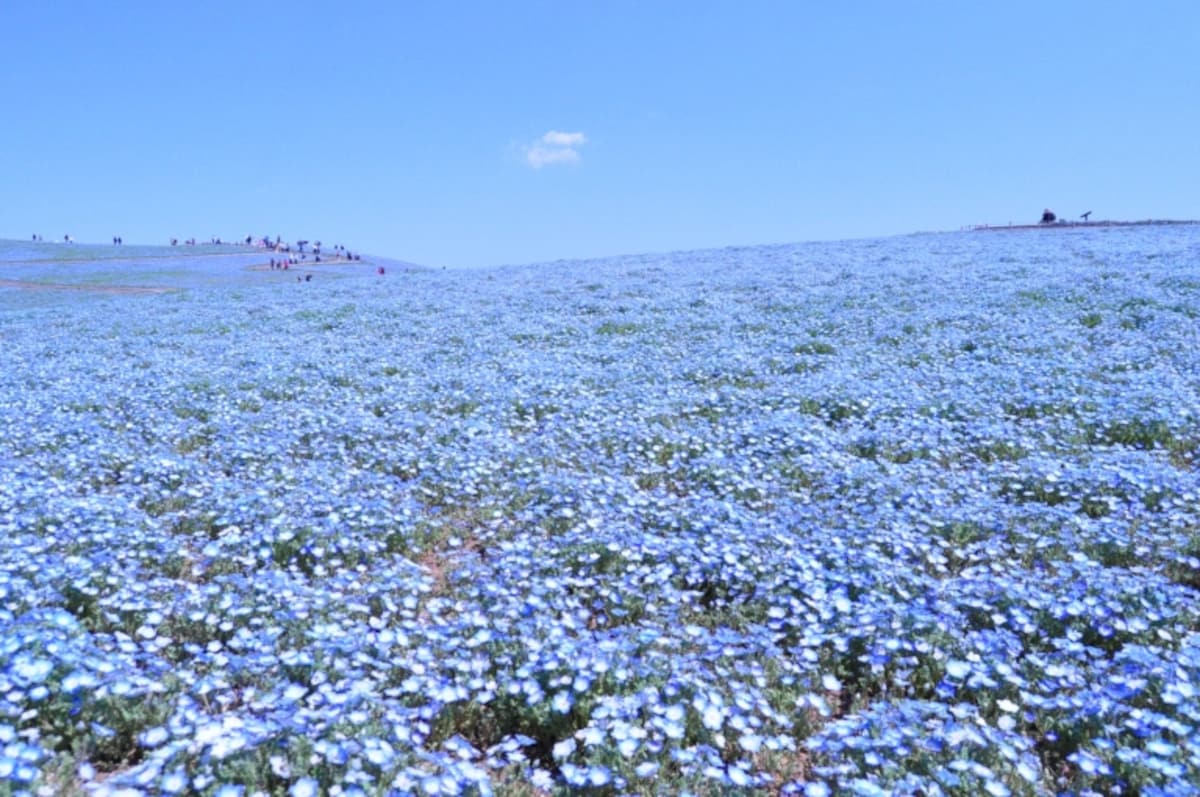 As you'd guess from the name, Hitachi Seaside Park is located on the coast of Hitachi City in Ibaraki Prefecture. Ibaraki is a part of Japan that foreign travelers often pass straight through as they make their way from Tokyo up to the northeastern Tohoku region. But Hitachi Seaside Park is definitely worth making a detour, especially if the Nemophila—or baby blue eye—flowers are in bloom.
The sprawling park's Miharashi-no-Oka ( literally, "Lookout Hill") covers an area of 3.5 hectares (8.6 acres) and is covered with roughly 4.5 million flowers. When their petals open, the landscape transforms into rolling waves of blue that seem to merge earth and sky.
It's even more gorgeous when it's dusk and the last glimmers of the sun's rays hit the baby blue flowers.
Ordinarily Hitachi Seaside Park's Nemophila reach full bloom right around Golden Week, the early-May string of holidays when nearly everyone in Japan has time off. That means that as you're admiring the view, you have to share the hill with some pretty large crowds.
This year the warm weather caused the flowers to blossom early, and they're currently at about 70-percent bloom. The best viewing conditions are expected before the Golden Week travel rush.
The park also features some lovely tulip beds.

While Ibaraki is two prefectures over from Tokyo (separated by Saitama and part of Chiba), Hitachi Seaside Park is actually perfect for a day trip. Express trains will get you from Tokyo Station to Katsuta (the nearest rail stop to the park) in just over an hour, and from Katsuta Station it's only another 20 minutes by bus to the park's entrance.

So if you're looking to experience some unforgettable scenery—with the added bonus of smaller crowds than you'd usually have to put up with—you know where to head! If your schedule is all booked up for the next few weeks, don't forget that Hitachi Seaside Park also looks incredible in the fall, when those same hills turn an amazing shade of crimson.