Morning and Late Night Spots Near Your Hotel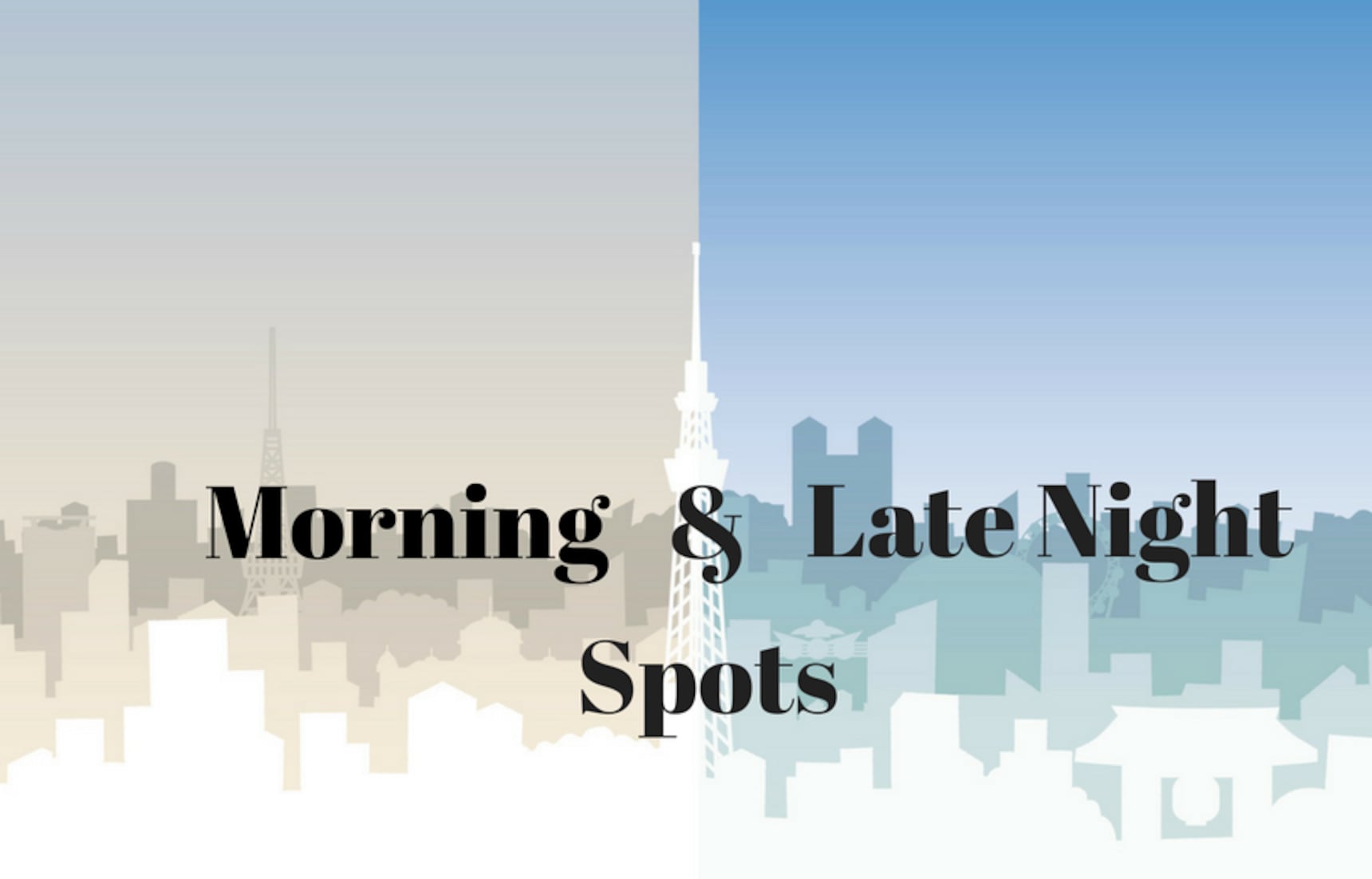 Whether you're cruising around Tokyo for fun or just in town for pleasure, the early morning and late night hours can be tough to fill, especially if you're dealing with jet lag. Fortunately, there are plenty of nice places to while away some time, and many of them happen to be in prime spots where visitors like to stay.
5. Shibuya - Glorious Chain Coffee & Café Mame Hico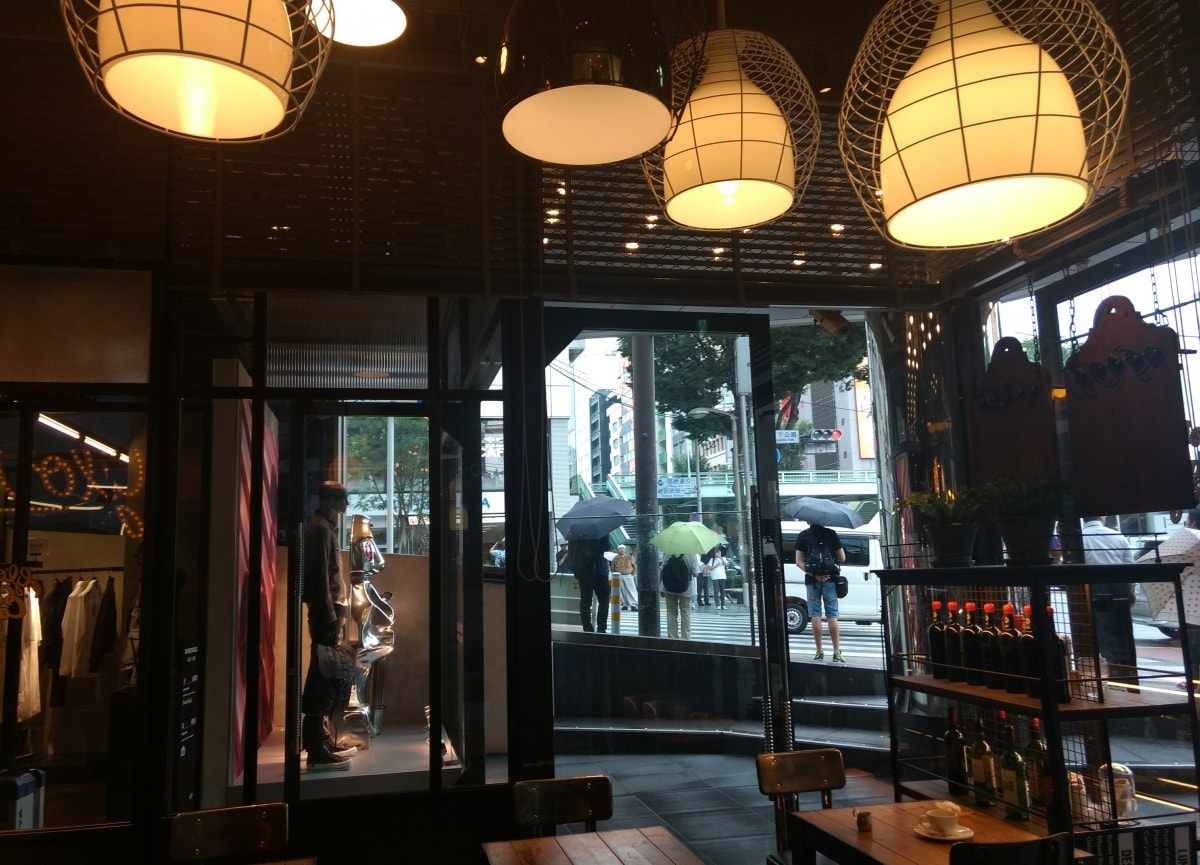 Shibuya never runs out of interesting things to see and do. Hotels abound in the area, since it's a prime home base for tourists who want to explore Tokyo. But it's not always easy to find a place that allows for some peace and quiet in the early morning, or a refuge after a long day of sightseeing. While there are plenty of cafés and restaurants in Shibuya, there are two that you definitely shouldn't miss, especially if you want to relax or get a little work done.

Glorious Chain Coffee is a must-try—the coffee lives up to its name, the eggs benedict is simply delicious and it also offers free Wi-Fi! They also offer a delightful flat white (which can be surprisingly hard to get in Japan), and a signature dish called the "Glorious Burger."

Café Mamehico has two branches in Shibuya. We recommend the one near Tokyu Hands—it is quiet and elegant, and open late, so it's the perfect place to unwind before heading back to your hotel.
4. Yokohama - Marine Tower & Boulevard Café &9
Yokohama's iconic skyline is easily recognized thanks to the many upscale hotels in the city. The two most popular areas for hotels are the Minatomirai area near the harbor, and the Nihon-odori area.

Although not as famous as Tokyo Tower or the Skytree, Yokohama's own Marine Tower still looks gorgeous when it's lit up at night. The Marine Tower is considered the tallest lighthouse in the world, and has been proudly standing for more than 150 years on its current spot. It has been a witness to the many changes that have transpired in the bay city, and has also been visited by many historical figures from all over the world. Although it's lovely at night, on a clear day it also offers views of Mount Fuji!

Boulevard Café &9, on the other hand, is a good place for a boozy brunch or a filling dinner. This place is a haven for fans of baseball who want to cheer on the local team, the Yokohama BayStars. They even offer specialty beers created in the team's honor! But even if you're not into baseball, their fajitas and set meals are more than worth a visit.
3. Chiyoda - Gon Pachi & Café Kai
Chiyoda is home to the historic and architecturally impressive Tokyo Station, which makes it a prime spot for lodgings. If you find yourself with some time to kill in the area, here are two of my favorite things to do!

In the morning, you can do some work, catch up on your novel-reading, or enjoy some traditional Japanese matcha and dessert at Café Kai, on the ground floor of Kitte building. Its viewing deck also happens to boast an amazing top view of the Tokyo Station and the surrounding buildings, which makes it the perfect spot to snap a selfie or two.

At night, enjoy fusion Japanese cuisine and drinks at the famous Gon Pachi. The original branch of this restaurant franchise in Azabu-Juban happens to be where Kill Bill was filmed. While this branch doesn't have the same bloody legacy, it has plenty of dishes that are sure to satisfy, like crunchy tempura and succulent meat skewers!
2. Aoyama - Tokyo Whiskey Library & World Breakfast All Day
Aoyama is the perfect place to stay if you want to be near Shibuya, but avoid the chaos that goes hand in hand with the area. Aoyama is also near the Omotesando Shopping Street, which is known for its high-end brands.

Another great reason to stay in Aoyama is to visit the library—but no ordinary library! The Tokyo Whiskey Library is a haven for liquor nerds. With an artful multi-shelf display of their whiskey selection (their drink menu is so expansive you'll wish you had a librarian to help you sort through it), the decor is but one of the reasons to stay until the wee hours of the morning. Even non-drinkers would find their food selection impressive—their variety of desserts and Tete de Moine are truly one for the books!

After "hitting the books" at the Library, why not enjoy a special breakfast from another part of the world at World Breakfast AllDay. They have many chains throughout Tokyo, including Aoyama. Their standard menu has offerings from several different countries, and they have limited-time menus that highlight the regional cuisine of a single country. You never know what you might find!
1. Ginza - Iron Fairies & Appartment 301
Ginza is one of the most expensive areas of Tokyo, and is the preferred hangout of high-end fashionistas. On top of having the highest property values of any region in Tokyo, Ginza also has the most concentration of brand shops, and is a very popular tourist destination.

If you need a caffeine boost to help fuel a shopping frenzy, or just want a place to quietly relax for a bit Appartment 301 is the place for you. The decor is stylish and homey, and seems like it was lifted from a Parisian apartment.

If you're looking for a late night place to wet your whistle, head in to the basement bar Iron Fairies, just a skip away from Ginza Six. Here you can indulge your Alice in Wonderland dreams, and enjoy their fanciful offerings like a cotton candy cocktail or an otherworldly octopus drink. This bar was designed by the world-renowned Ashley Sutton, so it goes without saying that the menu will live up to the decadence promised by the decor!