How to Hang Out in a Hangar at Haneda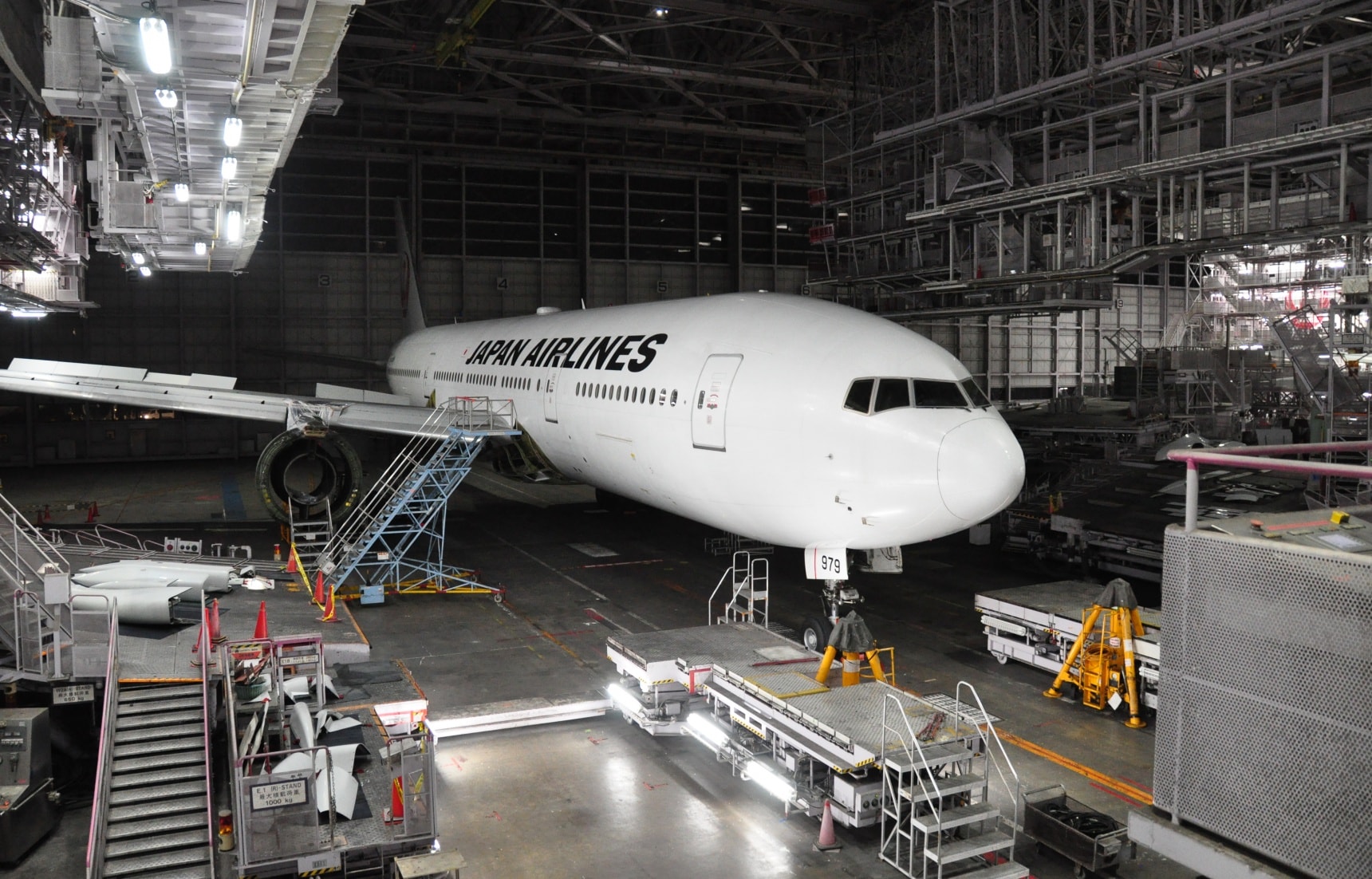 JAL Sky Museum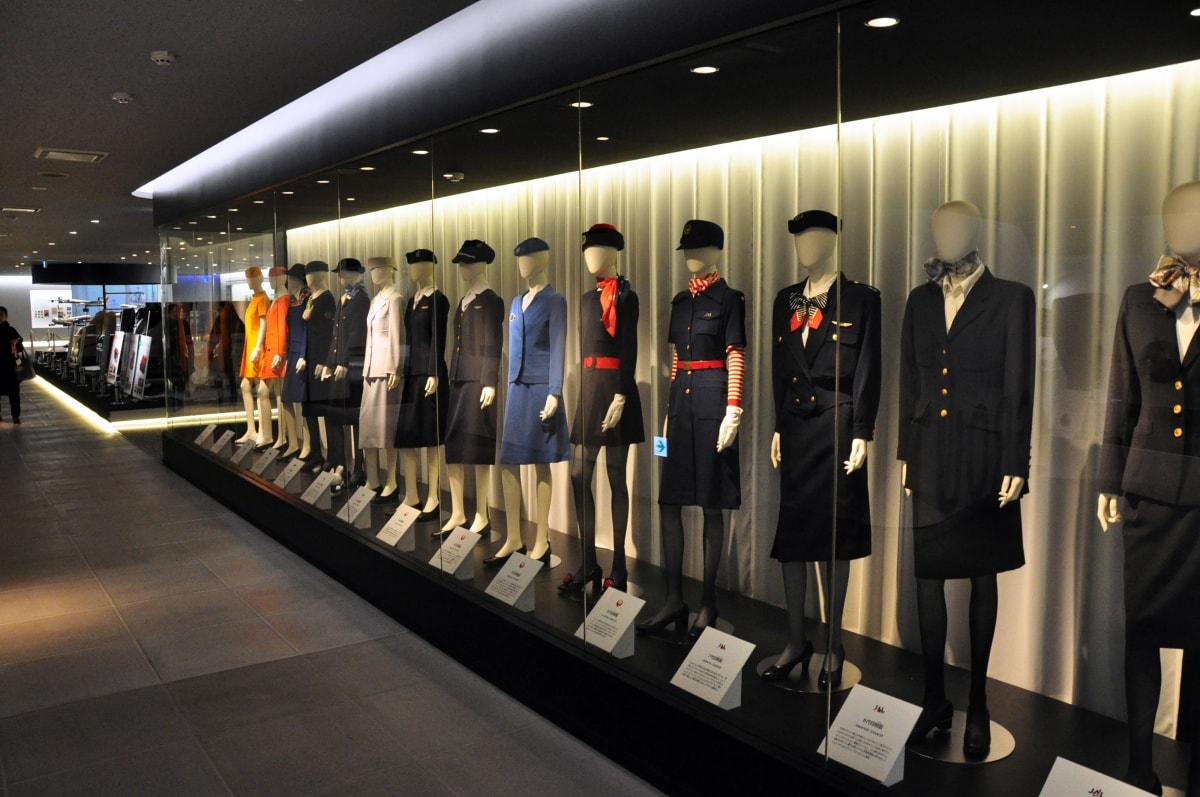 To access the Sky Museum, take the Tokyo Monorail from Hamamatsucho Station to Shin-Seibijo Station (新整備場駅). There are two tricks here: first, be sure not to get an express train, which won't stop at Shin-Seibijo, which is between the International Terminal and Terminal One; second, don't get off at Seibijo Station, which has almost the same name, and is two stops before the International Terminal, not one stop after.

The museum itself is located in JAL's Maintenance Center 1, which houses real, working service hangars for the airline's fleet of aircraft. To find it, just walk straight up the stairs from the only station exit and turn right at the first corner. The building will be on your right, where you should tell security you're there for kojo kengaku (工場見学), or a factory tour.
Since this is a working site, reservations are very much required. To get into the building, you need to scan a card with a QR code, which comes attached to a colorful JAL lanyard you can keep when you leave.

The 100-minute tour includes a thoroughly informative opening lecture, 20 minutes of free time in the dynamic Exhibition Area, and finally a tour of two massive airport hangars. The tour is led by a former pilot, maintenance engineer, flight attendant or ground staff; while tours are presently only in Japanese, an English guide book is available, and you can use a QR code to activate English and Chinese content for the Exhibition Area.
The 30-minute aviation lecture is only in Japanese, but you can generally follow along in the English guidebook as you're walked through the roles and responsibilities of the various key positions in an airport, from ground staff to pilots.

The trivia here is brilliant. For example:

• It's a little known fact that at 14.5 square kilometers (5.6 sq mi), Haneda is even larger than Narita Airport, making it the largest civil airport in all of Japan.
• The airport's fourth and newest runway was built partly on reclaimed land, but roughly a third of it was built on metal stilts to avoid disturbing the life cycles of creatures in the Tama River, which runs underneath.
• A JAL 777 will have 500 seats for a domestic flight and just 244 for international flights—partly because of the extra space taken up by international first-class seats, and partly because domestic economy class seats have rows 10 across, while international flights have only nine.
• Fuel is contained in the wings of an aircraft, and on a fully loaded international flight to, say, New York, it will make up 40 percent of the 340-ton mass of a 777 at take-off, with passengers and luggage making up only 10 percent. The other 50 percent is the fuselage.

The lecture even goes so far as to explain Bernoulli's principle of fluid dynamics and show a video of what happens to a van placed 20 meters (65.6 ft) behind a jet engine (originally made for safety training for ground staff, but quite eye-opening for tourists!). The presentation concludes with a time-lapse video of construction of a 737 at a Boeing facility in Seattle, Washington.
The Exhibition Area is pure fun: you can cosplay in captain and flight attendant uniforms, play with the buttons in two different cockpit mock-ups (the seats are surprisingly tight!), try out various business-class seats, practice marshaling in a plane with batons, see historical uniforms and pieces of aircraft technology, and check out a special exhibition of the gold-colored seat the emperor used for his special flights—the only area where photography is not allowed. Be sure to play quickly, because those 20 minutes will go fast!
For the last part of the tour, you'll be guided out to two separate maintenance hangars actually in use by JAL. In the first hangar, depending on the day, you can see planes covered in a metal lattice as work is done on everything from the interiors to the engines for long-term maintenance work. You then put on a helmet and descend to the short-term hangar floor to get a close look at any aircraft in the adjacent hangar. If you're lucky, you might be able to see one roll out onto the tarmac! It's great spot for a photo op.
With four tour slots per day, the JAL Sky Museum receives roughly 350 people daily, and was selected as TripAdvisor's top free tourist spot for 2016. In December, AAJ writers were offered a special tour to find out why!

Address: JAL Maintenance Center 1, 3-5-1 Haneda Airport, Ota-ku, Tokyo
Nearest Station: Shin-Seibijo (Tokyo Monorail)
Tour Times: 10 a.m., 11:30 a.m., 1 p.m., 2:30 p.m.
Online Reservations (Japanese): www.jal.co.jp/kengaku/application
Admission: Free!

For JAL flight ticket reservations and purchases, visit: