The Great Buddha at Kamakura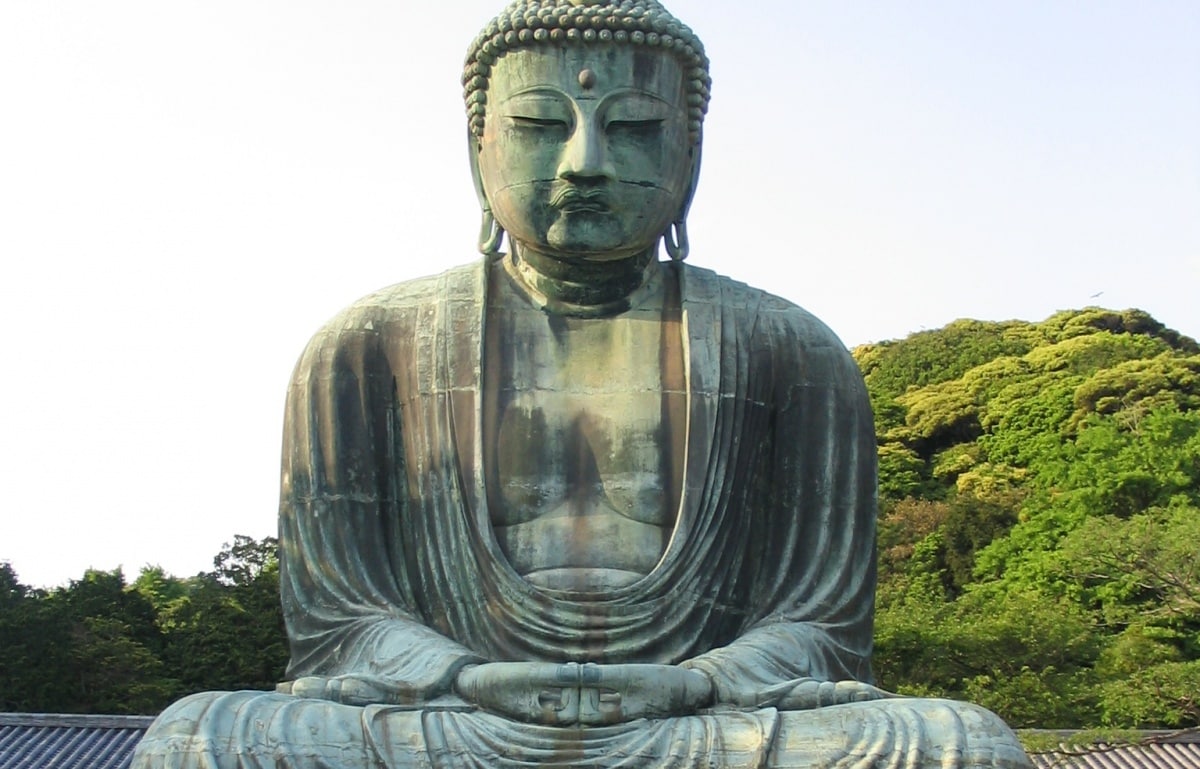 It's been wooden, it's been gilded, and it's been inside, and now it's outside. The Great Buddha statue at Kamakura has sat through a lot since 1252, when its current bronze incarnation was made to replace a wood version built a few years earlier that had been damaged in a storm. For a period of time, the statue had a layer of gold, but time, weather—and possibly a little theft—have left only slight hints of that former glory around the ears. The statue weathered a few storms from inside a hall that housed it (which was itself destroyed a few times), but even that housing was washed away in a tsunami in 1498, and it's been outside ever since, where it weathered a lot more storms over the centuries.

As recently as 1923, a large earthquake damaged the base of the Buddha, which used to feature 32 bronze lotus petals. Now, there are no petals for him to sit on anymore, as only four remain, and they're kept elsewhere. Yet the Buddha perseveres as a popular destination for anyone spending a day walking around Kamakura.

This statue isn't as large as the great Buddha in Nara, but it makes an impression at a little over 11 meters (36 ft)—over 13 meters (42.6 ft) including the base. If the way the statue looks on the outside impresses you, you might also like seeing it even closer. For a ¥20 donation to the Kotoku-in temple where the statue resides, you can go inside the statue itself. Over the years they must have zeroed in on exactly the right price for the experience that it is. For ¥10, you'd feel like you got a bargain. For ¥30, you'd feel ripped off. It's exactly a ¥20 experience.

There are many centuries-old statues and artifacts in Japan, but something about this particular statue evokes not just the history of when it was made, but all that it endured in the meantime. When you stand in front of it, you can see the legacy of countless typhoons, earthquakes and tsunamis that have left their mark, and yet the statue remains, calmly sitting and contemplating. You can contemplate back as you stand before it, reflecting on how your own storms leave their mark while you persevere.