A Ghibli Land We'd Love to See in Real Life
Sadly, these beautiful plans for a full-blown Tokyo Ghibli Land by Japanese artist and Studio Ghibli fan Takumi won't be being realized anytime soon. But it is one theme park we'd happily pay through the nose to visit!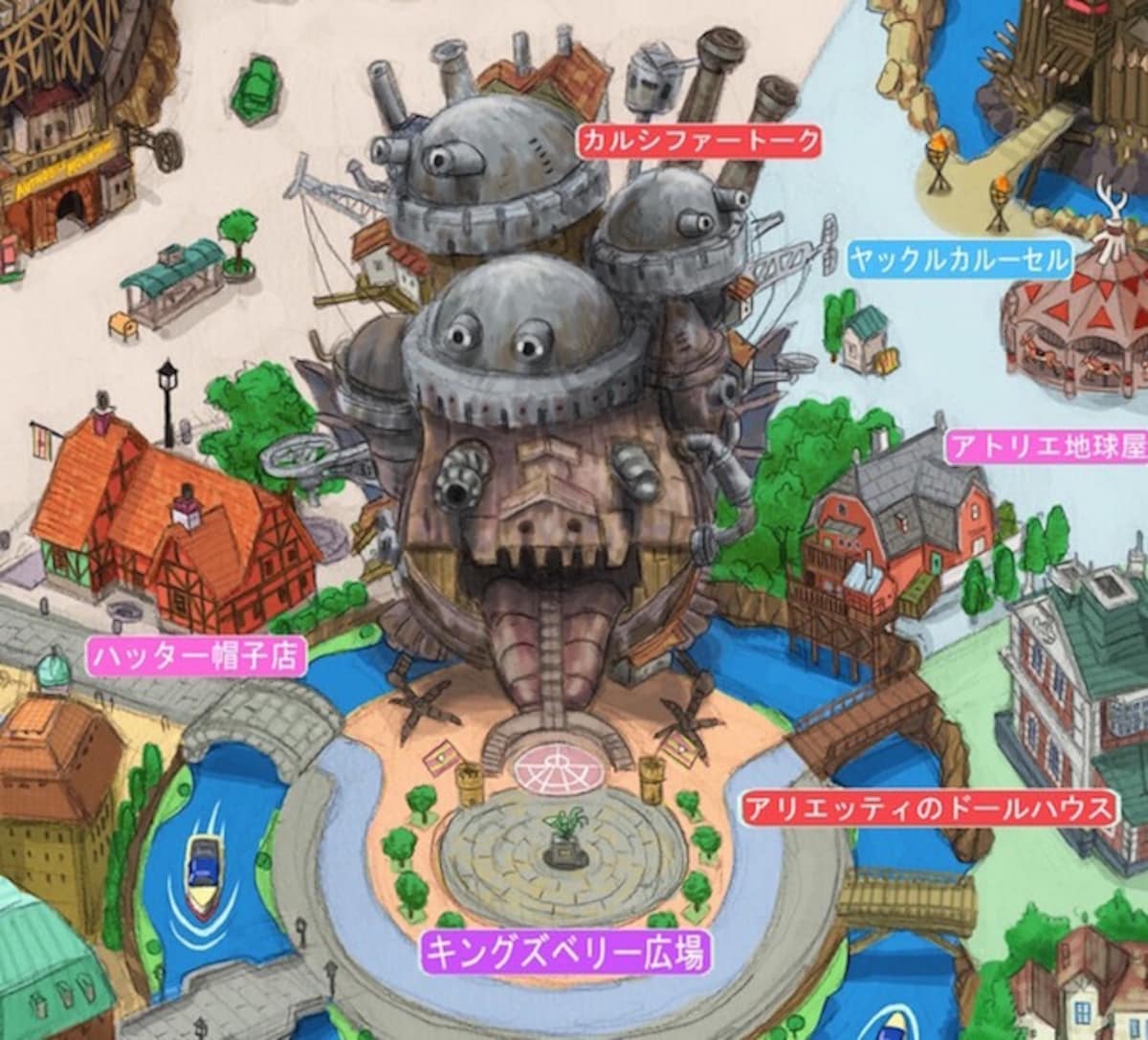 We are seriously impressed with the attention to detail in these plans. At the center of the imagined park is Calcifer as a Ghibli-style house with pipes and chimneys poking out all over the place. His lolling tongue rolls out onto Kingsbury Square, named after the fictional town in which Howl's Moving Castle is set.
Of course, guests to Takumi's Ghibli Land park would need accommodation, and the artist has included Hotel Adriano (from Porco Rosso), and the Aburaya Bathhouse (Spirited Away) for guests to choose from. Leading up to the Aburaya Bathhouse is a beautiful homage to the street scenes from Spirited Away, the aptly named Buta-kui Food Court where you can (of course) eat like pigs.
Elsewhere, there are other cool little details, like a Forest Animals attraction guarded over by Shishigami and occupied by a whole host of mythical creatures, and an Aviation Museum holding flying machines from a Flaptter (Laputa: Castle in the Sky) to Jiro's Birdplane from The Wind Rises. Snaking around the whole site, of course, is a Cat Monorail made up of five stuck-together Cat Buses.
We'll leave you with a full run-down of what's what in Takumi's beautifully imagined Ghibli Land. If only it were real!

Clockwise from top left: Hotel Adriano (Porco Rosso); Automobile Mountain (with a gun-toting Dora from Castle in the Sky); Laputa Labyrinth; Hatter Hat Shop (Howl's Moving Castle); Uncle Pom's Planetarium, Flying Flaptters and Tiger Moth Adventure 3-D (Castle in the Sky); Therru's Dragon (Tales from Earthsea).
Above we have: Shishigami's Animal Forest (Princess Mononoke); Zeniba's Cake Factory, Aburaya Bathhouse and Eat-Like-A-Pig Food Court (Spirited Away); Mei's Acorn Hunt (My Neighbor Totoro); Jiro's Bird-Plane (The Wind Rises); Atelier Antique Shop (Whisper of the Heart); Yakul Carousel (Princess Mononoke); Calcifer Talk (Howl's Moving Castle). Center: Irontown (Princess Mononoke).
In the bottom left corner of the map there's: Sea of Decay Cruise (Nausicaä of the Valley of the Wind); Koriko town and Gutiokipanja (Kiki's Delivery Service); Cat Monorail; Aviation Museum.
And in the bottom right, we have: Arrietty's Dollhouse; the Marsh House (When Marnie Was There); Sousuke's Pop Pop Shop (Ponyo); Susuwatari Mansion (i.e. Mei and Satsuki's house); Safflower Picking (Only Yesterday); Princess Kaguya's Bamboo Grove; Fujimoto's Twenty Thousand Leagues and the Devonian Period Aquarium (Ponyo); The Cat's Office (The Cat Returns); Manpuku-ji Temple (Pom Poko).