4 Weirdly Themed Tokyo Izakaya
Tokyo boasts an impressive number of izakaya (Japanese-style pubs) all across the city. There's always a place to wet your whistle within the 23 wards. However, if you're craving something different, allow us to introduce four weirdly themed izakaya that promise a unique dining and drinking experience!
4. LittleTGV Railroad Bar (Akihabara)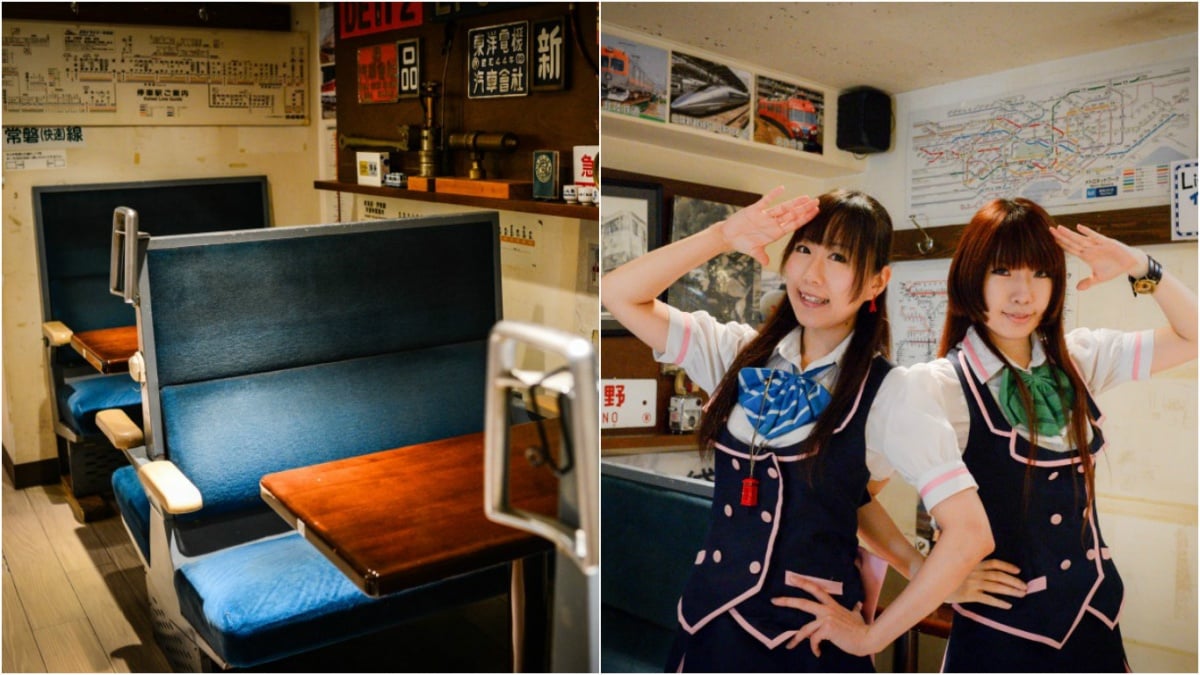 LittleTGV is a railroad-themed bar and restaurant designed specifically for train otaku. And since it's in Akihabara, naturally it also has a maid café element as well.

The ¥500 cover charge gets you what looks like a train ticket along with entry to the bar/restaurant. Cheerful staff dressed in train-conductor-themed maid uniforms take you to your seat, and then punch your ticket when taking your order. The entire place is decorated in old train memorabilia, and the booths are made out of train seats. Look out for food items with train-themed designs!
3. Sengoku Buyuden Izakaya (Shinjuku)
Sengoku Buyuden Izakaya has been a hot topic among rekijo—girls who love Japanese history. The theme of each private room is based on warriors from the Sengoku Period (1467-1590).

You'll see a variety of armor on display by the entrance. As you go in, the staff give you a military leader fan (gunbai uchiwa) and lead to your seat. They'll explain the menu, and as soon as the drinks come, you'll be toasted with a lordly, "Sensho! Banzai!"
2. Kyomachi Koi Shigure (Shinjuku)
Visiting Tokyo but you can't quite make it out to Kyoto? Kyomachi Koi Shigure is an izakaya where the theme is the town of Kyoto! As soon as you enter, there's a replica bridge you can cross to step into the old capital of Japan. All around you are beautiful fall leaves (since it's said to be the best season in Kyoto), and the red bridge looks beautiful in the autumnal atmosphere—it's also a popular photo spot!

In another area, you can see water running down like a spring, creating a small river. Walking around the izakaya really feels like exploring the historic back alleys of Kyoto! Maybe this one isn't so much "weird" as "cool," but surely visiting Kyoto in Tokyo is a bit of an odd (if awesome) choice.
1. Koshitsu Izakaya Rokunen Yonkumi (Shibuya)
Koshitsu Izakaya Rokunen Yonkumi is a fantastic izakaya that provides you with an exact replica of a Japanese elementary school, and even a school lunch—something very familiar to anyone who's experienced going to elementary school in Japan.

All of the staff role-play as different teachers, and they won't use service-style Japanese with customers—rather, they'll talk to you like you're students! Ready to go back to school? Check out the menu options and location below!