Visit the World-Record-Holding Oldest Hotel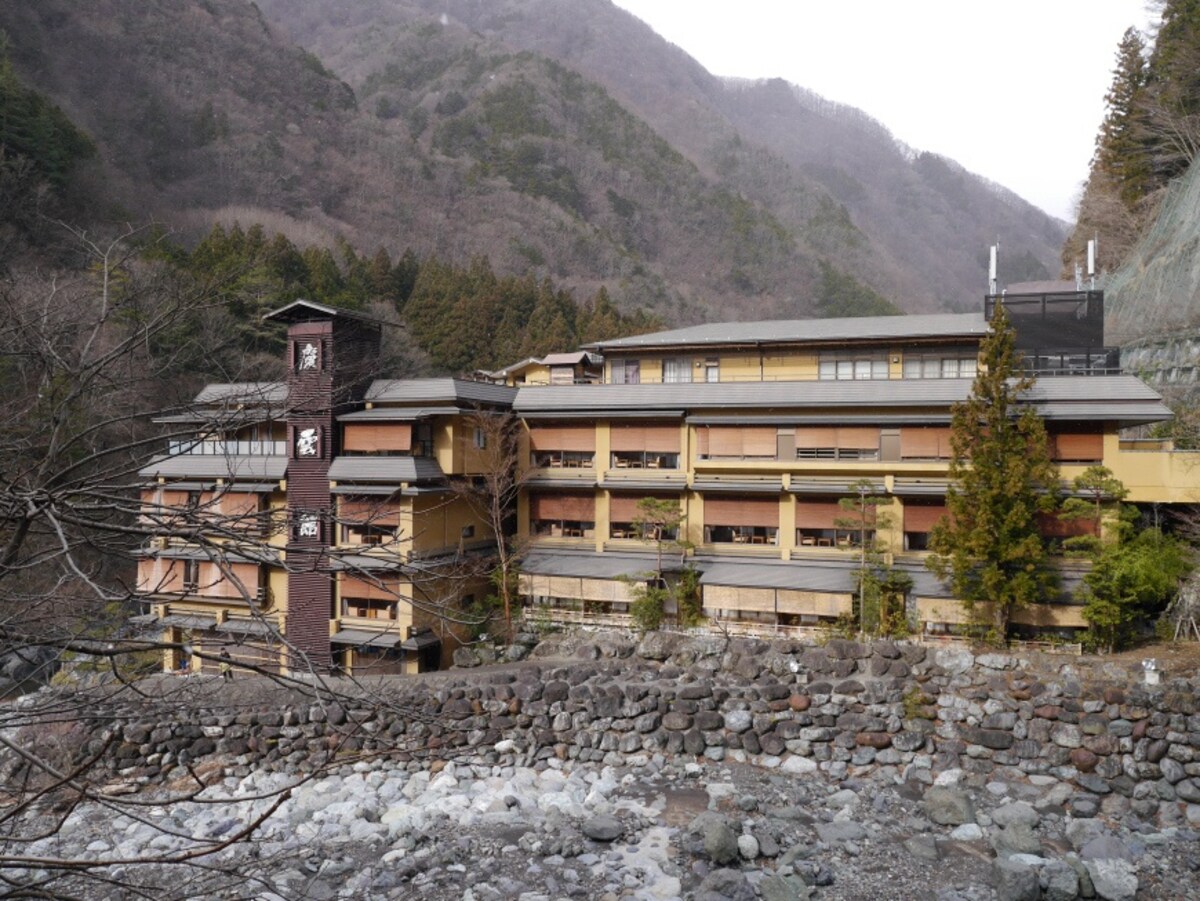 The inn itself is located in the Southern Alps of Yamanashi Prefecture, nestled in lush valleys in the very heart of nature. It's the perfect location for escaping from the hustle and bustle of city life. What's more, the inn is built upon prime hot springs ground, which means guests are able to enjoy numerous open-air and communal hot spring baths. Each room's shower, bath and sink facilities are fed by pure hot spring water, which is neither treated nor heated by any artificial means. In fact, except for the toilets, the entire inn uses the hot springs water in its daily operations, which makes it a very special and luxurious place to visit. Below is our report on everything that Keiunkan Inn has to offer!
Baths
As we mentioned above, the entire inn is serviced by the natural water of the on-site hot springs, including, of course, the onsen baths and the open-air bathing pools. As you can see from the picture above, they're pretty much amazing. The water is top-notch, and the view of the valley from the baths is incredible. What's more, every single one of the multiple baths is open for bathing 24 hours a day!
Accommodation
The ultra-Japanese building comprises a total of 35 guest suites. Guests will be pleasantly surprised to discover that their accommodation consists of two large Japanese-style rooms, giving them plenty of space to relax. They are also spotlessly clean and neat. The only potential issue for guests could be the price—at ¥32,000 (US$269) per night, it's a little on the expensive side.
Cuisine
Dinner at Keiunkan is kaiseki style, meaning that your meal is brought to your room and served to you dish by dish. The cuisine includes lots of fresh ingredients from the local mountains and river, and there's plenty to satisfy even the heartiest eater. There are also several unusual dishes that you don't often get the opportunity to taste in Japan—like "acorn soba."

Breakfast is similar to dinner in that it is comprised of a vast array of dishes which will fill up anyone's stomach. However, instead of serving the usual white rice, Keiunkan provides okayu rice porridge with breakfast, which is gentler on the stomach. Overall, the quality of both meals served is excellent.

For more gorgeous shots of Keiunkan, be sure to read the full story below at RocketNews24!