Top 10 Souvenirs from the Ghibli Museum
If you're a Ghibli fan, the Ghibli Museum in Tokyo's Mitaka is probably high on your bucket list of places to visit. One thing you'll definitely want to do if you go there is to check out the gift items sold at the museum shop Mamma Aiuto. But, as there are so many fantastic souvenirs, it's difficult to pick just one—so we listed our Top 10!
10. Ghibli Chopsticks (¥2,592/US$23.00)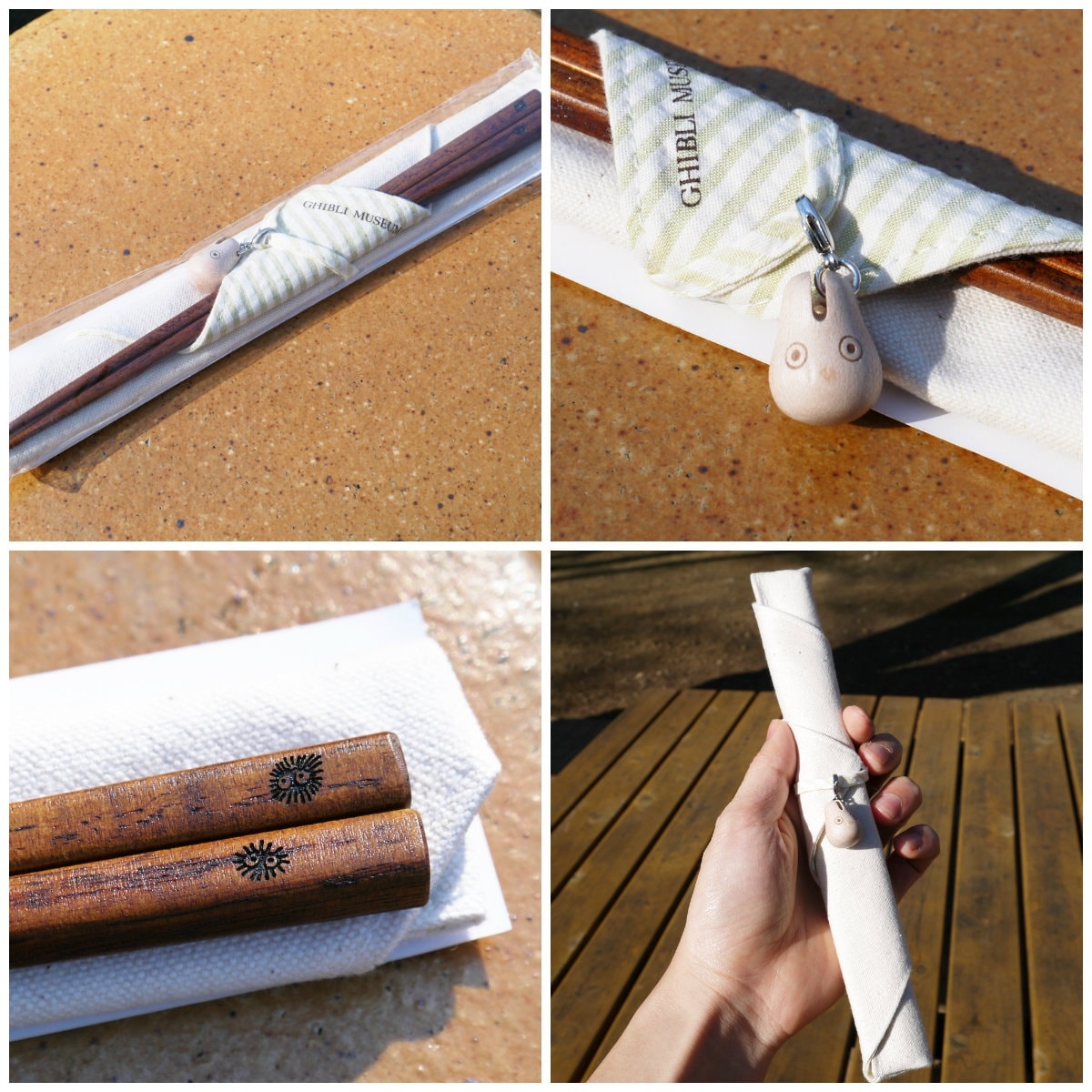 This item, with its authentic Japanese style, makes for a nice souvenir for foreign visitors. The chopsticks are finished in Japanese lacquer, which adds to their appeal, and come with accessories including a small Totoro charm and a cloth carrying pouch.
9. Pop-up Postcard (large: ¥432/US$3.85; small: ¥324/US$3.88)
At first glance, these cards look like regular post cards, but they're actually highly artistic creations that you can build and turn into three-dimensional dioramas. Their intricate designs are based on the exterior and interior of the Ghibli Museum. What a great card to send to a Ghibli fan!
Here's another card depicting the interior of the museum.
There's also a card recreating the famous "Totoro ticket counter" that guests see upon arriving at the museum.
8. Ghibli Museum Shop Tote Bag (¥1,620/US$14.40)
This tote bag features the Mamma Aiuto, a gang of air pirates that appear in the Ghibli film Porco Rosso and the symbol of the Ghibli Museum. The design is not too fancy and it's a good size, so you can carry plenty of stuff in it too!
7. Ornamental Stand in Silhouette Design (¥1,620/US$14.40 for the Kiki design)
These lovely stands are made from thin metal sheets cut into the shape of Ghibli characters in silhouette and come highly recommended. They're a pleasure to look at, especially if you place them by an open window with the parts moving gently in the wind.
6. Cushion with Ghibli Museum Emblem (¥2,592/US$23)
This classic looking cushion is decorated with the emblem of the Ghibli Museum and is made using a distinct weaving technique known as chenille (caterpillar in French). Chenille fabric is typically made by first creating a tightly wound yarn core, around which short lengths of fabric, called piles, are then wrapped. This makes the edges of the piles stand upright, which gives the fabric a characteristic "fuzzy" look. The chenille weaving seems to give the cushion a very warm look, and since high quality extra-long staple cotton is used, the fabric also has a lovely, velvety soft texture as well.