Cardcaptor Sakura Café Coming to Animate
With a new manga and a line of beautifully illustrated sketchbooks on the way, the characters of the Cardcaptor Sakura franchise are set to appear on the shelves of comic lovers and budding artists alike. They're also getting set to greet diners, as the very first Cardcaptor Sakura café is about to open in Tokyo and Fukuoka.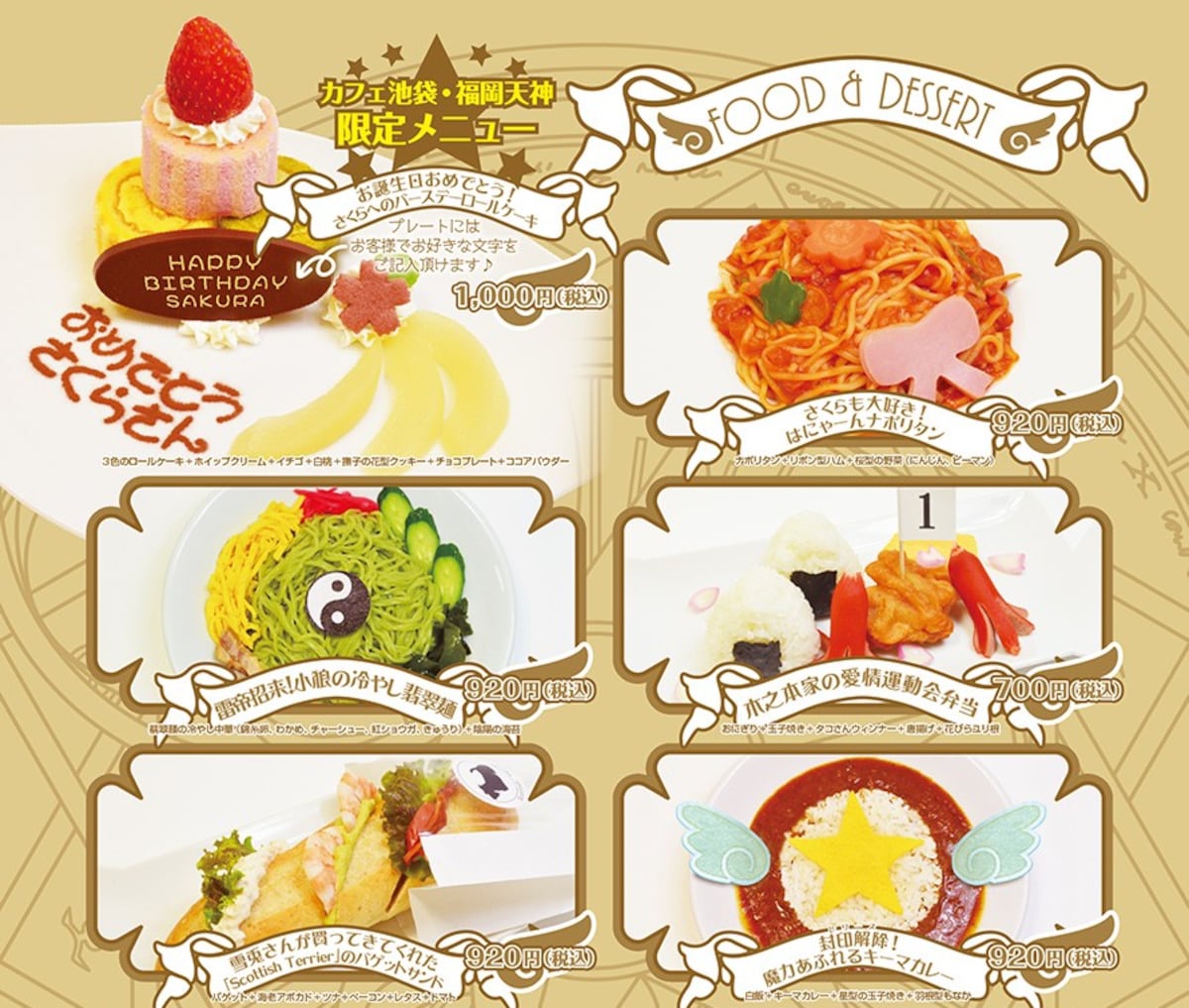 The beloved anime and manga from creative team Clamp is teaming up with Animate Café, the themed restaurant managed by anime mega-retailer Animate that cycles through hit series to draw inspiration from. The menu features an array of food and drink based on the magical girl franchise, so let's take a peek at what's on offer, starting with the edibles (many of which are named with the sort of unabashed gushing emotion that made Cardcaptor Sakura so popular).

Starting from the top left and going left to right we have: Sakura's Birthday Roll Cake, Napoiltan Pasta that Sakura Loves Too; Thunder Emperor, Come Forth! Syaoran's Cold Noodles; The Kinomoto Family's Sports Meet Bento Made with Love; The Scottish Terrier's Baguette Sandwich that Yukito Bought; and Release the Seal! Keema Curry Overflowing with Magic.
For something on the sweeter side, the café offers: Kero-chan and Suppi Eggs Benedict Plate; Sakura's Homemade "Won't You Have Some Hotcakes?" Hotcakes; Tomoyo's Elegant Afternoon Tea Set; and "It's Going to Be Alright!" Clow Card Parfait.
Drinks include: Sakura's Flittering Cherry Blossom Drink; Tomoyo's Reverberating Singing Voice White Water; Syaoran's Thoughts of Sakura Melon Soda; and Yukito's Moon Soda.
If those drinks didn't seem like your cup of tea than how about ordering: Toya's Warm Honey Milk; Eriol's Your Power Iced Tea; Kero-chan's Hot Orange Cocoa; or Spinel's Acai drink?

Should you find yourself unable to narrow down your selection to just one or two items, there's actually an upside to your indecisiveness. As has become the norm at anime-themed cafés, each item comes with a randomly selected coaster featuring character artwork. A total of 20 different coasters will be available, with the first 10 given out in April and the second 10 in May, 2016.
As mentioned above, the Animate Café operates on a revolving schedule of themes, so the Cardcaptor Sakura café will be a limited-time affair making its way to a handful of branches around Japan. The first two locations will open simultaneously on April 1 in Tokyo's Ikebukuro and Fukuoka's Tenjin districts, and will be in operation until May 29, 2016. The next Animate Cafés to be graced by Sakura's presence will be in Sendai and Okayama, starting June 1 and ending July 29. Osaka's Tenoji hosts the Cardcaptor from August 1 to September 28, as does Animate Café Shop Tokyo from September 1 to 28. Finally, the last stops on the Cardcaptor Sakura tour will be in Tokyo's Ikebukuro and Shinjuku concurrently from October 1 to 30.

Given the lasting passion fans have shown for the series, large crowds are expected, which is why admission is by an advance reservation system. Reservations can be made online through ticket provider E Plus here. The per-person table charge is a hefty ¥2,000 (US$18), but does include some unspecified yet exclusive Cardcaptor Sakura merchandise, and no doubt the Cardcaptor's most ardent supporters won't mind parting with a few thousand-yen bills for this unique dining experience.

Related Stories:
New Cardcaptor Sakura sketchbooks are a beautiful way to hold on to your artistic endeavors
What time is it? Time for a Cardcaptor Sakura watch, and an umbrella too, while you're at it!
Store your captured cards and other belongings in these Cardcaptor Sakura handbags