10 Tokyo Cafés Your Date Will Love
10. Filbert Steps (Shibuya)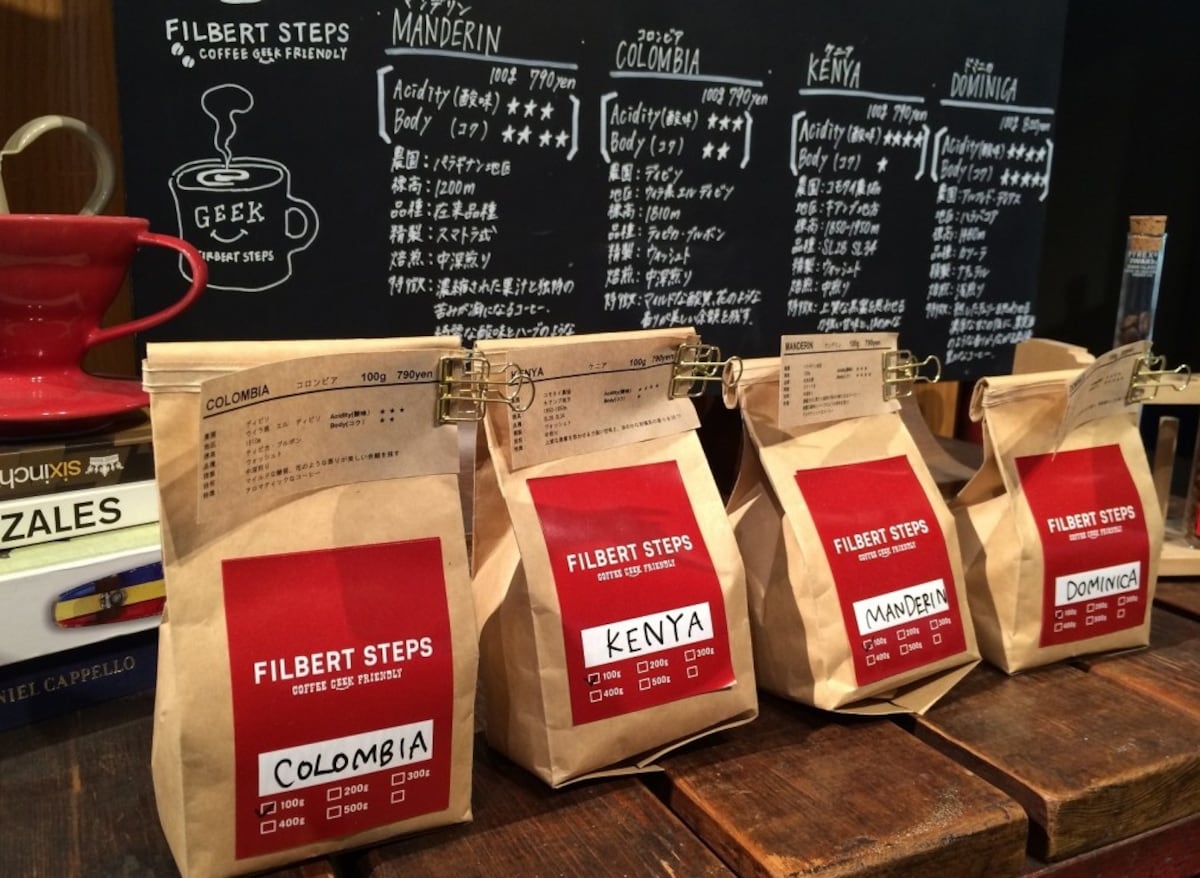 This somewhat kitschy café lives up to its "Coffee Geek Friendly" motto. Each day baristas at this café customize the variety of coffee bean and the grinding process to brew a coffee that fits the feel of that day. Beans are from the famous roaster-cum-specialty shop Maruyama Coffee, and the rich variety of snacks and sweets are not to be missed.

Read more in Japanese at AllAbout.co.jp
9. Café Mame-Hico Koen-dori (Shibuya)
Sitting across from each other at the quaint, long tables while sipping Mame-Hico's locally famous coffee, you feel as though time has stopped. If this café is too busy for your liking, take the short walk to the other Shibuya location in Utagawa-cho.
8. Coutume (Aoyama)
Coutume lets you experience the coffee culture of Paris, even bringing in goodies from local Parisian-style bakeries. With its elegant interior and exceptional coffee, it will most certainly elevate your date's mood!

Read more in Japanese at AllAbout.co.jp.
7. Lattest Omotesando Espresso Bar (Omotesando)
If your date is more into lattes or espresso, then this is the place to take him or her. The interior is a classy union of concrete and wood, and you'll love the richness and uncompromising quality of the espresso.

Read more in Japanese at AllAbout.co.jp.
6. Rue Favart (Ebisu)
There's not a café in Tokyo quite like Rue Favart near Ebisu Garden Place. The décor is whimsical and the dining is divine. Your date will also like the creative seasonal sweets made fresh by the café's own pastry chef.

Read more in Japanese at AllAbout.co.jp.
5. Analog Cafe/Lounge (Ebisu)
Located inside a residential building right next to Ebisu Station, you would never guess how spacious this café is inside. Its interpretation of modern Japanese style is both cozy and trendy.

Read more in Japanese at AllAbout.co.jp.
4. Holy (Daikanyama)
By keeping the interior austere and the atmosphere fuss-free, the emphasis at Holy is more about the food. The menu is heartier than most, so keep this place in mind when you want a café where you can get a good meal.

Read more in Japanese at AllAbout.co.jp.
3. Aoya no Tonari (Nakameguro)
Aoya no Tonari is a special place, a slice of Kyoto-style hospitality and flavor tucked away in an old house converted into a café. There are tables where you can sit on the floor and relax, and the proprietor has worked to make this seating area a baby-friendly place. The café is best known for its sweets, made without additives, preservatives or white sugar.
2. Cielo y Rio (Kuramae)
Occupying a piece of property more impressive than most, this riverside café boasts scenic views of the Sumida River and the Tokyo SkyTree, and also doubles as a wedding venue and party hall. It's also one of the few cafés in Tokyo that's open every day, so keep Cielo y Rio in mind on national holidays!

Read more in Japanese at AllAbout.co.jp.
1. Café Otonova (Asakusa)
Café Otonova is set in an old house, calling itself a place where you can enjoy good music, sweets and food. Run by a congenial couple, this spot is a hidden gem where you feel as if you're lost in a rustic European daydream in the middle of Tokyo.