5. Sengoku Maid Café & Bar Mononopu (Akihabara)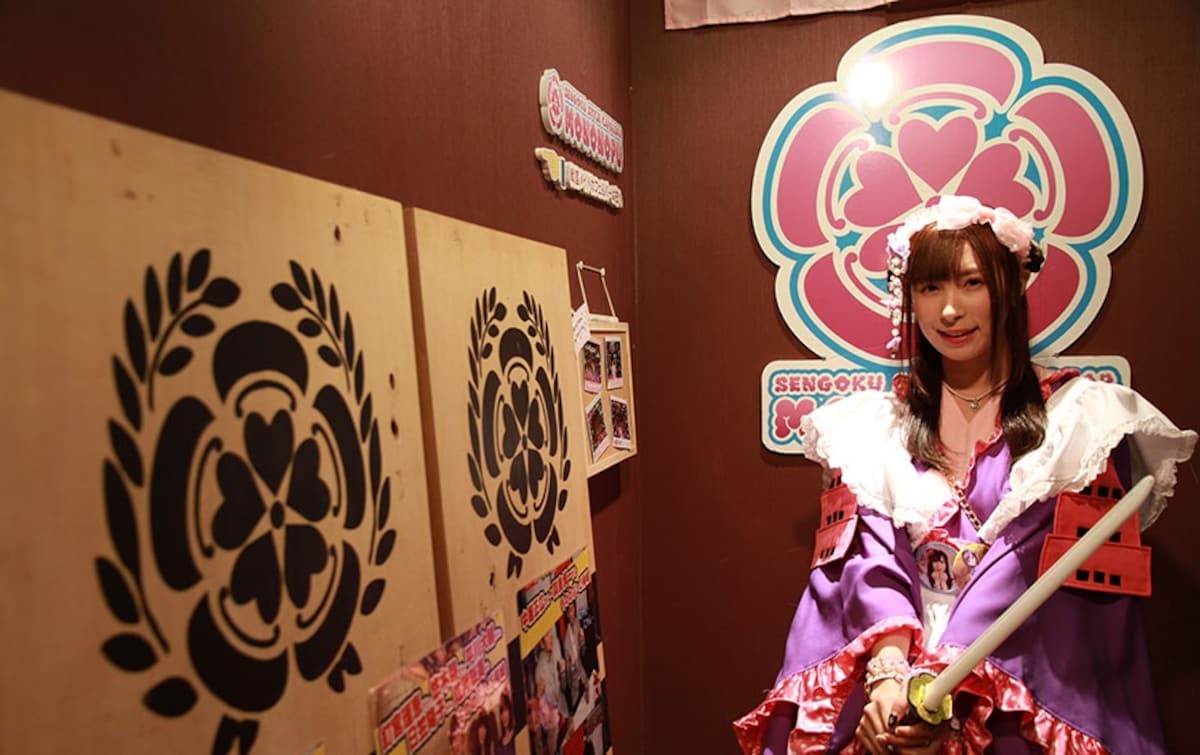 Just what is a Mononopu? It's a bit of wordplay on the name Moda Nopunaga, the supposed lord of this medieval maid café. According to café legend, all the great warlords of the Sengoku Period (1467-1590) were secretly beholden to Nopunaga —whose own name is a play on Oda Nobunaga, one of the three warlords who ultimately unified Japan—sending their princesses to him as hostages. He, in turn, naturally told them all to dress up like maids.

Just take one step into Mononopu and already you can tell that it's far from your typical maid café. Just behind the soft pink chairs and white tables are shoji sliding doors and hanging banners adorned with family crests. Choose from a range of all-you-can-drink courses starting from the samurai course (¥1,980) up to the top-tier shogun course (¥4,980) which includes a live song performance by your favorite maid.
4. Omochamaid Café & Bar Chachacha (Akihabara)
Toys come to life at Omochamaid Café & Bar Chachacha, where, according to café legend, toys that were once broken down were rebuilt by a certain Professor Clarke to become maids. They now roam the café in toy soldier outfits that make them look a little like background characters in The Nutcracker. They'll gladly join you in building up a doughnut tower or eating a kyaraben (character bento) out of a Lego block bento box, as well as singing songs and providing 1UP mushrooms for your pasta.
3. Cutie Relax (Akihabara)
This isn't a maid-themed café but rather a maid-themed therapeutic massage parlor. Stop by Cutie Relax to unwind after a long day at the office by soaking your feet in a detox bath that's formulated to change color depending on what part of your body isn't in tip-top shape, supposedly relieving you of all the icky stuff in your system in the process. You can also relieve all the tension that accumulated in you back, hands and shoulders with regular massage courses specifically designed to help customers ease stress.
2. The Afilia Magic Senior High School Grand Lodge (Ikebukuro)
The Afilia Magic Senior High school is a Hogwarts-style academy in a magical kingdom, where all the staff are students and the customers are, naturally, returning graduates honored as "senpai," or seniors.

Since the main shop, or Grand Lodge, opened in Ikebukuro in 2005, additional outposts have sprung around the nation, including bars in Shinjuku and Ueno, a diner in Roppongi, a café and restaurant beside Sakaemachi Station in Nagoya, and yet another bar a few blocks northeast of Osaka Station along Miyakojima-dori in Osaka.

In keeping with the RPG theme, money spent on-site gains customers EXP, with which they can level-up and gain increasing MP, which can in turn be used to help favored staff along their journey on the café's online Magical Street. Sound about as complicated as a sphere grid? Just go, eat, and enjoy the deferential attention of the bubbly staff.

The café was conceived by Chiyomaru Shikura, founder of 5pb. Inc., a video game manufacturer and anime record label, so naturally the staff even have an AKB-style 12-girl offshoot band known as Afilia Saga East.
1. Maidreamin Shibuya Café & Dining Bar (Shibuya)
This hot maid café chain has more than its fair share of branches around Japan, but it's the Shibuya location that stands apart. The Shibuya café is like a Super Mario game come to neon-lit life, with block-shaped lamps hanging down from the ceiling that change color and make a ringing sound when touched. The room is centered around a singing stage for the maids and a trampoline that says "pyon" (boing) when you jump on it. You heard that right: it says "pyon" for you.

Maidreamin has a whopping seven branches in Akihabara, plus one each in Shibuya, Shinjuku and Nakano. There are an additional two in Nagoya, two in Osaka, and even two in Bangkok, Thailand. Most of these are standard maid cafés, however—if you want a mad video game setup, your only other option is the Osaka Namba branch.