Deck Out Your Living Room with these 7 Items
7. Space Invaders Mat (Fukuoka)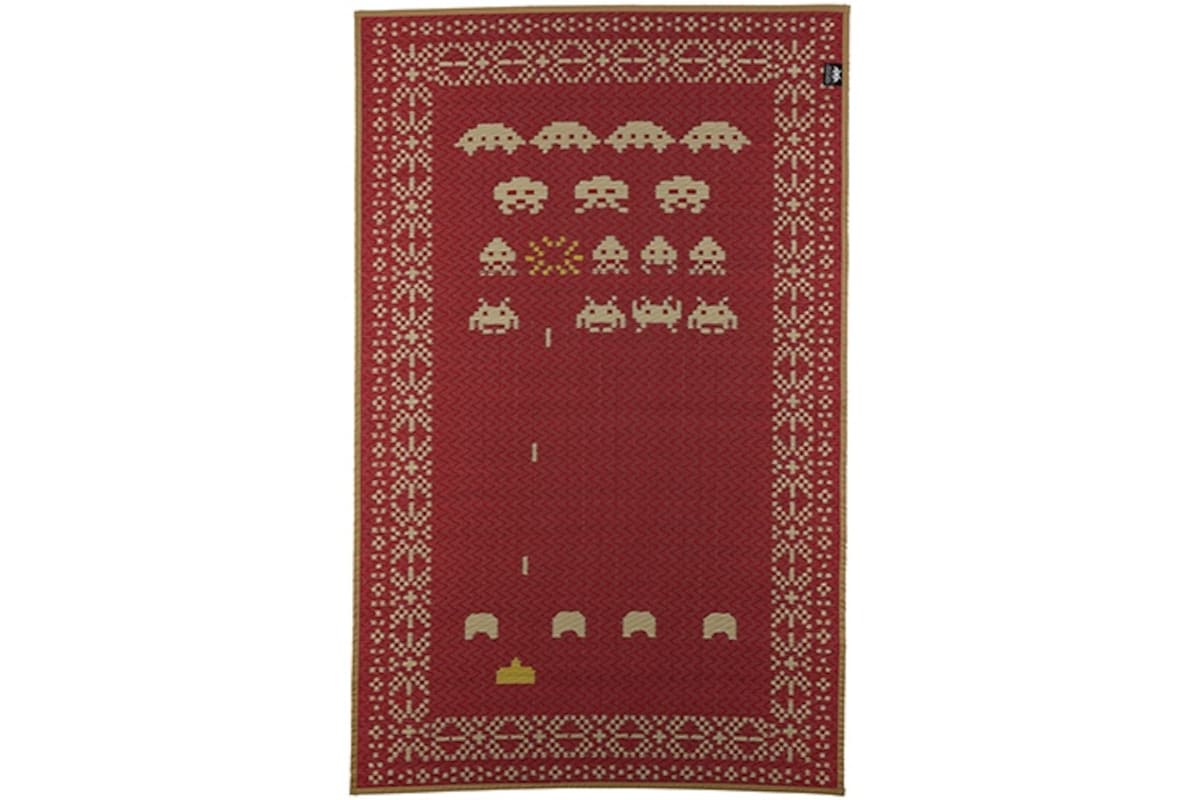 Soejima Isao Shoten has passed on the tradition of rush grass production in Kyushu since long ago. Despite nearly 80 percent of rush grass products being imported in recent years, Soejima is committed to using rush grass produced by local farmers. This unique, nostalgic concept in a rush grass mat was born through a combination of keeping traditional techniques and weaving a pattern from the Space Invaders game made popular in the 1970s. Each and every strand of rush grass is carefully selected and woven by craftspeople on a weaving machine, incorporating modern patterns and colors that stand out beautifully.

Rush grass is also a safe choice for those who have allergies. It absorbs moisture during humid seasons and releases moisture during dry seasons, making it cool in summer and warm during winter. You can feel the strength and desire to pass beyond Japan and other countries to head for the stars (or maybe just get a high score!) in this seriously made Japanese rush grass mat.
6. Koborebi Wooden Lamp (Yamaguchi)
These wooden lamps are created from Japanese red pine, the prefectural tree of Yamaguchi Prefecture.

Rare Japanese red pine trees well over 100 years old are shaved down as thinly as possible to create the lamps. The light penetrates the wood to produce a romantic setting.

These pieces convey the attention to minute detail in craftsmanship that is characteristic of Japan. Some also have a lacquered surface to give the full experience of traditional Japanese technology. The elemental design possesses a delicateness, and highlights Japan's traditional aesthetic sense of wabi-sabi.

Koborebi can also be enjoyed for its formative art, which is stylish and modern. This exceptional lamp enhances the simplicity of the wood material.
5. Timber Pot (Fukui)
These flowerpots are crafted in Sabae, Fukui Prefecture, a city known as the producer of Echizen lacquerware. The timber pots are made from logs of Japanese cedar cut down to thin forests. They are eco-friendly flowerpots eveloped based on the concept of returning resources to the earth. Since they are unpainted, as time passes the flowerpots become seasoned with nicks, cracks and a darker hue, but they are made with the idea of enjoying that aging process.

Rokurosha produces wood products utilizing woodworker techniques for making objects on a lathe. Woodworkers who have little opportunity to take center stage in the world of lacquerware have joined with designers that have moved from Osaka to the countryside, and produce original products for modern living. The products contribute to the community by utilizing cedar wood, which helps maintain the mountain forests.
4. Kyoto Zabuton Floor Cushion
With the custom of sitting on the floor in Japan, it is said that sitting cushions, called zabuton, indicated the position of dignitaries such as the emperor. Kyoto Zabuton, the product of Takaoka Futon Co., Ltd. (established in Kyoto in 1919), was created with techniques passed down through generations with the three rules of hospitality:

Number 1: Extra cushioning must be placed in the center of the cushion to prevent flattening. Number 2: Stitching must be in a Y-shaped pattern to secure the outer material, padding, and lining together so they do not move, with the front going forward, and the remaining two directions going toward the back corners of the cushion so you do not sit on the cushion incorrectly. Number 3: Because it is said that tassels repel evil spirits, corner tassels are used on all four corners to protect the sitter from vengeful spirits.
3. Kurashiki Dantsu Woven Rug (Okayama)
Dantsu is a type of woven rug that can be used as a welcome mat or a centerpiece for a table. Kurashiki Dantsu, which is unique for its use of rush grass, was born in the Kurashiki area of Okayama Prefecture, which prospered due to rush grass cultivation 400 years ago.

Rush grass is a material used in Japan's traditional tatami flooring. The bottom layer of dantsu is three or four strands of rush grass wrapped in washi paper and hand woven, retaining the scent of the grass. A mix of hemp and rayon is used for the top layer, with a wonderful texture that only rayon can provide.

This piece is carefully made with traditional, old-fashioned techniques with modern colors and patterns, making it fit perfectly with any interior design scheme, be it Eastern or Western. Be sure to try this rug, a product of evolving Japanese tatami culture.
2. IS Wooden Lounge Chair (Tokushima)
Miyazaki Chair Factory Co., Ltd. is located in Tokushima Prefecture, a place of abundant nature that's 75 percent covered by forest.

This furniture manufacturer specializes in making wooden chairs. It possesses advanced wood processing techniques and employs an integrated system that starts with careful selection of wood with quality, then cuts the wood needed from unprocessed timber, and finally ends with the production of a chair.

This lounge chair was created through collaboration with an external designer, and has an attractive design quality. The spare design is accented with sculpted, curved armrests, and has a deeply angled seat for comfort and relaxation. It turns any room into a tasteful space. Each chair is produced upon order and meticulously crafted by skilled professionals. The sincerity of the artisans' handiwork is apparent the moment one relaxes in the chair.
1. Iron Legs Low Table (Tokyo)
This low table is from the His Iron Works series, which is a collaboration between product designer Kaname Okajima and the ironworking artisan Kazashi, a master who has worked with iron for over 20 years. Pure, oiled oak is used as the tabletop, while the iron legs are sanded and died black. The marks from sanding and welding are left untouched to show off the character of the iron. This simple piece of furniture is elegant and tasteful.