4 Beautiful Cutlery Sets
These four set from The Wonder 500™ come from Ishikawa, Nagano and Tokyo, and are made by some of Japan's best manufacturers.
4. Ami: Original Cutlery Set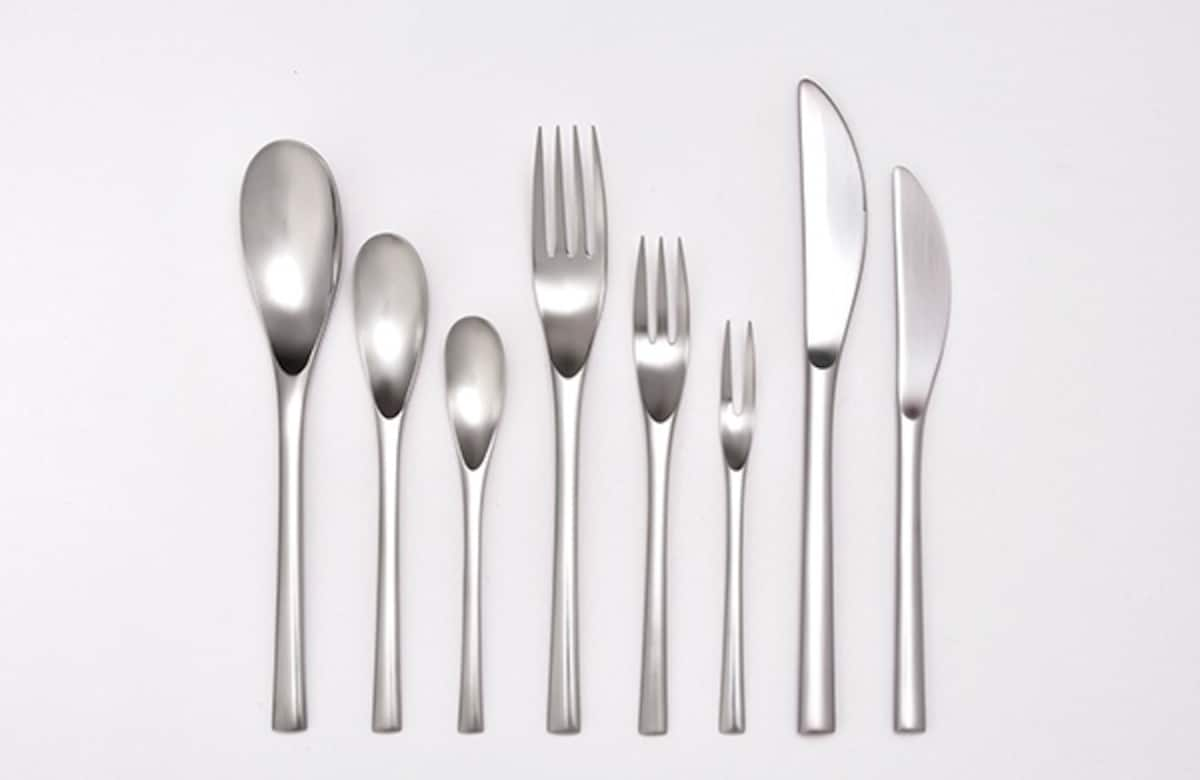 Composed of three spoons, three forks and two knives, this cutlery set is exquisitely efficient and perfectly satisfies all needs. The product was created with ease of use in mind, and features an elongated design for the bowl of the spoons and the fork tines. The cutlery feels moderately heavy in the hand, attesting to the quality of Japanese manufacturing. The full cutlery set has over 30 pieces.
3. Yuichi Takemata Cutlery Series
This beautiful cutlery with refined yet simple design and subdued deep luster is universally attractive. Its creator, Yuichi Takemata, studied toreutics (artistic metalworking) and has experience in the field of antique jewelry restoration. The warm, vintage ambiance and unique appeal of his works reflect this background.

Inspired by the idea of making cutlery that would match the elegant tableware made by artists, Takemata collaborated with designer Osamu Saruyama to create this series of tasteful and elegant cutlery, which boasts the perfect balance between functionality and beauty.

The smoothness and exquisite weight, chosen with careful consideration to usability, distinguish this series from similar products. Its unique ambiance, which cannot be found in mass-produced cutlery, will add elegance and taste to any dining arrangement.
2. Dress: Stainless Steel Cutlery
The City of Tsubame in Niigata Prefecture is famous for its metal Western tableware. It is held in high esteem overseas, and high-quality cutlery made in Tsubame is used at the Nobel Prize Award Banquet.

Dress, stainless steel cutlery born in Tsubame, boasts the refined and elegant design of high-fashion apparel. It features vivid patterns engraved using the state-of-the-art processing technology of 3-D laser marking. The rich variety of patterns—stripes, polka-dots, checks, etc.—gives a fresh new look to this cutlery. Choose the pattern that best matches your mood for the day and enjoy an exquisite dining experience. The surface of the cutlery is perfectly smooth, so it feels good to the touch and gentle on the mouth. Don't miss this exquisite combination of innovative ideas and sophisticated technology.
1. Koku: Kiso Lacquerware Cutlery
This cutlery is created with Kiso lacquerware, which has a history of more than 400 years that began at the start of the 17th century. The technological strengths passed down through centuries have such an established reputation that the techniques were used to make medals for the Nagano Olympics.

Lacquerware is made without petroleum-based materials. It uses lacquer, which is said to be the oldest natural coating. The craft derives from the Japanese people's desire to live in harmony with nature, and lacquer is used even today in the Kiso region of Nagano Prefecture. Each piece of this cutlery is handcrafted by a veteran craftsperson who has inherited many years of technical knowledge. They can craft a design from a lacquered surface of 1/100mm, a demonstration of the precision of Japanese artisans and their meticulous approach to manufacturing. This cutlery can be enjoyed for the keen sense of beauty found in Japan.