Running an Innovative Guesthouse in Japan's Mountain Sanctuary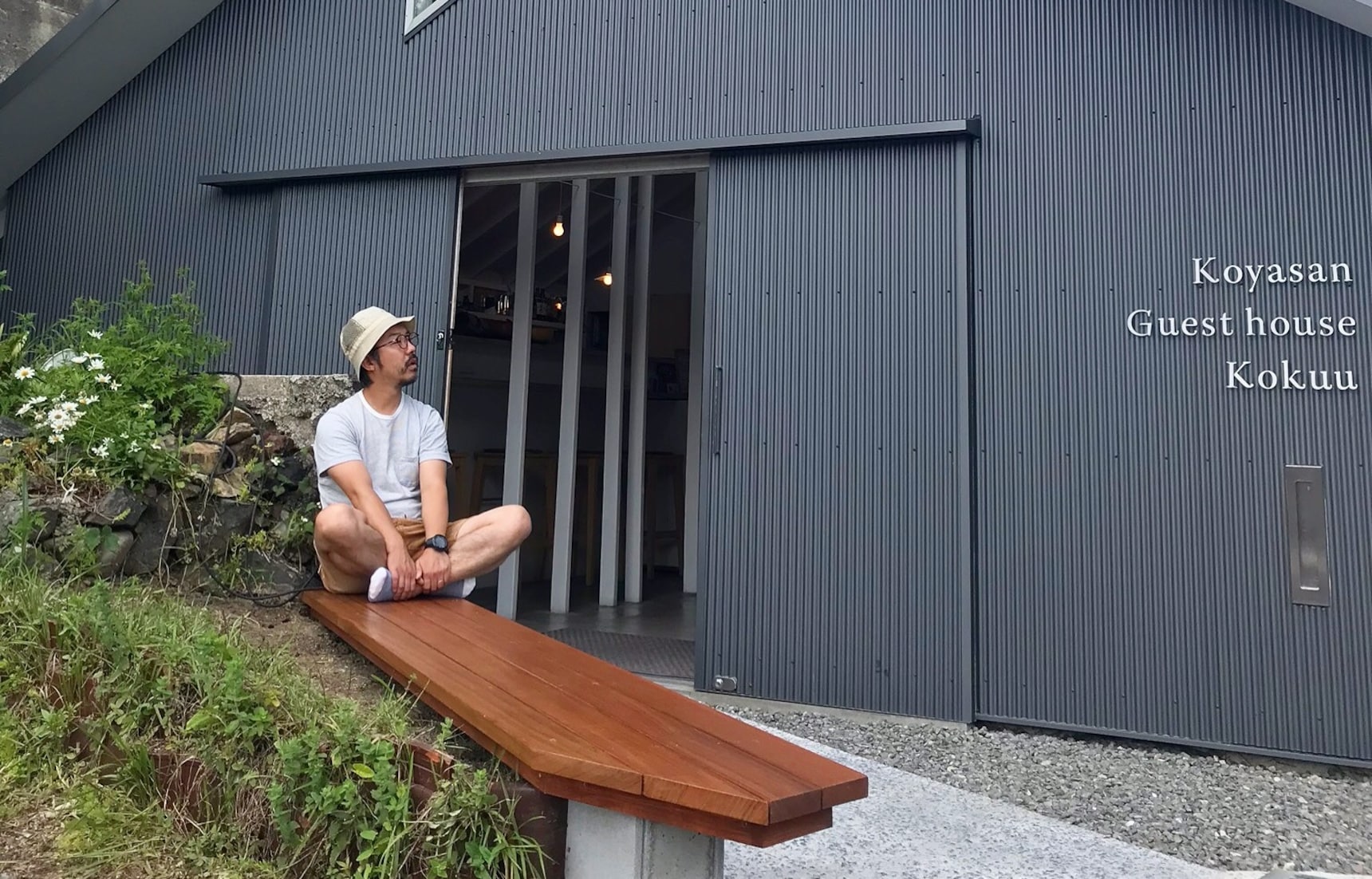 When did you open your guesthouse and why did you decide to do it?

I opened the first-ever guesthouse in Koyasan (Wakayama Prefecture) in 2012. Traditionally, overnight guests at Koyasan have stayed in shukubo, or temple lodgings. The initial spark for this venture was a three-month trip I took to India in 2010. When I looked at Koyasan from a backpacker's perspective, I wondered where everyone stayed. It was guidance from the gods of the Ganges!

Your guesthouse is unique in that it is mostly a capsule-style accommodation (along with a few private rooms). Why did you choose this style?
I wasn't particularly fond of the traditional dormitory-style accommodations, and I wanted to offer something with a bit more privacy. We didn't have any guesthouses here in Koyasan as reference points. Instead, this design was the result of consultations with an architect. We were very pleased with the proposal and decided to go in this direction. Although capsule-type rooms are not uncommon now, it was a fairly innovative concept at the time, especially for a guesthouse.

Your guesthouse is called Kokuu. What is the meaning behind this name?
The term kokuu comes from a Buddhist term meaning "emptiness" or "void."
In modern terms, kokuu signifies something that is boundless, pure, and devoid of any specific form—something infinite. It suggests a state of unhindered equality.
While the term has a very deep meaning, I simply also liked the way it sounds!
"Kokuu signifies something that is boundless, pure, and devoid of any specific form—something infinite."
Are your guests mostly foreign tourists?
About 80 percent of our guests are from overseas, particularly from Western countries. On weekends we also see a good turnout of Japanese guests. We've been in operation for over a decade now, so we also have a high number of repeat customers, even among our international guests.

You also serve meals, don't you?
We offer both breakfast and dinner. For dinner, I prepare several types of curry and rice, another inspiration from my travels in India! Frankly, given our location, and the lack of dining options in Koyasan at night, we don't really have a choice (laughs).

Why should someone visit Koyasan?
Because Koyasan is a unique mountaintop religious city where worship has been maintained for over 1,200 years. The founder, Kobo Daishi, who is also the founder of Shingon Buddhism in Japan, continues to be venerated and is believed to still be praying for the salvation of all sentient beings. And that's because of kokuu.
What would you recommend as the main attractions at Koyasan?
Everyone should visit Okunoin, which is the largest cemetery in Japan. It is also home to the mausoleum where Kobo Daishi is said to be in eternal meditation. The French philosopher Jean-Paul Sartre visited Koyasan in 1968 and said that Okunoin is "the world's most beautiful cemetery where nature and death unite." The place truly symbolizes the unique characteristics of Koyasan. The train journey to Koyasan on the Nankai Koya Line is also enchanting, especially the scenery from Hashimoto Station to Gokurakubashi. And the cable car from Gokurakubashi to Koyasan Station further heightens the anticipation, acting as a stage setting that draws the traveler into wondering what the townscape of Koyasan is like.

Koyasan is also an important spot for pilgrims.
It is home to numerous pilgrimage routes, and the Choishi-michi is particularly recommended. There is an old Japanese saying, "Ichido sankei Koyasan, mushi zaisho dochu metsu," which translates as, "Once you walk to Koyasan for a pilgrimage, sins and impurities from the distant past will be extinguished along the way." People in the past likened Koyasan to a world of enlightenment and sought to reach it from that perspective.
"It continued to be a challenge after that, and financially we hit rock bottom."
What was it like growing up in Koyasan? Was it different than the typical Japanese childhood?

When I was a child, I didn't give much thought to the place. It's the same for my own children now. Being surrounded by numerous temples and graves is simply part of our everyday scenery. Playing tag or having snowball fights in Okunoin are fun memories from my own childhood in Koyasan. I guess that was unique!

You've also spent parts of your life away from Koyasan.
I moved to Osaka for college and then to work, and I lived there for over 10 years. I also lived in London for about three years. That had a significant impact on my later life, as I developed my English skills and learned to communicate with people from different cultures.

What was it like for a guesthouse owner during the early years of COVID-19?
Our reservations instantly disappeared, from around February 2020 until about May that spring. It continued to be a challenge after that, and financially we hit rock bottom. But though it sounds odd to say, "Thanks to the coronavirus," we were able to venture into two new business opportunities. Looking back, I think it might have been a good turn of events.
You recently started a side business giving tours of Koyasan by rickshaw, didn't you?
The lodging business can't survive without guests. During the COVID period, short-distance and day trips were the norm. I had always considered offering some kind of service for those who come to Koyasan for a day trip. We conducted research, and as there were many subsidies available at the time, I decided to take the plunge in starting a rickshaw guiding service. My experience in this area was nil. Fortunately, a monk friend of mine in Koyasan had experience working as a rickshaw guide in Hokkaido. Thanks to him, I was able to learn everything from scratch.

This year, you also opened the accommodation called SANRO, which you describe as "a modernist cabin in the midst of a sacred mountain."
SANRO is another new venture we started during the pandemic, the first accommodation option in Koyasan where you can rent out the entire place. Originally, I was just looking for a garage where I could store rickshaws, and when I found this property, I thought it was too big for just a garage. That's when the idea of turning it into an accommodation came to mind. I decided that I didn't want to run it like the lodging we have at Guest House Kokuu. I wanted a different concept, focused on serving one group at a time.
"I named it with the hope that guests would spend their time in Koyasan as if they were immersing themselves in the mountains."
Why did you call it SANRO?
The meaning refers to secluding oneself in the mountains. It's about leading a reclusive life in the mountains or immersing oneself in Buddhist practice in mountain temples. I really love the kanji form of 山に籠る, "yama ni komoru," or "retreating to the mountains." I named it with the hope that guests would spend their time in Koyasan as if they were immersing themselves in the mountains.

I can't finish this interview without mentioning our shared love for the Hanshin Tigers baseball team, especially since they recently clinched their first Central League pennant in 18 years. How did you become such a big Tigers fan?
Yes, we are both torakichi, which means someone who is obsessed with or extremely passionate about the Tigers. I'm from Kansai, so I used to watch Hanshin Tigers games at Koshien Stadium quite often. I think the fact that there were many Hanshin fans in my neighborhood influenced me. I honestly felt like crying when our Tigers finally won the pennant again!

Finally, do you have any exciting plans for the future? What is your next business venture?
My dream now is to start a new business leading tours using e-bikes.

That sounds a lot easier than pulling a rickshaw!
Exactly! And by using e-bikes, I can lead my guests not only around Koyasan, but also to further destinations like, for example, the beautiful Tenkawa Village in neighboring Nara Prefecture.


Links:
Kokuu Webpage: https://koyasanguesthouse.com/en/
Facebook: https://www.facebook.com/KoyasanGuestHouseKokuu
Instagram: https://www.instagram.com/koyasan_rickshaw_kokuu/, https://www.instagram.com/sanro.koyasan/