Ketchup and Cabbages: In Search of Japan's Most Unusual Monuments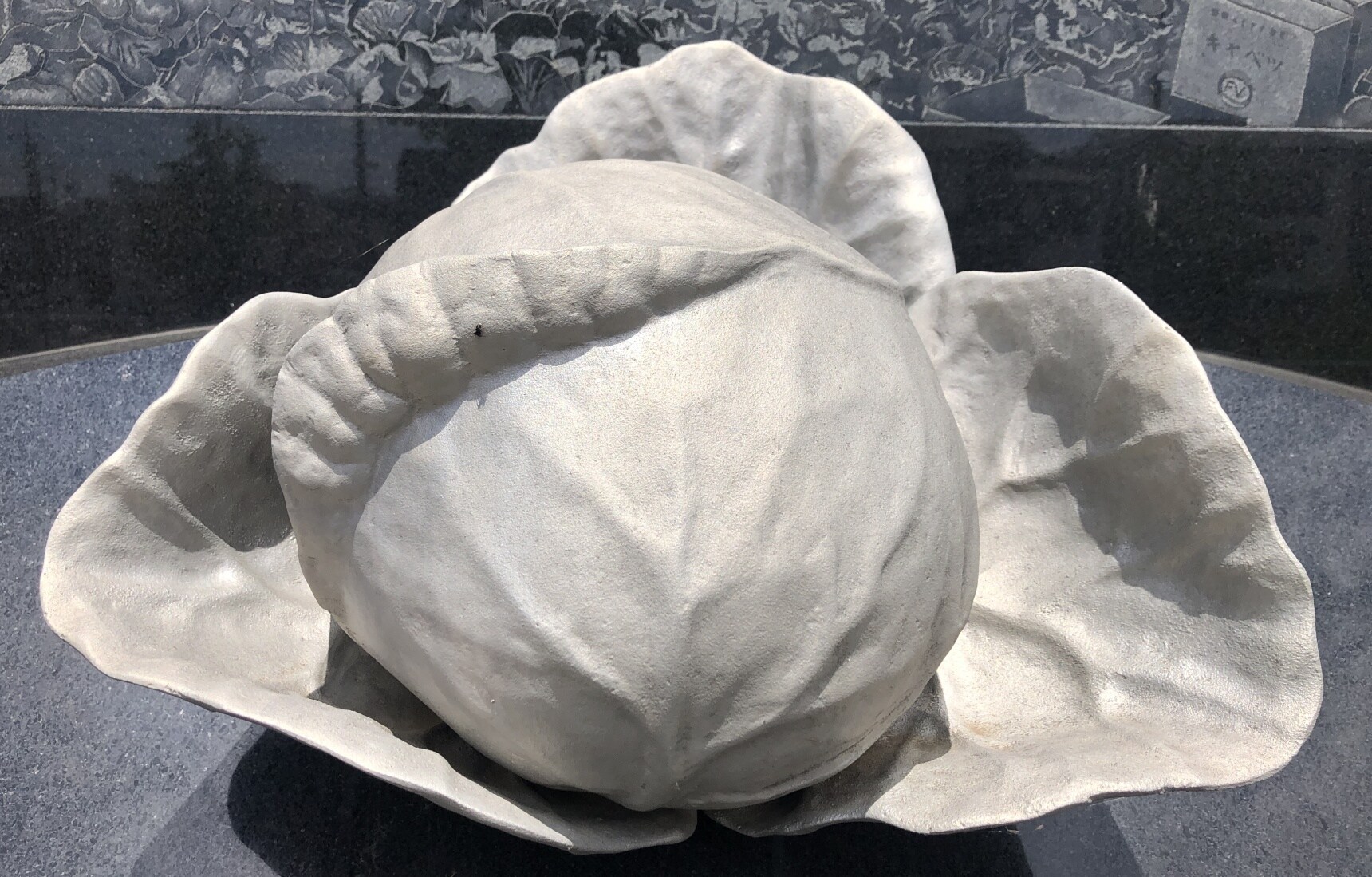 Japan is not a country of great monuments. There's no local equivalent of the Lincoln Memorial, Mount Rushmore, or the Arc de Triomphe. Where tributes do exist, the historical figures are often either overshadowed by architecture, such as shogun Tokugawa Ieyasu's grave at Nikko, or concealed in forests like the cemeteries of Okunoin and Musashi.
That isn't to say Japan doesn't enjoy its monuments. It has statues of every sort, from martyrs to mariners, giant Buddhas to giant robots. It even has multiple scaled-down replicas of the Statue of Liberty. Want to see the Liberty Bell? No need to go to Philadelphia: there's a copy in Tokyo's Hibiya Park.

Where Japan stands out in the monument department is a penchant for honoring things other countries might never memorialize. They may be forgotten bits of infrastructure or everyday implements. The World Heritage Site island of Miyajima, for instance, is home to what locals say is the world's largest rice scoop. At 7.7 meters long and made of solid wood, it's a tribute not only to Miyajima's scoops but an associated legend in which a Buddhist monk saw a rice scoop in a dream. This desire to honor things that might otherwise be overlooked can be a refreshing change from the usual parade of bronze generals, statesmen and the like. Here, then, are our picks for the best of Japan's most unusual monuments.
Changing lanes
In 1972, Okinawa reverted to Japan after nearly three decades of U.S. control. One relic of that occupation was that motorists were made to drive on the right-hand side of the road, as they do in the U.S. In 1978, however, the prefecture switched to the left to harmonize with the rest of Japan. The change took place July 30, and is thus known as "730" or nana-san-maru in Japan. The reversion was a big deal: not only did it underline the end of U.S. Occupation and symbolize Japan's sovereignty, it was an enormous logistical challenge, involving the transfer or replacement of road signs, traffic signals, bus stops and the like, as well as the introduction of vehicles with right-hand drive. Japan paid over $100 million at the time for the transformation, a rare example of driving lanes switching in the 20th century.

It's perhaps no surprise, then, that there's a 730 Monument in Okinawa. The 1-meter-tall stone, inscribed with an arrow swerving from right to left, stands at 730 Crossing on Ishigaki Island and is flanked by two shisa, the prefecture's guardian lions. The monument is repainted by schoolchildren every year, the Ryukyu Shimpo newspaper reported in 2012. "July 30 is the day on which we should wish for safety on the roads," monument designer Eiju Miyara, a former traffic official with the Okinawa police, told the paper. "My dream is to have a community with no traffic accidents."

Location: 730 Shiishii Park, Misakicho, Ishigaki, Okinawa
Japan's first concrete electricity pole
Visitors to Hakodate usually make a beeline for the city's eponymous mountain. After a gondola ascent, they're rewarded with dramatic views of the cityscape, Hakodate Bay and the Tsugaru Strait. It's little wonder, then, that few stop to notice one of the more underwhelming sights on the city streets near the foot of the mountain. Welcome to the first concrete electricity pole in Japan, a relic that's been described as the most boring tourist attraction in the country. A signboard tells us that it stands 10 meters tall and measures 47 centimeters square at the base and 19.5 centimeters square at the top.

The pole was installed in 1923 by the local electric utility and, being made of concrete, it survived a devastating fire that tore through the city in 1934, leaving over 2,000 dead. The pole once had a counterpart across the road, and the pair, being something of a novelty in the 1920s, were known among locals as a pole couple. One hundred years later, the pole still supports electrical wires over the streets of Hakodate.

Location: 15-1 Suehirocho, Hakodate, Hokkaido
Tokyo's tribute to cabbages
Next time you tuck into a pile of shredded cabbage alongside a tonkatsu pork cutlet, think of Nerima. The ward northwest of central Tokyo is ranked tops in the capital for cabbage production, accounting for some 20%. To commemorate that fact, in 1998 the JA Tokyo Aoba Shakuji Farmers' Center erected an imposing monument, roughly 3 meters tall, that's topped by an engraving of farmers harvesting cabbage. Facing the Shakuji River, the monolith also features a sculpture of the leafy vegetable cast in aluminum alloy, along with an inscription detailing how local farmers overcame pests and other challenges after they switched from growing daikon to cabbage. Harvested twice a year, the cabbages of Nerima are said to be sweet and crispy. They're available, along with other local produce, at the JA market across the parking lot.

Location: 1-1-31 Shakujidai, Nerima-ku, Tokyo
The roots of Japanese ketchup
On Yokohama's busy Koyasu-dori, part of the old Tokaido road, there's a small fence enclosing a red stone post. The inscription? "Birthplace of tomato ketchup." The condiment originated in 19th-century America, but got its start in Japan when entrepreneur Yosuke Shimizu tried to market vegetables to the foreign settlement in Yokohama. He established a company in 1896 and seems to have commercialized "Simizu's Tomato Catsup" before Kagome launched its ketchup in 1908. Shimizu's company continued making ketchup until 1935, when his son, then at the helm, got into photography instead. In 2007, however, the Shimizu family allowed entrepreneur Kazutoshi Maruyama to use its records to revive the product. Today, Simizu's Tomato Catsup is produced as a local specialty by Yokohamaya-Hompo, a restaurant operator in the city.

Location: 3-Chome, Koyasudori, Kanagawa-ku, Yokohama, Kanagawa
Giving thanks to eyeglasses
Located in Tokyo's sprawling Ueno Park, Shinobazu Pond is famous for its lotus flowers. On an island on the pond stands Bentendo, a Buddhist temple dedicated to the goddess Benzaiten. The temple is unique not only for its octagonal tower, but its unusual sculptures and monuments. Chief among these is the Eyeglasses Monument. It's a collection of glossy stone slabs erected by an eyewear industry union in 1968. To memorialize these humble sight aids, the designers included a pince-nez based on ones said to have been used by the aforementioned Tokugawa Ieyasu (1543–1616), the warlord who had the vision to complete the unification of Japan. The union marked the 50th anniversary of the monument's construction with speeches and a Buddhist prayer ceremony.

Bentendo is in fact a veritable menagerie of mundane monuments. There are old, weathered tributes here to poultry, turtles, fish, and blowfish, each established by workers who raise or process them, as well as hand fans, knives, and even shamisen strings. The intent, apparently, is to express gratitude to these animals and tools for helping sustain and ease human lives. Now that's a sentiment to which we can all pay tribute.

Location: 2-1 Uenokoen, Taito-ku, Tokyo